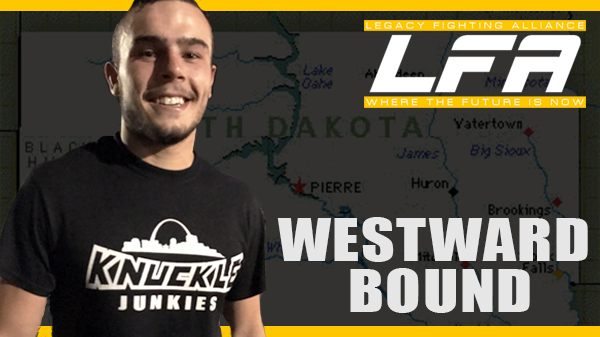 Bush - Westward Bound
"Go west, young man," was a phrase coined by newspaper editor Horace Greeley in 1851 in regards to America's westward expansion. He saw opportunity in the west for someone willing to work hard enough to achieve it.

That's exactly what 23-year old Dakota Bush hopes to do on Friday night. Bush hopes to go west for a big opportunity, when he competes at LFA 37, live and on AXSTV in Sioux Falls, South Dakota.

Bush (4-0) has been fighting since he was 18, but this trip to the Dakotas will be his first time competing outside of the Show-Me State.

"The furthest I've traveled is to Branson, my last fight," Bush said. "It's going to be good to get out of here."

Bush faced Jose Martinez on LFA's most recent trip to Missouri and wasted little time scoring a rear naked choke submission win just two minutes into the first round. It was Bush's first time competing on national TV and Martinez was 7-2 entering the fight

"The result was good, but we definitely wanted to stand a bit more," Bush said. "I had an opponent switch the week before, so I was a little unsure about this guy. I just wanted to get that first LFA win, and first TV win locked in. It boosted my confidence beating a guy with a big record like that. It's good to see I can handle myself on the ground with that level of guys."

While the Martinez fight was Bush's first time competing for LFA, he competed as an amateur for RFA, pre-merger, when it was in St. Louis at the Chase Park Plaza. It was the same night his teammate Andrew Sanchez won the RFA middleweight title, which ultimately got him onto the Ultimate Fighter TV show.

Bush seems to have found a home with LFA and was invited back as soon as he was healthy. He follows in the footsteps of his teammate Sanchez, and primary training partner Jake Collier who've found success in RFA/LFA and used it to springboard onto the national scene.

"It's a great promotion, they take care of you," Bush said. "Everything is great there, and they treat you well. They treat you like you're at the top level of the sport, and it's nice."

The trip to Sioux Falls won't be his first taking his MMA gear on an airplane. Bush tried out for The Ultimate Fighter: Undefeated last December in Las Vegas, Nevada. It was an eye-opening experience but also showed Bush where he ranks, and where he needs to be.

"Going to Vegas for the first time and seeing that room of undefeated fighters was humbling," Bush said. "But it was also a confidence boost because there were a lot of guys there that weren't at my level, but there were guys there definitely better than me, obviously. It was a good measuring stick for me."

Bush had his first amateur fight when he was 18, for a gym called Fearless Fighters, a small gym just outside of St. Louis.

"Wasn't much training there," Bush said. "We'd show up a couple of times a week and spar, and I was kind of on my own there. That's why I love where I'm at now. I get the attention I need and constantly someone pushing five to seven days a week."

It wasn't long before Bush moved on from Fearless Fighters and sought out the tutelage of Patrick Smith. Smith has been instrumental in the careers of UFC fighters, and "Bash Brothers" Collier and Sanchez. His "Smith Pit" is a small shed outside of Smith's house in Cuba, MO. Nothing fancy, just a padded up room with sweat-stained walls from many hard nights of training.

"Out there, small gym. Everyone knows it's not very big," Bush said. "We've got a couple of amateur guys out there with me and Jake (Collier). We get after it. A lot of drilling, a lot of hard goes. Every Tuesday and Thursday we drive out to Rosebud and do wrestling with Chel (Erwin-Davis), Garrett Mueller, and the Pohlman Brothers. A lot of underlying guys that aren't known on the scene, but good rolls, good grinds that keep helping me move forward."

On Monday and Wednesday nights, Bush travels to St. Charles to train with the stable of pro and ammy fighters at St. Charles MMA.

"I couldn't ask for better guys to go with," Bush said. "The best 55'ers in the state are in this gym. We've got EJ Brooks, Luis Pena, Lucas Clay, Elmar Umarov. Good high-level rolls here, these guys are all coming to the next level or on the way."

Bush's opponent on Friday is Bryce Logan (8-2), a winner of 5-straight. Logan has almost exclusively competed for RFA and Victory FC and is no stranger to the high profile fights.

"He trains down in this camp in Arizona with Ryan Bader, Renan Barao, and those guys," Bush said. "He's an explosive guy, pretty athletic. I feel he's going to be strong in the first round. I think he's got one-punch power, but he's got a lot of holes in his game that I think I have his number on."

Outside the cage, Bush still works full time as a sheet metal worker.

"I use snips all day, which has really helped my grip strength," he said.

Bush and his long-time girlfriend brought their first child into the world, two-and-a-half years ago. His son has provided extra motivation for the young fighter.

"He's a handful, he's fun," Bush said. "I wouldn't trade him for the world. He's a good motivator. I want to him to see that you don't have to be blessed with the best talent, but you can always work. You can push yourself, and if you want something bad enough you can get it, and that's what I want to show him with fighting. These are the big opportunities that can do that. "