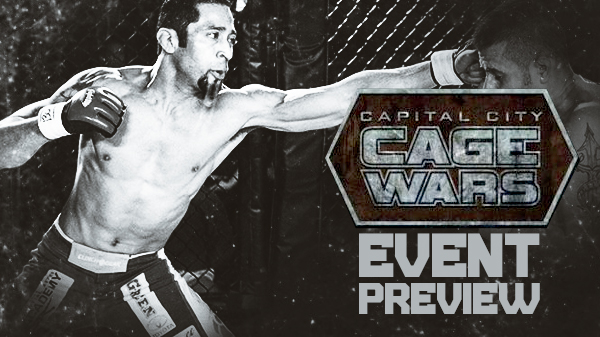 CCCW: Eazelle vs Beebe - Event Preview
Springfield may often get overshadowed by its neighbors Chicago and St. Louis, but the Illinois state capital has become a hot bed for martial arts.

Recent Ultimate Fighter winner Corey Anderson now hails from Springfield after moving to the area a year and a half ago, as well as UFC heavyweight Matt Mitrione, who was born and raised in Springfield. Glory kickboxing and recent Bellator signee Dustin Jacoby also calls Springfield home.

Two more local products are on the cusp of making a splash on the national level: Vincent Eazelle and Tamikka Brents headline the September 13th Capital City Cage Wars event.

The event will be mark the 24th show for the fight promotion, and while partners John Geyston and Mylas Copeland have primarily ran two pro-ams and 2 amateur events a year, with a lot of the local talent having turned pro, they're looking to go completely pro-am in the future.

"A lot of the guys on the card like Jake Constant, Matt Williams, Shane Shomidie have fought for us on a regular basis as amateurs." Geyston said. "Now that they're pros, it makes sense to do more pro-am cards."

The company took a change in direction in 2012 when long-time co-owner Jeff Devore split off.

"When we took over Cage Wars, we wanted to change the perception." Geyston said. "But we also changed the production level. It was good before but we just changed some things around."

The Prairie Capital Convention Center has become the home of CCCW. At their last show in April, they had over 1,400 people in attendance. The Convention Center is a large multi-seat arena that has hosted Carrie Underwood, Cirque de Soleil, among others.

"They just did a $2.2 million renovation." Geyston said. "It's top level, allows us to do a UFC-style presentation. All the top concerts in the area go down there."

In addition to increasing the production value, Geyston has begun strengthening relationships with coaches and managers in St. Louis and looks to bring in bring in talent to challenge the local guys.

"It definitely makes more sense." Geyston said. "When it comes to geographical area, St. Louis is a much easier drive than Chicago."

Scott Ward used to run shows in Springfield, but Capital City is now kind of the lone wolf now in central Illinois.

---

In the main event, Vince Eazelle takes on Chase Beebe. Beebe is a bit of a household name having fought all over the midwest as well as a long run with the WEC and Bellattor. Eazelle is 8-1 with a seven fight win streak, and many wonder if a win on the 13th will be the fight to get him the call he's been waiting on.

"Any fight from now on, we're looking for tough opponents." Eazelle said. "We've had several fighters back out. We knew Chase was experienced, knowledgeable, and he's tough. Nothing but good to say about Chase, he's got the goods. If you can step up to the caliber of fighter like Chase and win and beat him, that says a lot about you and your skills."

Beebe comes into the fight with Eazelle on a four-fight losing streak. Something Eazelle doesn't take lightly.

"You can't count out a fighter as tough as him, down." Eazelle said. "I don't care if you've lost ten fights in a row, he's a tough fighter. he's proven, battle tested. I don't care if he's lost four fights in a row, you cannot, you cannot underestimate a guy like him"

Eazelle is quick to contribute his success to his coaches Mark Fiore and John Geyston.

"Coaching is huge, you have to have the right coaches around you." Eazelle said. "You have to have someone that cares, and Mark has been a huge part of my MMA upbringing, and John has been there from the beginning to now. We've been together for eight years. John and I built such a chemistry together. He knows from my body language what i'm thinking and what i'm doing and he knows how to coach on that. Coaching is everything. It's a big part of the game."

Part of Eazelle's preparation for Beebe has seen him travel to St. Charles, MO to train with the pro fighters at St. Charles MMA.

"You can't beat the guys that are here." Eazelle said. "There's such a variety of knowledge number one, and the professionalism. Everyone that comes out of here at St. Charles MMA, they're here every Sunday, nobody is complaining. Everybody is professional and they come to train and you can't beat that. When it's time to train, everybody clocks in and that's what they do, they train."

It's not uncommon for pro fighters with a strong record to find opponents, and such is the case for Eazelle.

"Vince is difficult to match," Geyston said. "There are guys that are 2-12 that would be willing to do it for money. We went the opposite side and contacted around 11 fighters, and Chase Beebe was immediate 'I'll take that fight.' I think that is a real dynamic fight. Chase is definite threat to taking people down, and looks to be strong with both hands."

While Eazelle has crafted a strong case for his addition to the UFC featherweight division, a win over Beebe would make a good closing argument.

"We've had offers from other promotions, but things fell through." Geyston said. "We didn't want to take an easy fight. We hope this fight puts him there. It's going to push Vince to fight his best. We obviously think he can beat him. It's going to be his toughest. We hope the UFC takes notice."

---

In the co-main event, Tamikka Brents challenges Fallon Fox in a very compelling women's featherweight match-up.

"That fight came together by accident." Geyston said. "Tamikka's original opponent got injured. We contacted several promoters looking for an opponent. In 48 hours we had two people saying Fallon Fox would take the fight.

Fox is 4-1 and made national headlines a year ago as the first transgender fighter. She challenged Ashlee Evans Smith for the CFA title, but came up short giving her the first loss of her career.

"I've wanted to fight her ever since I saw her fight in the CFA tournament," Brents said. "I don't know, I just wanted to fight her. She had a lot of hype behind her, and I wanted to take it. We're both form Illinois, who doesn't want to see two trains collide?"

Brents sees similarities in the styles of the two fighters, and notes both fighters like to bring the fight to their opponent.

"We're both aggressive." Brents said. "She likes to work her power. I've added so many skills before I got injured that nobody saw. After I got injured I added so much more. Nobody has seen what I bring to the table. They've seen the takedown and ground pound, but that's not all I have."

Almost a year ago, Brents was scheduled to make her Invicta FC debut. A freak knee injury backstage shortly before bell time caused the fight to be scrapped.

"I cut 27 pounds in two days for a last minute fight against India Gomes for Invicta." Brents said. " Basically, after going to the doctor they found out I tore my ACL in half and tear in my meniscus. They said if you dehydrate yourself it not only effects your muscles, and your gas tank but also your ligaments. It was a crazy accident. Something so small that ended up being a major injury, but we got over it. "

Much like Eazelle, Brents hopes her fight on the 13th is a launch pad for an opportunity to compete for a national promotion.

"Any female fighter wants to be at Invicta or in the UFC." Brents said. "Since the UFC only has two female divisions right now, you want to go to Invicta."

Not to look past Fox, Brents eyes a dream fight with Christine "Cyborg" Santos as a long term goal she hopes to realize.

"Cyborg is the queen of 145, hands down." Brents said. "I wanted to fight basically everybody in the featherweight division and earn my shot. I want to fight the best people. There's still a hell of a lot of 145ers at Invicta that are game and want to throw down. I want that belt. I've always wanted to fight Cyborg, that's been a top goal of mine."

---

The rest of the card shake like this:

Jake Constant from the Kennel Club will take on "the Wolfman" Javon Wright from Modern Combat systems in Hazelwood, MO.

"Jake's first amateur fight was with CCCW." Geyston said. "This card features several hometown guys, and we're looking to pull talent from St. Louis to challenge them. Jared Daniels assisted in putting this fight and the CJjay fight together."

Wright and Constant have traded barbs on social media, and are eager to trade leather. Wright has recently enlisted the help of RFA middleweight Andrew Sanchez to tighten up his grappling. Sanchez is no stranger to CCCW having battled Dustin Jacoby to a split decision in March of 2013. Constant has an incredible amateur career, but results in the pro ranks have been mixed and he's now sports a 5-5 record..

Submission specialist Hunter will take on Constant's teammate Matt Williams. Hunter was defeated in his pro debut in Kansas City after a prolific amateur career. Williams also lost in his debut. Both pros will be eager to get that first victory, and this should make for an interesting match-up.

Shane Shomidie kicks off the pro portion of the card against Adrian Rodriguez.

On the under card, keep an eye on Reggie Evans who has been tearing it up as of late taking wins from Chris Petty, Dustin Hiesse recently.

Pro Card
Vince Eazelle v. Chase Beebe 145
Tamikia Brents v. Fallon Fox 145
Jake Constant v. Javon Wright 145
Matt Willliams v CJay Hunter 145
Shane Shomidie v Adrian Rodriguez 135

Ammy Card
Kyron Bowen v Reggie Evans 155 Title
J.R Lonergan v Cal Hodges 185
Jason Stevenson v Aaron Harvey 125
Tyler Spreen v Alex Kluge 155
Josh Cummings v Randall Tomizoli 170
Keith Murray v Tim Rudolph 190 debut
Kent Williams v Cody Weder 125 debut

Doors open at 6pm and the fights start at 7. VIP seating is table seating and a few spots are still available. Tickets can be purchased through Ticketmaster or contact your local fighter. If you purchase through Ticketmaster, enter the last name of the fighter in the promo code to give the fighter credit.

Photo courtesy of Jimmy Range Photography.