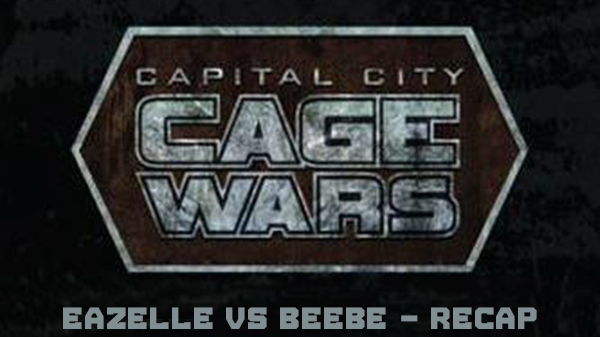 CCCW: Eazelle vs Beebe - Event Recap
Main event competitor Vincent "The Real Deal" Eazelle hoped to prove to the UFCon Saturday that in fact he is as his name would suggest. In the co-main event, two women fought to a quick and bloody finish that will surely have fans of women's MMA talking for months to come..

Capital City Cage Wars has become the de facto MMA promotion in the southern half of the state of Illinois. On Saturday, it filled the Prairie Capital Convention Center with a a stacked pro/am card that featured four pro and five amateur fights.

It was a long night for the hometown fans with their main card heroes going 0-3 to out-of-town competition until Eazelle righted the ship.

Fighting in his hometown of Springfield, IL, Eazelle gave the fans something to cheer about when he added another impressive victory to his resume taking out Chase Beebe out of Gilbert Grappling in Chicago with a one punch KO in the second round.

Eazelle defended the takedowns of Beebe early and often in the first until midway through the round Eazelle caught Beebe with a punch that wobbled the wrestler and forced him to go on the defensive..

Sensing a wounded prey, Eazelle began stalking Beebe, catching him on the cage and landing combinations. With time quickly running out in the round, Eazelle remained patient and looked instead to further the damage to his opponent.

"The gameplan was to use our jab against Chase." Eazelle said. " Keep the pace, set the distance from the get go. We knew he was a strong wrestler and that he was going to use his punches to commit and come in for the takedown. He snatched a couple, but he never took me down. The whole game plan was to keep him off balance, keep him off his base so he can't shoot hard, and capitalize when he gets tired and frustrated."

Shortly after the start of the second round, Eazelle landed a punch that sent Beebe spinning and forced an immediate stoppage to the fight.

Eazelle was elated with the win and especially relished doing it in front of his home fans.

"It's huge, I'm on cloud nine right now." Eazelle said. "Everybody was rooting for me, I love seeing all the t-shirts out there. All the support, all the fans, the sponsors, family and friends everybody was out here to watch me do it, and we did it as a team."

With the win Eazelle improves to 9-1, and with a victory over a seasoned veteran like Beebe, has to be getting close to getting very close to a UFC debut.

In the co-main event, Fallon Fox and Tamikka Brents engaged quickly with Fox unleashing a brutal barrage of knees from the clench opening a nasty cut on the forehead of her opponent. Brents had no choice but to pull guard, and worked from an open guard before Fox passed and would eventually take the back. That is where Fox rained down punches and put the on the hurt Brents, who was unable to answer or improve her position and forced a stoppage to the fight.

Fox improves to 5-1 as a professional, and pleaded with the promoters from Invicta to give her a shot in her post-fight interview with Mylas Copeland. Brents drops to 2-2 and looked to have sizeable swelling on her left eye..

Jake Constant and Javon Wright looked to settled their difference, and while the crowd favored hometown product Constant, it would be Wright out of Modern Combat Systems in Hazelwood, MO who would take home the victory. Constant controlled the action early, bullying Wright and forcing him into the cage. Wright had a sizable height advantage and locked on a guillotine with his back pressed into the cage. Constant would try and spin out of the submission which allowed Wright to sit down and wrap his legs around the back of Constant, gaining the needed leverage and forcing him to tap.

Prior to the fight, both fighters exchanged jabs on social media, with seemingly no love lost between the two, even though the fight was settled midway through the first round, the animosity spilled into post-fight antics with both fighters looking to continue long after ref Stewart had waved off the fight.

Wright's teammate Cjay Hunter took on Springfieldian Matt Williams in a fight that kicked off the pro portion of the card.

Williams was quick on his feet and looked like he wanted to avoid the ground game of submission specialist Hunter. Hunter nearly had a sub early but chose instead to return the fight to the feet. Hunter worked the clinch landing several knees to the face of Williams bloodying his opponent.

Late in the round, Williams hit a hip sweep to ground "the Groundshark," and was working ground and pound from side control.

In the second, Hunter looked for the takedown again, but Williams was able to sprawl out of danger. As the fight wore on, Williams started working with his hands, something that would eventually cost him the fight.

In a spectacular finish, Hunter laced Williams with a looping left hook, sending Williams to the canvas. Hunter pounced, and finished the fight with punches forcing referee Josh Stewart to end the fight.

Originally scheduled to compete on the pro main card, Shane Shomide's opponent did not receive clearance from the state athletic commission, and forced a late cancellation to his fight.

Jacksonville's Cal Hodges was victorious with a armbar.

Aaron Harvey from the Academy of Courage in Lake St. Louis, MO defeated Jason Stevenson by TKO when Harvey landed some brutal leg kicks to a grounded Stevenson.

Tyler Spreen from nearby Jacksonville, IL won with a beautiful armbar over Alex Kluge. Spreen had Kluge in trouble with a loose triangle early.Kluge attempted to slam out of the submission which allowed Spreen to transition into an beautiful armbar forcing Kluge to tap early in the first.

Tim "Fancy Pants" Rudolph won with a fancy guillotine in the second round over Keith Murray. Randolph stuffed the takedown and landed in a front headlock that he used to transition into a choke that forced Murray to tap.

Kent Williams and Cody Weder started the night off with an exciting back and forth fight. Weder won a split decision in both fighter's amateur debut.

Capital City Cage Wars looks to return to the Convention Center in December.