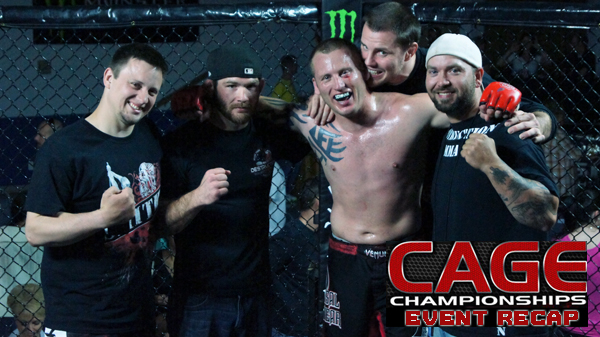 Cage Championships 43 - Event Recap
The card might have been short on experience, but there was no shortage of action inside the cage on Saturday as Cage Championships returned to the Big Eagles Hall in Sullivan for a Challenger's Card featuring several fighters making their pro debut.

Promoter Patrick Smith stacked the card with fighters from Destruction MMA, Berger's MMA, Battlegroundd MMA and his own camp, The Smith Pit.

In the main event, Daniel Schaab continued his winning ways, dispatching Denver Sells by decision in what was by far the best fight of the night. Schaab and Sells battled tooth and nail for three rounds with the middleweight from Destruction MMA getting the nod from the judges.

Schaab controlled the clinches and listened to his coaches and that seemed to make the difference in the fight, as most of it took place in Schaab's corner. Sells nearly had an armbar in the first, but couldn't hang on, but coaches Joe Worden and Eric Irvin helped him navigate out of the bad position.

With the exception of a flash KO back in December, Schaab has been on a roll. News came out after the fight that the middleweight prospect would be moving to Cape Girardeau and this could possibly be his last fight for the foreseeable future.

You have to admire Dakota Bush's confidence as he entered the cage in pink vale tudos and to Prince's "Raspberry Beret" as the crowd wasn't quite sure what to think. Bush gave his opponent John Baxter all he had, unfortunately he ran out of steam after two rounds and couldn't answer the bell for the final round.

Baxter dominated the clinch and landed several knees to the stomach which could have lead to the early night for Bush as Baxter won by TKO.

Tommy Sthair seems to have limitless potential, and thus far hasn't been truly challenged. With wrestling as his bread and butter he's able to dictate where most of the fight happens.

On Saturday, Dakota Nelson gave Sthair his toughest challenge to date. Nelson hit Sthair with a variety of strikes and seemed to have Sthair in trouble midway through the second with a vicious upkick. Late in the second, Sthair scored his third submission victory in a row, this time by way of Monson Choke from the north/south position. The last time Sthair fought at the Big Eagle's Hall it was with long-time friend Bellator lightweight champion Michael Chandler in tow. Training out Fenton-based Berger's MMA, Sthair is someone you should definitely keep an eye on.

Josh "Doughboy" Lee defeated Dennis Cutmen by rear naked choke in an exciting fight between two big guys that looked small after following a battle of two large super heavies earlier in the night.

Marcus Kitson (290-pounds) and Korey Smith (340) put Smith's cage to the test in a super heavyweight fight. Smith and Kitson exchanged on their feet before Smith was able to get the fight to the ground and win by TKO in the first.

Paul Shipley defeated Steven Griggs by TKO in round two.

Kory Johnson hit Roy Cain with a vicious hook that left Cain on wobbly legs, forcing a ref stoppage.

BeeJay Smith defeated his nemesis Tim Graham by TKO in the first. Smith, a local promoter, used Saturday's fight to prove a point to all local fighters regarding cutting weight, dropping over 35 pounds to fight Graham at a catchweight. Smith, introduced to the crowd as "The Teddy Bear," came out of hibernation hungry and simply overwhelmed Graham.

Jaden Howard defeated David Gann by kimura in round one. David Sutton was victorious over Ryan Bussell by rear naked choke in the second, and Bradley "Broccoli" Wells was bested by Jason Spaw in a grappling match to start the night.


Cage Championships returns July 27th to Rolla, MO.