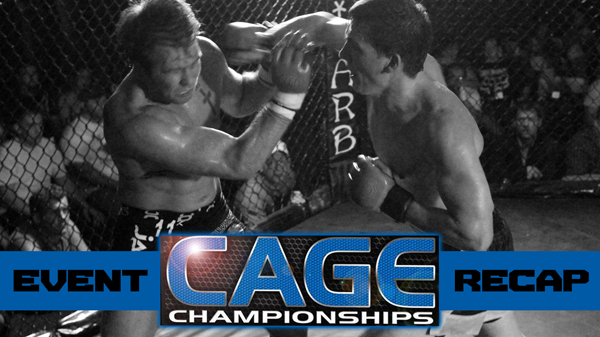 Cage Championships 44 - Event Recap
Cage Championships returned for their 44th show, and second trip to Rolla this calendar year. Fans arrived early to the Fat Cats Sports Complex and were treated to eleven quality amateur fights including a contender or for amateur fight of the year with its co-main event.

In the main event Christian Camp solidified his elite amateur status notching a second win over Jason Powell, and improving to 3-0 against St. Charles MMA.

The young featherweight from Springfield weathered Powell's early storm, a barrage of muay thai kicks and solid punches. Two big slams highlighted the offense for Powell, but it wasn't his night. A right cross dropped Powell to the mat, where Camp seized the opportunity and punched out his opponent forcing the stoppage.

After the fight Camp reflected on taking another victory from St. Charles MMA.

"Those guys are always people I've looked up to." Camp said. "When I heard I was going to fight Draper a year ago I was excited but also a little nervous. He broke his hand, so we met this year. I took Powell out, I took Draper out, and I wanted to solidify my position against Powell tonight. Those guys are great fighters, great guys."

As Camp ponders leaving the amateur ranks behind, he understands what the future will hold should he make the jump.

"A lot of exercise and little sleep," Camp said. "Waking up working out an hour, hour and a half. Then training, and working out again. Eat a lot better diet. Train hard and prepare for life as a professional."

Fans were treated to a barn burner in the co-main. Wrestling phenom Kelly Burch dusted off the trunks for a short notice fight against talent amateur Denver Sells from the Smith Pit.

Both fighters seemed content on trading, and although Sells wasn't able to stop Burch's takedowns early, he was able to get back to his feet quickly. Using his superior range, Sells peppered Burch with leg kicks and kicks to the body throughout the 9-minute fight.

Burch attempted to slow the fight down in the third with his clench, and even spent some time on top of Sells on the ground, but eventually the ref reset the fight, and with only seconds to spare in the fight, both fighters began unloading.

When the judges came back with the decision it was a split decision victory for Sells winning two of the three judges 29-28 with one judge seeing Burch the victor 29-28. Sells looked much more comfortable in his stand-up since his last fight against Burch's teammate Daniel Schaab. Sells' height advantage most definitely gave him the edge in this one.

Jason Spaw looked impressive in his win over Jacob Craig from Team Tank. Spaw quickly and effortlessly scored a takedown, and unleashed his ground and pound. Craig couldn't find an answer for Spaw's mount and referee Ken Sparks stopped the fight.

In what many would consider an upset, Dakota Nelson submitted David Smith one minute into their battle. Smith who was giving up quite a bit of height got caught early, and opted to take the fight to the ground. Smith controlled on the ground before Nelson was able to secure an arm, and lock on the armbar forcing Smith to tap. Nelson was fighting for Flying Dragon MMA out of Rolla and had the home crowd behind him.

The bout between Kris Dodson and Dennis Cutmen got off to a quick start, but the heavyweight battle ended just as quickly when Cutmen's knee gave out and the bout was ruled a no contest.

Eloy Sandoval orchestrated an early intermission as his fight, the last on the under card, lasted only 32 seconds. He swarmed his opponent, unleashing a nasty spinning side kick, and got the quick TKO.

Matthew Nall took care of the "Zombie" Justin Yacko in an exciting fight that saw Yacko winning the fight on the ground. Both fighters came out swinging for the fences in the second round, with Nall coming out on the better end. Nall wins by TKO 32 seconds into the second.

David Sutton subbed Ryan Bussell with a guillotine. The "Irish Stungun" Dylan Belt zapped his opponent and got a quick TKO in round one. Victor Mendia defeated Brandon Duncan by armbar in the first fight of the night.

Cage Champs returns in September.