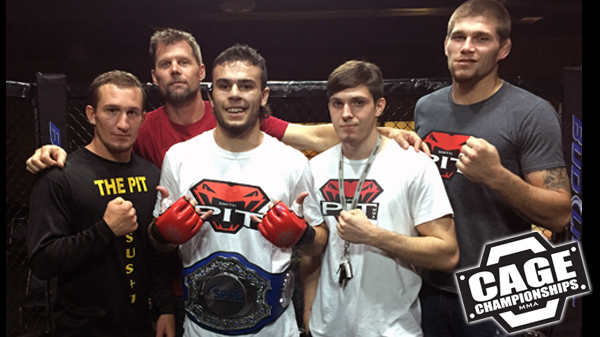 Cage Championships 52 - Recap
The future certainly looks bright for MMA in central Missouri as Cage Champs 52 returned armed with a host of young talent looking to cut their teeth.

In the main event, Cage Champs wunderkind Dakota Bush staked his claim as one of the top amateur lightweights when he defeated the always game Jamese Taylor.

Bush and Taylor tangled at Cage Champs 51 with Taylor winning a three round decision in a K1 match-up. The two agreed to rematch in MMA, and this time it was all Bush.

The twenty-year old Bush wasted little time taking the fight to the mat with an aggressive takedown, and from there he worked his ground game setting up Taylor for the rear naked choke, which he finished at 2:32 in the first round.

With the win Bush takes home the Spire Sectional belt improving his record to 7-1, and takes one step closer to a Spire State Title bout.

"I just kick-boxed him a few month earlier," Bush said. "Went to a tough decision, and I lost. I wanted to work my stand-up but the shot was there so we ended up getting the finish."

With the memory of the kickboxing loss still fresh in his mind, Bush was eager to settle the score.

"That last loss left a bitter taste in my mouth," Bush said. "We knew if he came into my world it would be a different story.I think the State Title is next, so whoever in the top 3 wants to fight me, we'll take it."

With an eye on the state title, Bush is open to the challenge.

"Put anyone in front of me," Bush said. "Dan Busch, Buddy McGinnis, Garrett Wells, anyone you put in front of me I'll fight them."

In the evening's co-main event, Byron Stevens won a majority draw over Bil Dwyer in a bloody war that saw both fighters trading heavy shots. Dwyer seemed to fade a bit in the third round, and begun loading up, looking for the one punch KO which allowed Stevens to steal the final round and possibly the fight.

With Jacob Delane and Bobby Mendica both making their MMA debuts, it was Mendica who appeared to be a little more polished of the two. Mendica secured a takedown and worked his punches to secure a TKO in round one.

Cody Winistoerfer won a back and forth K1 battle that saw him absorb a nasty spinning back kick to the face from late replacement Vasy Kostiuk. The two scrapped back and forth for an exciting and intense 6 minutes of action, with both fighters scoring multiple knockdowns.

After the scores were tallied, Winistoerfer won a majority decision from the judges, in the evening's fight of the night.

Donovan Whitby defeated Nick Madrey when Madrey couldn't answer the bell for the second round.

Primarily known for his stand-up, Yola Love won with a submission over Tyler Boyer early in round one.

Dusty Chandler landed a beautiful, highlight reel headkick in a win over Jonathan Bradberry. The two battled for two and a half rounds with Chandler bloodying the nose of Bradberry early, but it was the kick 31 seconds into round three that finished the fight.

Jimmie Cowan defeated Kwade Nash in an exciting K1 scrap. Cowan caught Nash with a nasty kick to the ribs that forced Nash to call an end to the action.

A couple of exhibitions started the night with Dave Smith and Josh Krechi grappling, and teammates Dan Busch and Jason Newman warming up the crowd with a couple of stand-up rounds.