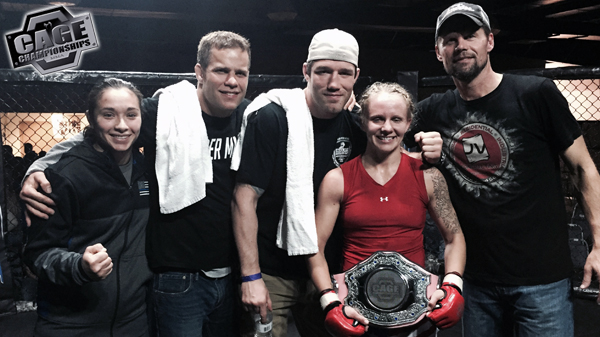 Cage Championships 53 - Recap
There's a point in every amateur's career when opponents become hard to find. Such is the case for female strawweight prospect Kelly D'Angelo. On Saturday, promoter Patrick Smith brought in the "Jiu-Jitsu Barbie" Jessica Branco to face D'Angelo.

Branco has made a bit of a name for herself in Southern Florida competing in grappling tournaments as part of the American Top Team and has recently begun competing in MMA. With former UFC star Din Thomas and current top 5 UFC bantamweight Amanda Nunes in her corner, Branco posed a serious threat for D'Angelo with her slick submission game.

"I knew her game was on the ground," D'Angelo said. "So I have been drilling ground stuff for the past two months. The fact that it didn't go to the ground it was good, but at the same time I wanted to show off some of the stuff I had been working on. Either way I felt prepared."

When the match began, D'Angelo's superior boxing quickly became evident as she began finding a home for her right. D'Angelo peppered Bronco with combinations, even working the body as the two clenched and fought against the cage, finishing the first round with a flurry.

In the second, Bronco attempted a standing guillotine, but D'Angelo quickly shucked it off avoiding any danger. With the exception of a couple of knees, this was Bronco's only offense in the second round.

The third round saw more of D'Angelo's stand-up on display, with almost the entirety of the round fought clenched against the cage. Bronco threatened with a standing kimura midway through the round.

"I knew as soon as she grabbed my arm that was what she was going for," D'Angelo said. "I waited it out and thought about how to walk around it."

D'Angelo improves to 5-0, with her last trip to the cage in June for Shamrock FC.

"I'm a full time firefighter so it's sometimes hard to squeeze in fights," D'Angelo said. "I don't have a planned out next step, but I'm planning on going as far as I can go with it. I'd love to get into Invicta someday."

The amateur prospect draws serious comparisons to another female fighter who used to call Cage Championships home, Barb Honchak, the current Invicta Bantamweight World Champion.

"With Barb being a girl right ahead of me at Berger's," D'Angelo said. "She's been brought up a lot. I've been compared to her early style of fighting quite a bit so it would be awesome to follow in her footsteps. Ashley Cummins, I've trained with her ever since I started. She's been someone who I've really looked up to as well."

In a battle of two up and coming welterweight prospects, Chris Petty was the last one standing in a vicious TKO of Brandon Karcher.

With both fighters throwing with bad intentions, it was Petty who landed first nearly dropping Karcher to his knees. The two exchanged a couple more times with Petty landing more often, before he was able to corner Karcher against the cage and finish with the TKO just 44 seconds into the first round.

Petty out of Southeast Missouri is now 5-0 and is someone to keep an eye on. If his ground game is as good as his stand-up he could be a serious threat at 170 pounds.

Mike Wasem and Kris Dodson faced off in a battle of two agile big guys. The pair came out flinging punches, but when Wasem, a Sid Gee Karate disciple, was able to get the clench he forced the fight to the ground where he finished with a rear naked choke.

Aaron Harvey and Cody Winistoffer started off at a blistering pace, but when Winistoffer shot in for the takedown, he inadvertently broke his nose. Winistoffer then fell into the guard of Harvey with Harvey latching onto the neck for a very deep guillotine. Winistoffer fought off the submission as long as he could, before the blood affected his breathing and he was forced to submit.

Joe Muckenheim and Kyler Ferrell came out ready to scrap, but it was Muckenheim's grappling that made the difference in this one. After a brief exchange on the feet, Muckenheim caught Ferrell with a deep guillotine against the cage, and held on lone enough to get the tap at 2:45 in the first round.

Teammates at Flying Dragons Taekwondo Dakota Nelson and Bradley "Broccoli" Wells exchanged leather in a friendly K1 exhibition. In exhibition grappling matches, Clayton Whaley edged out Danny Quaite in an exciting back and forth match, while Nathan Rice was simply to much for Zach Carthy in their encounter.

Former Cage Championships stars Matt Ricehouse and Josh Sampo did a instructional jiu-jitsu demonstration to kick off the evening.

Cage Champs plans a returns in January and will continue their relationship with RFA.