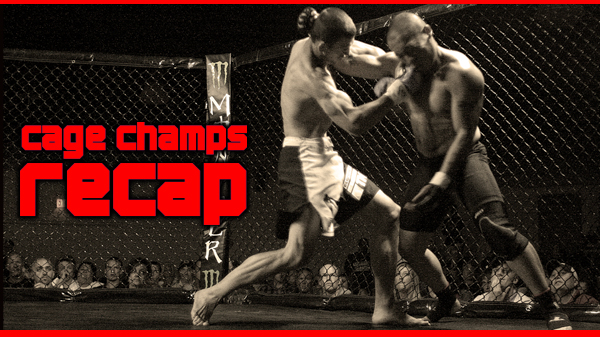 Cage Champs 38 - Recap
Card in and card out, Patrick Smith and the Cage Championships crew always put together a night filled with top-flight amateurs along with the area's up and coming pros.

The organization returned to Sullivan on Saturday and once again a stellar card was in place for Cage Championships 38.

Three of the four fights on the main card showcased some of the St.Louis-area's best young pros, each looked ready to take another step and amp up their competition.

In the night's main event, Jake Collier was dominant and simply overmatched journeyman Sean Huffman in a middleweight bout.

The 6-foot-3 Collier improved to 5-1. A Collier head kick was followed with a bevy of strikes down on Huffman who turtled up before the fight was called 43 seconds into the fight.

Since losing to Kelvin Tiller in January, Collier, out of Smith Pit MMA, has won two straight.

In the co-main event, Jesse Thornton and Adam Dunnavant met in a bantamweight bout.

The 37-year-old Thornton, a soldier out of Fort Hood, Texas, muscled an early power slam in the first round and stayed in a dominate position for the rest of the round. Thornton leaned on his wrestling skills for the remainder of the fight, continually controlling Dunnavant. Dunnavant's best chance came in the third round when he secure a deep guillotine but Thornton fought free and eventually earned a 30-27, 29-28, 30-27 victory.

In his second pro fight, Alex White made things interesting in his showdown with Mark Nguyen. White and Nguyen traded a flurry of punches to start the first round with White taking several on the chin but the determined Destruction MMA fighter continued to push forward. White finally secured a takedown and eventually got the tap by arm bar late in the first round.

Andrew Sanchez made his pro debut on Saturday and pulled of a workman-like submission victory. Sanchez took down 11-fight veteran Eddie Smith early in the fight and once there, everything was in Sanchez' favor. The former NAIA wrestling All-American took Smith's back and the end was near. 'Dirty' Sanchez eventually locked in a rear naked choke and won by a first-round submission.

Javon Wright threw everything at Juan Parra. Wright showcased an array of strikes and kept things standing before finally finishing a tough Parra in the second round. Wright was coming off a win over Dave Callow at Cage Championships 37.

Chris Heatherly, out of Berger's MMA, cruised to yet another first-round victory. This time around, Heatherly stopped David Colter with ease. A calm and collected Heatherly peppered Colter with a nice combination and then finished things off with a rear naked choke.

On the amateur side, for the Middleweight SE Regional Title, Ross Cooper and Carlitos Jones went toe-to-toe.

In the second round, Cooper worked a submission for the better part of the round and looked to have Jones in trouble. Jones, out of St. Charles MMA, eventually pulled free and ended the round with several powerful punches from up top.

Jones caught Cooper with a guillotine in the third round that lifted Cooper off the ground before he fought out of it to survive the round.

Jones finally got Cooper in the fourth round, earning a victory with rear naked choke.

On the rest of the undercard. Jason Spaw, in his MMA debut, won by decision over Bradley Wells in a welterweight bout.

Heavyweight Nick Polite landed an impressive knockout punch to end his fight with Zach Kenney in the second round.

Welterweight Rod Miles earned a submission victory over Bart Nelson.

Lightweight Ben Huskic was pushed to the brink against David Smith. Smith controlled the first two rounds of the fight but in the third, Huskic secured a triangle to earn the victory.