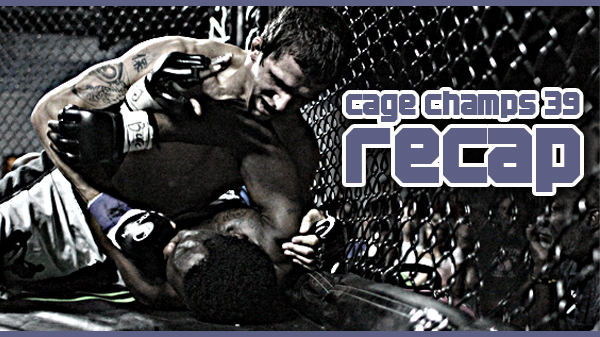 Cage Champs 39 Recap
If there was any question, Alex White answered it

If there was any doubt, White removed it

White leapt to the top of the Missouri featherweight food chain after a decisive, second-round victory over JaVon Wright in the main event of Saturday's Cage Championship 39.

In a bout that pitted two of the top up-and-comers in the state, if not the Midwest, it was White who cemented himself as one of the best.

After an electric first round, White secured victory via rear naked choke midway through the second to improve to 3-0.

"It seemed like I put together a pretty good first round," White said. "I felt like I controlled him but I needed to step it up a notch and stay on top instead of working too fast."

White, a Destruction MMA product from Farmington, had Wright in trouble early in the second when he gained side control and transitioned into a crucifix. He then delivered a bevy of elbows that nearly ended the fight then and there.

"I don't know how JaVon survived the elbows," Destruction MMA head coach Joe Worden said. "Alex hit him with like 20 elbows. I thought the ref was going to call it."

Early in the first round, White sprung to life when Wright landed a big, solid head kick. White not only shook the kick off but smiled and then delivered a big overhand that floored Wright.

"I give him props on that," White said. "I didn't see it coming but it didn't faze me."
White swarmed after landing the big shot and Wright did a nice job of bridging up while White took his back. After a scramble, the pair exchanged strikes before the horn but the damage was done.

"Between rounds I told him to finish him; finish him now," Worden said. "He's broke. He's mentally broke."

While White was is the driver's seat for the bulk of the fight, Wright showed why he is considered near the front of the pack, showcasing a solid ground game that slowed White down at times.

But when it was all said and done, the night belonged to White, whose daughter was born on Thursday.

"This should shut our haters up," Worden said. "That was pretty much complete domination by Alex. JaVon is a tough guy but Alex is just that much better. I'm not going to lie and say we need to jump in with Jose Aldo but Alex is good enough to go to the big show. I don't see too many 145ers giving him much trouble. He is 19-0 in MMA as an amateur and pro and 34-1 in combat sports with Muay Thai, Boxing and MMA. The kid is an animal."

White's size and strength was too much for Wright, whose speed and athleticism is usually a handful for his opponents.

"We start our weight cut at 172," Worden said. "Alex weighed in today at 165-170 already. He's put on 21 pounds before the fight. It's going to be hard to find somebody bigger than him."

Worden did indicate that he has a couple of offers from Extreme Challenge in Iowa for White.

White was swarmed by fans, friends, and family postfight and after a quick chat with Destruction MMA assistant coach Jon Menke, he summed up his performance: "I'm a mother fuckin' Jedi Knight."

Chris Heatherly continued his winning streak on Saturday when he won a unanimous decision over veteran Sean Huffman. Many in attendance felt that Heatherly would over-match Huffman, a veteran of 38 fights, but after a dominate first round by Heatherly, Huffman was able to keep the distance for the final two rounds to make it a closer fight than some believed it would be.

"A lot of people doubted him but we knew he was a tough guy," Heatherly said. "He's a veteran of the sport and you never want to overlook a guy like that. He definitely wore on me and I ate some leg kicks I shouldn't of. In the end, I wasn't happy with my performance. I shouldn't be calling guys out and then coming out and putting together a performance like this. I won the fight and that's all that matters."

After the first round, Heatherly started to fade from all of the punches thrown when he took Huffman's back.

"After 27 fights, I'm getting away from the things that matter, you're basic conditioning and ground and pound drills," Heatherly said. "I need to stop worrying about how many times I can punch a guy in the face and worry about finishing the fight. I have to get back to my wrestling. I'm a way better wrestler than that. It was a sloppy fight and pretty piss-poor performance. I won rounds but I'm not going to win fans by standing around throwing one-punch combinations."

It should be noted that Huffman didn't make 170, like Heatherly did, nor did he make the catch weight of 180.

Nick Dioneda and Jordan Howard put on fight of the night candidate of a performance. Howard walked away the victor via unanimous decision.

"I'm kind of embarrassed that I didn't finish it," Howard said. "I'm not a wrestler but I can wrestle when I have to. I need to work on my cardio. A lot of the reason why I took him down was because of my cardio."

Howard had three week's notice to take the fight and after the first few days of camp, he took a knee to the face and got and couldn't train for the next week and a half.

The victory improved the Tae Kwon Do black belt to 2-3.

"I have some holes in my game that I need to work on," Howard said. "When we go back to camp we have a lot of work to do. I saw a few submissions that I had but my arms were out of gas. I'm pretty disappointed I didn't finish the fight standing up or on the ground."

In his pro debut, Adam Meredith earned a split decision over Quinton McCottrell. Meredith put together a decisive third round against the spent McCottrell to sew up the victory.

On the amateur side, it had been nearly four years since Nathan Whited stepped into the cage. On Saturday a big knee to the midsection of Eugene Jones spearheaded a first-round victory for Whited.

 "I caught him in the clinch and hit him with the knee and it felt soft," Whited said. "When the ref stood us up I thought this kid is no joke. I better hurry up and do something."

The 24-year-old Whited had thought for a long time about returning to competitive fighting.

"I thought about it every day while I was gone," he said. "I fought Matt Ricehouse when I was 7-0 and he beat me and cracked my spirit. I fought two months after that and then I quit."

Other amateur winners on the night included Bill Dwyer over James Evans, Jason Spaw over Jason Williams, Brandon Aubuchon over Dusty Smith and Rob Carpenter over Fred Freeman, all in the first round.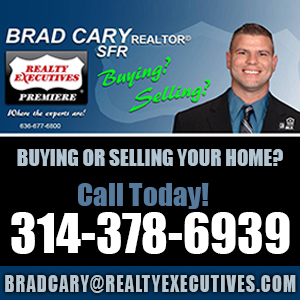 Shamrock FC: 317
| Sat, April 6th
Ameristar Casino, Kasnas City, MO
Nemesis Fighting Alliance
| Sat, April 13th
Casa Loma Ballroom, St. Louis, MO
Shamrock FC 318
| Fri, May 10th
River City Casino, St. Louis, MO
Shamrock FC 319
| Sat, June 8th
Ameristar Casino, Kansas City, MO

Tweets about "KnuckleJunkies OR @knucklejunkies"