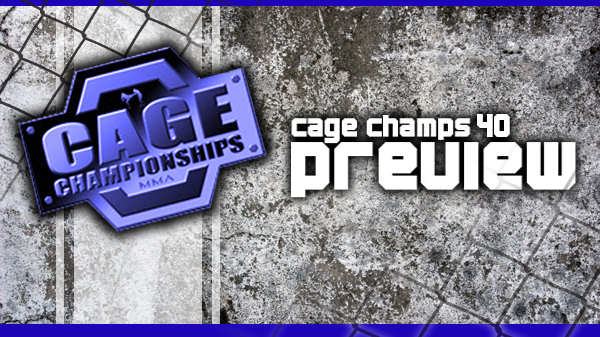 Cage Champs 40 Preview
Cage Championships 40 has had a touch of Murphy's Law for promoter Patrick Smith.

Smith has had to jockey and reposition the card due to a slew of pullouts. In one day alone, Smith had six different fighters pull of the card for some reason or another.

"I've heard everything," Smith said. "From strep to staph to shoulder to MCL, to work, to an eye poke to a car wreck. It's been the craziest."

Cage Championships 40 will be held Saturday at the Sullivan Eagles Hall on 100 Acid Mine Road. Tickets start at $25 and can be bought at the door. Doors open at 6 p.m. with the first fight scheduled for 7:30.

The evening will be highlighted by a main event that features veteran Sal Woods and young up-and-comer Chris Heatherly. Knuckle Junkies spoke with both fighters earlier in the week.

Heatherly is 3-0 as a pro and is coming off a win over journeyman Sean Huffman. Woods has tallied 18 pro fights and is 7-12.

"Chris said he wanted some tough fights and the first thing that came to my mind is Sal," Smith said. "Sal is exactly it.

The fight is scheduled to be at a catchweight of 165-pounds and the general consensus is, the longer the fight goes on the more the fight sways in Woods' favor.

"You know Sal is going to throw the kitchen sink at him," Smith said.

One of Missouri's top 145-pounders, JaVon Wright returns to the Cage Champs cage when he faces Jesse Thornton. Wright, long considered one of the area's top talents, is coming off a tough loss to Alex White. Thornton (3-6) is making his second appearance in Sullivan under the Cage Champs banner. Thornton won a decision over a tough Adam Dunnavant in July and has big-fight experience on his side as well as a salty ground game.

"I think JaVon has to be careful not to get submitted here," Smith said.

Rounding out the pro card is John Davis against Derrick Marks. This is the pro debut for both. Davis is based out of Battlegrounds in Union, and put on a fight of the year candidate when he took on KJ Jones for Proving Grounds MMA in April.

The amateur undercard will feature Richie Fernow, Brandon Howard, Steve Barbie, Chris Welch and Nick Pohlmann among others. The undercard will also feature youth grappling from Berger's MMA.