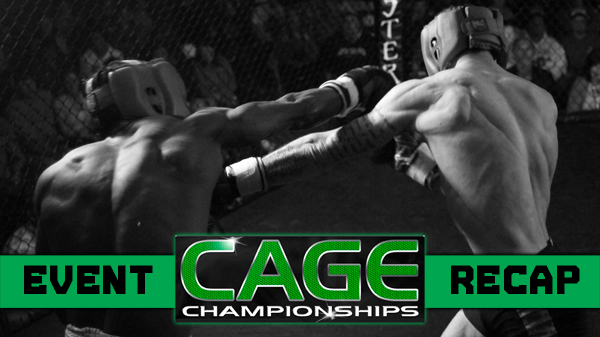 Cage Champs 42 - Event Recap
On the eve of St. Patrick's Day, Cage Champs returned to the Fat Cats sports complex for an all amateur event. This same venue was home to UFC welterweight Lance Benoist's last amateur fight in December of 2009. History was made once again as a new Spire Heavyweight State Champ was crowned.

In a match that saw the No. 1 and 2 heavyweights in the state, Jason "Shrek" Ostrowski from Ft. Leonard Wood took on Travis Edwards fighting out of Jefferson City.

Shrek made quick work of his opponent finishing, with a choke 1:17 into the first. Ostrowski who cuts down from 280 to the heavyweight limit of 265 used his weight advantage and superior wrestling to muscle the taller Edwards to the ground where he was able to finish.

Best friend and training partner Ray Clayton dubbed Ostrowki with the colorful "Shrek" nickname.

"Sometimes I'm just a hard head," Ostrowski said. "I'm going to get something done whether they like it or not."

The new state champion has a very bright future in the sport. One question that Ostrowski keeps having to answer is when will the young heavyweight turn professional.

"Whenever we all feel I'm ready, we'll go pro," Ostrowski said. "We're not going to rush it. I'm going to go when I'm ready."

Ostrowski improved to 11-0 and will be competing next for the ISCF Title in Kansas City.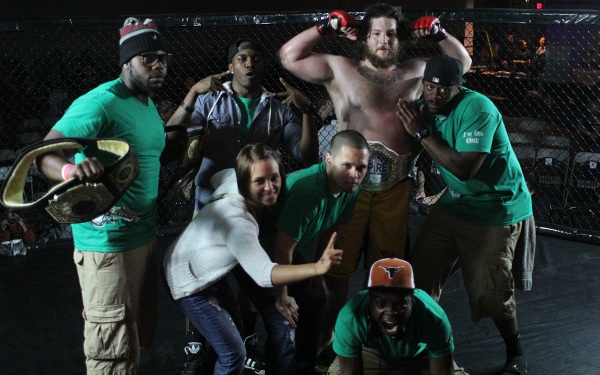 Jason Powell and Christian Camp were scheduled to fight for a sectional Spire Featherweight title, but neither fighter could make the 145-pound limit. Although no belt was on the line, the grudge match between Camp and Powell served as the event's co-main event. Powell started the fight strong, landing kicks to the body and legs. When the fight went to the ground, it was Powell who controlled the action from the top.

Powell carried his momentum into the second slamming Camp to the canvas. After a quick scramble, Camp was able to take Powell's back. Eventually Camp was able to sink his hooks in and secure a rear naked choke. An excited Camp celebrated to the dismay of a very pro-Powell crowd.

The win over Powell is two wins in as many weeks for Camp. Before the fight Camp had announced this would be his final amateur fight before turning pro.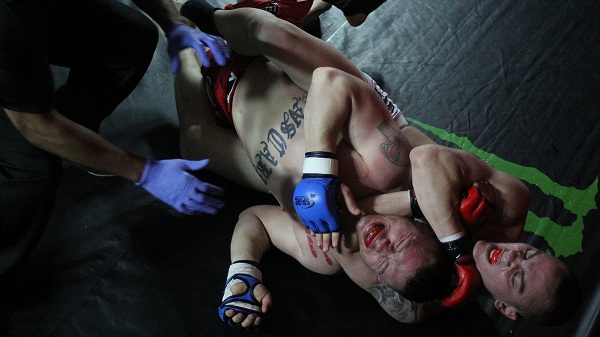 Cage Champs regular, Jason Spaw showed tremendous heart taking a fight with Garrett Wells on less than a days notice. Spaw, who trains at the Smith Pit in Cuba, may be regretting this decision as he was choked completely unconscious by Capital Punishment's Wells less than two minutes into the first round. Wells was unable to use his height and reach advantage over Spaw as Spaw closed the distance quickly and held his opponent against the cage. When the fight transitioned to the ground, Wells was able to pull a nice escape from the bottom to take the back of Spaw and land a rear naked choke for the victory.

Dillon Telbert and Matt Evans battled tooth-and-nail for three round with Telbert getting the nod from the judges.

Jeremiah Curwright dropped to 4-4 in his fight with Bradley "Broccoli" Wells. Wells came to the cage in his trademark green shorts and used his slippery ground game to secure his second straight submission in the Cage Champs cage.

Denver Sells from the Smith Pit overwhelmed his opponent for a 39-second TKO in the first.

Rob Luck was too much for his opponent Aron Crowe. Luck showed executed strong takedowns, good ground and pound, and excellent body positioning to gain the victory. Crowe from Ft. Leonard Wood Combatives was very tough and never quit throughout the fight despite the fact Luck controlled at almost every turn. Crowe was cut early and bled throughout the fight. Late in the third Luck began raining down punches and was able to get the win when the referee had seen enough.

Garrett Mueller pulled double duty on the night fighting in not one but two K1 matches. Mueller was on fire winning both of his matches by unanimous decision.

Scott Jenkins and Melvin Harris battled, with Jenkins getting a victory via ref stoppage late in the second.

In the nights third K1 match, and the only one not to feature Garrett Mueller, Jason Slattery bested former training partner Antwon Jahmul in an exciting K1 battle. Slattery had to over come some stiff low blows in the first and a strong jab from Jahmul to become victorious. In the end Slattery's conditioning proved to be the edge he needed as he dominated the final round, and was able to take home the victory. Slattery will return in May for his first professional MMA fight.