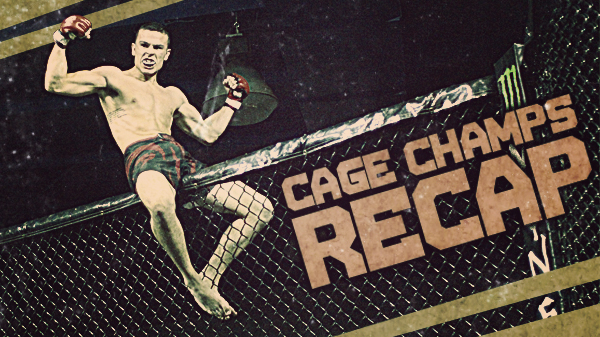 Cage Champs 49 - Recap
A St. Louis-area staple for for many years, Cage Championships is just one show shy of turning 50.

Cage Championships number 49, although light on MMA, was had plenty of exciting action.

In the main event, Dakota Bush made short work of "The Demon" Fred Freeman in just a shade under two minutes.

After hitting a big suplex to ground Freeman from Modern Combat Systems, Bush went to work on the ground. Bush held the back mount for for nearly the entire round, working for the rear naked choke. Freeman defended well until he ultimately was forced to tap at 1 minute and 55 seconds into the first.

Bush entered the cage to his signature walkout song, Prince's "Raspberry Beret," and would appear to be the heir apparent to Denver Sells, who has headlined the last several Cage Champs shows. The young lightweight shows great promise since moving camps to the Smith Pit. With the win over Freeman, Bush improves to 5-1.

Petosi's Brandon Aubuchon survived a devastating car wreck in July of last year that left him wheelchair bound with a long road to recovery. After many months of physical therapy, and hard work Aubuchon realized a personal goal and returned to the cage on Saturday.

Matched up with Greg Freeman, Aubuchon wasted little time and quickly engaged with his opponent. After a right hook dropped Freeman, Aubuchon pounced and punched out Freeman earning a first round TKO, much to the delight of the fans.

After the fight, Aubuchon had inspiring words for those in attendance.

"Work hard, and believe in yourself," he said. "You can accomplish anything."

In the night's only other MMA bout, Jonathan "Doomsday" Graves latched on to a textbook rear naked choke to submit Charles Davies two minutes into the first round. Graves hails from Bethalto, IL and was competing for MCS.

Denver Sells and Jarrod Thomas highlighted the K1 portion of the card. Sells looked in control early hitting a combination that led to a vicious head kick to start the round. Sells would connect two more times with the head kick with the third nearly dropping Thomas to one knee.

Thomas would survive the first round and as Sells began running out of steam, Thomas turned the tide in the fight. The srappy Thomas began working his leg kicks to slow down Sells, connecting with one in the third that left Sells visibly hurt.

Sells would finish out the third round strong cornering Thomas and highlighting the fight earning him a unanimous decision from all three judges. Sells is now 3-0 in K1 and 9-2 in MMA.

Evan Elder from Hahn MMA came out strong against Chris Welch. Elder peppered Welch with combinations connecting on vicious kicks to the body.

This fight was all Elder as he was able to stop the fight 56 seconds into the third round. When Welch began nursing a bruised rib.

TJ Casey was victorious in his K! match with Jimmy Seivers. Both fighters came out flinging wild punches, but it was Casey who connected with more accuracy.

In the second Casey dropped Seivers twice before Seivers could not continue and referee Colby Tierney waved off the fight.

Dave Smith and Dalton Knight kicked off the card with a rowdy K1 bout that saw Knight from Gladiator MMA take home the victory.

Cage Championships returns on November 8th for Cage Champs 50.