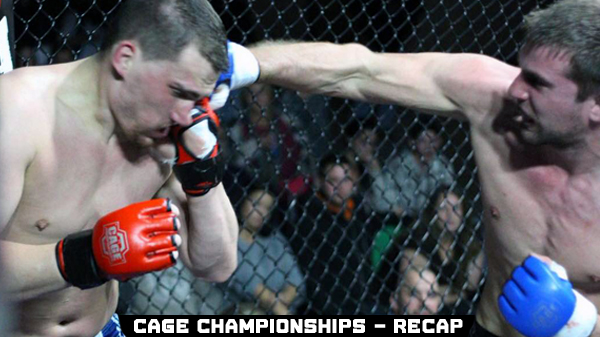 Cage Champs 50 - Recap
There was blood and sweat and thunder in Sullivan on Saturday as the area's top two middleweight amateurs slugged it out for supremacy.

It was also an evening when Cage Championships honored some of its finest athletes to ever compete in the cage, and then showed there's a bright future to still come.

Former Cage Champs stars and now UFC athletes Josh Sampo, Chris Heatherly, and Jake Collier were on hand signing autographs and were joined by RFA contender Andrew Sanchez, and former Strikeforce vet Matt Ricehouse.

If Ty Flores isn't the best middleweight in the Midwest, I am soliciting suggestions. The 20-year old from Berger's MMA came into Sullivan, and beat the promotional champion and reigning big dog, Denver Sells.

Up until this point Sells had beaten all challengers with only Adam Meredith getting the best of him. Sells did lose a decision to Daniel Schaab, something that has many local experts still debating.

Sells' game plan on Saturday was simple: overwhelm.

As soon as the bell rang in the first, Sells came out blasting with a cyclone of knees to the gut and head kicks. The resilient Flores hung in there and eventually caught an errant kick from Sells putting him on the mat where he worked a bit of ground and pound before Sells was able to return to his feet.

A kick to the body late seemed to hurt Flores, but as the action continued, Sells began to fade.

"In the first round he was living up to the hype, just Jake Collier, the Smith Pit and all of those guys." Flores said. "It was the same thing as the last fight. I'm a little bit of a slow starter. I didn't think I had that bad of a start in this one I still didn't unload for the first minute or so. Afterwards I did a little better. I've been working on my stand-up and checking the knees, throwing punches, all of that."

Sells was in serious trouble in the second as Flores worked a smothering ground game, and nearly had a rear naked choke, but Sells displayed tremendous heart and fought it off until the bell.

In the third and final round, Sells dug deep and resumed his striking barrage. Flores waited for the opportunity and grounded sells where he would eventually end up on bottom working submissions. Flores would transition back and forth from triangle to armbar but was unable to finish Sells sending the fight to the judges.

"Denver is a tough guy." Flores said. "He really is. He's also one of the nicest guys I've ever fought. He's a helluva fight and helluva guy. There aren't many guys tougher than Denver Sells that's for damn sure."

Flores won two of the three rounds improving to 9-1.

Matthew Nall has quietly put together a very impressive 2014. The bantamweight grappler out of Salem, MO picked up his fourth win of the year on Saturday submitting Ronnell Mayes with an armbar in the second round. In typical Nall fashion, he looked for the submissions early, absorbing punches along the way nearing finishing the fight in the first, before hitting an impressive transition from rear naked choke to armbar to seal the deal in the second. Nall is now 8-4.

Erik Newman showed a lot of maturity in the cage for such a young career as he submitted Aaron Harvey early in the first. The flyweight Newman continues the Newman legacy as a star one the rise.

Billy Kreup wasted little time in his fight, taking the fight to the ground, and holding top position before he was able to secure the rear naked choke.

In a match that had grabbed national headlines, Garrett "G-Money" Holeve showed a tenacious ground game to submit David Steffan. Setten's fostered his own undoing when he took Holeve down in the second, before Holeve buzz sawed his way into top position before finishing with a rare naked choke.

In the night's first MMA match Dan Ulenbrock stopped the scrappy Kwade Nash with a suffocating arm triangle midway through the second. Ulenbrock worked the armbar early and often in the first round, but couldn't get it to stick. It was all Ulenbrock in the second where he grounded Nash and eventually got the tap.

Three K1 bouts kicked things off with Jason Newman defeating rival Jerome Young by unanimous decision. Cortarious Romious defeated Colton Carmack in a very close split decision.

Kevin Green suffered a torn bicep in his match with Arlandis Henderson in the night's inaugural bout.

Cage Championships returns in January.

Photo courtesy of Sara Levin Photography.