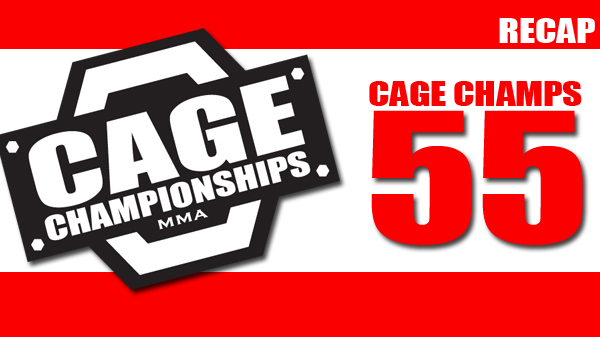 Cage Champs 55 - Recap
Cage Championships was back in Sullivan on Saturday, and it the fans were primed and ready, and were treated to a night full of exciting K1 match-ups and some gritty MMA performances inside the cage.

It wasn't pretty, but Modern Combat System's James Cowan got it done on Saturday night, snapping the two fight win streak for Colten Carmack, who hasn't fought in over a year.

Carmack nearly ended the fight in the first with a triangle after getting swept from mount, but Cowan put up an exceptional defense, and sent the fight on to the next round.

In the second Cowan hit a big slam to take mount, from there he would maneuver into a tight arm triangle. Carmack nearly tapped but just as he was about to throw in the towel, Cowan shifted out and gave up on the submission. The third was close, but Cowan's grappling helped him control the round to win a unanimous decision 30-27, 29-28, 29-28 and rebound from a loss to Luis Pena last month.

in a match between two fighters that had an obvious dislike for each other, Lucas Clay and Montrel James used the animosity to put on an entertaining K1 brawl that stole the show. the fighters shared a mutual disdain as they taunted one another between rounds and during resets.
Clay set the tone for the fight with a spinning hook kick that landed on the back of the head of James, which drew a verbal warning from the ref. The second round saw Clay landing big punches while James stayed poised despite absorbing some big shots. James mixed in the kicks and worked the legs of Clay.

The third was very close with James continuing his earlier strategy of trying to use dirty boxing to tie up his opponent, and wear down the legs. Clay connected with a big spinning backfist that seemed to cause James to slow down a step. From there, Clay began landing from outside while James tried to make the fight into a brawl. After three rounds it was a unanimous decision for Clay with the judges scoring the fight 30-27, 30-27, 29-28 with the fight arguably closer than the scorecards revealed. The fans could have easily handled another round.

Keith "Too Cocky" Gorden came up short in a bid to upset Josh Augustine's return to MMA. Gorden proved to be a difficult puzzle to figure out for Augustine who hat to gut out a three round decision to find victory. A big takedown late put an exclamation point on the fight and most likely proved vital to Augustine finding victory via split decision.

A scheduled bout between Kris Dodson and Jerry Ballew was scrapped minutes before the two were to enter the cage. High blood pressure issues with Ballew forced a doctor stoppage before the fight event started, much to the dismay of a large, vocal, pro-Dodson crowd.

Kicking off the main card was an exciting back and forth between Cort Romious and Cristian Santana. Romious came out firing and was aggressive from the word go landing punching combinations and short flying knees to the body. Santana seemed to be in trouble in the second after Romious landed a big looping right. Santana was resilient and continued to pressure Romious throughout the fight. Whenever he was punched Santana would bite down on his mouthpiece and march forward, but despite showing in credible toughness Santana came up short and the decision went to St. Charle MMA's newest talent, Romious.

Scrappy, and quick Keith Rocheville made short work of Juan Parades in his debut fight. Rocheville got the fight to the ground after a brief tussle against the cage, taking the mount where he punched out Parades just 1:10 into the first round.

A heavyweight K1 match-up between Chris Gideon and Isiah Milican was cut short when Gideon injured his knee very early in the first round.

Jeff Houska and Zach Jones was the highlight of the preliminaries in a very exciting back and forth encounter with Houska's wrestling being the difference. Houska from JD's Gym sprawled out of an early takedown attempt from Jones to work a guillotine before abandoning it to get a better position. From there Houska landed punches from top, but did not seem to incur any severe damage on his opponent. Houska and Jones were very evenly matched and while Jones came up short, both fighters show tremendous promise.

Angelo Young and Nathan Rice put on a wild K1 brawl. Both fighters were throwing with reckless abandoned and the crowd grew quiet waiting for someone to land a knockout blow. The two big fighters wailed on each other for three rounds when Young won the decision.

Steven Coleman kicked off the preliminaries against Mike Hulsey. Hulsey sustained a chest or rib injury causing issues with his breathing. Once Hulsey asked for a time out, the fight was was quickly stopped.

Cage-side notes provided by Chris Whatley.