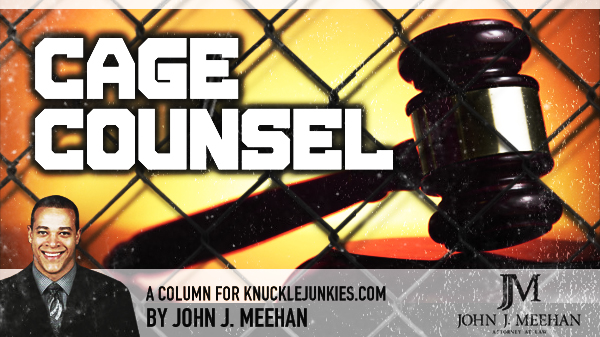 Cage Counsel: The Power of a Record
By
Staff
| Knuckle Junkies
John Meehan is a St. Louis Attorney who has been heavily involved in mixed martial arts. In college, while playing football for the Drake Bulldogs, John worked with multiple fight companies in promoting fights and event preparation. Immediately after graduating from college, he accepted a scholarship to the Drake University Law School. During that time, he began training Brazilian Jiu Jitsu and Mixed Martial Arts with veterans from the UFC, WSOF, Shark Fights, and numerous other local promotions. Through the connections he made training, he was asked by his then coach, Josh Neer, a UFC veteran, to manage some of the younger fighters, and worked closely with sponsorships, contracts, and fight promotions. John also served as producer, videographer and commentator for local fights during that time period. John graduated from law school in May of 2013 and immediately moved to Las Vegas where he worked for the UFC in their Legal Department, working with sponsorships, copyrights, and fighter contracts among other things. Now that he has moved back to St. Louis to practice law, he will be writing an occasional column related to amateur and beginning professional fighters, as well as legal issues within the sport. John Meehan can be reached at jmeehan@johnjmeehan.com, or on his website www.johnjmeehan.com.


The Power of a Record

I talk to a lot of young professional fighters on a regular basis. I have managed a few of them, and trained with many. I have had many experiences discussing their careers and goals, and I hope to see many of them get to the top tier of the fight world. The good news is that many of these warriors have the drive, determination, and work ethic to get to the top. The bad news is that those same character traits can very easily be the death of a career before it really gets going.

Through my experiences with young fighters in the early stages of their professional careers, I have found that most of them put themselves in bad situations career wise, so early, that they never get the opportunity to reach the major national and global promotions.

The major culprit of career suicide and the heart of a career in the fight world is unsurprisingly, an athletes record. Obvious it may be; if you have a winning record you are considered to be a better fighter, if you have a losing record, you are probably not as good. With that in mind, the cultivation of a career and the protection of a fighters record is something that should be both calculated and well thought out. Major MMA promotions, like any other employer, can only tell so much on paper; so the more impressive your resume in the fight world, the more likely you will get the call.

Lets assume you are an above average fighter, with a well-rounded background and skill set. Even with the building blocks for success in place, there are 2 types of good fighters that generally will suffer from an undeserving bad record and never be given the proper attention from the big leagues. First, is the Overactive fighter, and second, is the Overworked fighter.

The Overactive Fighter

The overactive fighter is generally someone who has a great coach, and a solid team. This is the fighter who has a promising future, and trains hard (usually constantly), yet is determined to fight way too often to grow, without taking a toll on his record.

Fighting too frequently is a horrible idea for a professional fighter. If you are someone who fights every month, or even worse, multiple times a month, you have to consider whether you are actually improving tangibly between events. Win, lose, or draw, a fighter needs to be improving and growing between every fight, especially in the beginning of their careers where they are building a name for themselves, and coming into their own style in a sense. By fighting constantly you are subjecting yourself to high risk, the inevitable loss, which can come all too swiftly in MMA. With gloves weighing mere ounces, you always run the risk of one perfectly placed shot ending your night early. With that said, it is critical that a fighter is improving substantially from his first professional fight, to his sixth or seventh, where he will face more seasoned opponents and need to start worrying as much about the quality of the win as just getting the win itself.

The major downfall of the overactive fighter is that with a professional record set in stone, every loss will count twice as much as a win. And if you have been a pro fighter for 2-3 years, and your record is 15-15, you have probably marred your record to the point that it is unfixable, and even 10 straight wins, even if they are in a different weight class, will never be pretty enough to gain the serious attention you want from a major promotion.

A record is set in stone and overactive fighters will always suffer. You have to make every fight count and take your time in between fights to make sure you are improving, while also building a positive and lucrative reputation.

** On a side note, if you fight too often people wont be as likely to come see every fight, you will sell less tickets per event, and will as a result, make less money in the long run. Make your fights a spectacle that friends and family members look forward to, and big crowds will gather for. Time between fights will help you to avoid getting stuck in a career hole with a record you are always chasing to improve, but will never catch up to.

The Overworked Fighter

The title for this second athlete may be a bit counterintuitive. I am not drawing attention to the fighter who trains too hard. This second type of fighter is the one who spreads himself too thin, and suffers because of it.

If you are an amateur fighter or have recently crossed into the ranks of a professional fighter, do not start living like it is a full time job. Until you can comfortably support yourself with fighting alone, dont pretend like you can.

The overworked fighter is oftentimes a guy who has a long and prosperous amateur career. This is the athlete who has a good reputation and will be fighting on his own, but also training other amateurs and even sometimes managing other younger less experienced fighters. This athlete is one who tries to make the little paydays collected from managing and training his small crew of fighters while still waiting on his own career to come to fruition, hold him over. It wontplain and simple. Either your career will suffer, your teammates careers will suffer, or oftentimes both.

What the Overworked athlete gets sucked into is spending so much time attempting to balance his own career and needs with that of the people whose careers he has taken responsibility for. He may have a great relationship within the community, and have lots of connections at different promotions, but in the end he can neither devote enough time to cultivating his team, nor devote enough time to fully reaching his own potential. Oftentimes this is the individual who mistakenly tries to make a full time living using all of these separate ventures and this is where he will see his downfall.

In order to be a professional fighter full time you have to be able to survive financially as a professional fighter. Paydays from sponsorships, fights, and possibly private lessons or running classes, must be enough to support a normal lifestyle. Some of the best professional fighters in the nation, especially in the Midwest, still work full-time day jobs until they get a call to the big leagues. If you have a record of around 6-1 or 7-2, and are a mainstay at a larger regional promotion, you have a solid shot at the next level depending on the level of the fighters you have beaten. However, if you are struggling to make ends meet surviving only on income from the fight game, you will fall into the trap of fighting more often out of necessity, and for less money, ultimately ruining your value, or even worse, your record. You will then become the Overactive fighter!

Conclusion

The importance of a good manager and/or coach is to do the heavy business and career lifting for you. You and your manager both need to understand that your record is the key to your career. It is much better to make less money from fighting early on and build a good, clean record, with calculated opponents and steady growth and improvement, than it is to run the professional circuit ragged for quick paydays. Far too many fighters get caught in the downward spiral of trying to survive solely on fighting, or wanting to fight too often, that both lead to a tarnished record that will forever be a bit too dull for the likes of major promotions.

In conclusion, take it slow, improve between fights, and know that quality over quantity is the best way to the top of the MMA world.

NEXT COLUMN: Making The Most Out Of Sponsorships.