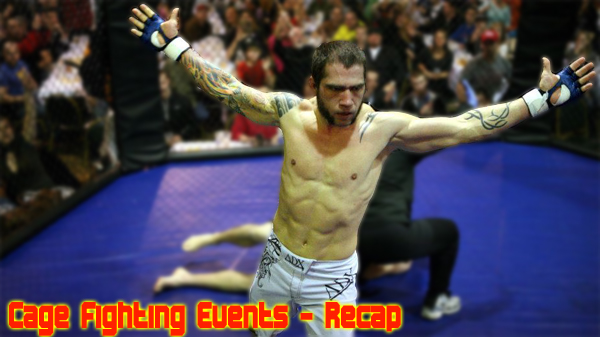 Cage Fighting Events - February 8th Recap
By
Debo
| Knuckle Junkies
St. Charles MMA's Matt Helm was victorious in the main event of Friday's Cage Fighting Events card held at the Heart of St Charles.

The energy in the venue was excellent and some great matchups featured dominate finishes, decisions, and submissions

Helm took on a very tough Cord Mapes. The action began on their feet and Mapes was very comfortable in the stand up, although Helm displayed excellent defense. Mapes was the early aggressor with a standing choke that did present some trouble for Helm before he was able to escape and take Mapes down to the ground where a solid mount and a right hand to the top of the head put Mapes in trouble. The younger Mapes cut 30 pounds for this fight and did not have the energy needed against Helm. The fight ended at the 53-second mark of the first round after a fury of strikes to the head.

Mapes, who announced after the fight he would move to 185, fell to 3-1 while Helm improved to 8-5.

In the co-main event, Clay Mitchell withstood an early hard takedown by Brian Davis in a matchup between light heavyweights. Mitchell later broke what appeared to be a decent submission hold by Davis. At the two minute mark Mitchell gained strong ground position and began a barrage of heavy strikes when the fight ended at the 2:20 of the first round.

After the fight, Bo Kunz was introduced to the crowd and it was announced the Mitchell and Kunz would compete for a spot on Team USA at a later date.

In the other featured bout of the night, lightweight Brian Graves took the fight straight to the ground before submitting Nick Savin with a rear naked choke.

Easily the most exciting fight of the undercard featured Billy Kruep at 145-pounds. Kruep brought a strong following to St Charles and won a close decision over Trevor Lanzone from Destruction MMA.
Lanzone controlled the fight from the ground, particularly in the first round.

As the fight moved forward, Kruep continued to improve his defense and utilize his wrestling skills.

Throughout rounds two and three, Kruep generated enough offense to win a close decision in a fight that provided the packed house with plenty of entertainment.

At 140, Quentin Garrison won via submission at the 1:41 mark of the first round over John McLaughlin. Garrison showcased a nice array of kicks and used them to control the fight early.

Ben Chesser won due to strikes over Will Edwards.

At 150, Ronnie Johnston defeated Dalton Webb with a submission.

On the preliminary card Antion Johnston (135), Andrew Murphy (155), Zach Boedeker (205), and Brad Dyar (160) division were all victorious.

Cage Fighting Events returns to the Heart of St Charles Banquet Center on April 5

Special thanks to Jim Range for the photo. See the rest of his gallery here.