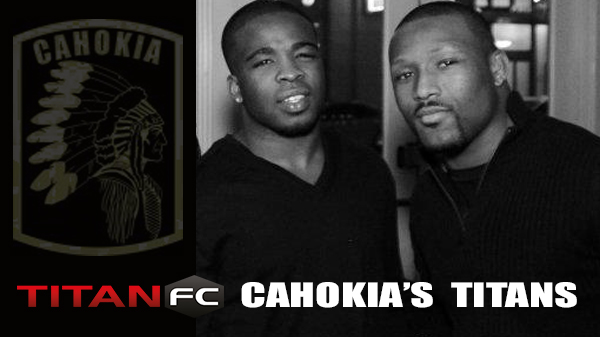 Cahokia's Titans
They have been comrades in combat since they were teenagers.

Robert Washington and EJ Brooks first crossed paths in the Cahokia High School wrestling room. Washington was the established senior. Brooks, a hot-shot freshman with a wealth of potential.

The two became training partners and then developed a friendship that has endured. After high school, Washington went into the Navy. Brooks to the University of Missouri were he put together a solid wrestling career. In 2009, they both jumped into the world of mixed martial arts. Though they trained at different St. Louis-area gyms, Brooks and Washington were always partners in crime, a true power couple.

On Friday at Titan FC 37 at the Clark County Fairgrounds Event Center in Ridgefield, WA, the pair will fight on the same card for the third time in their professional careers.

Washington (19-10) will meet Grant Dawson (8-0) in a lightweight bout. Brooks (8-5), who is bumping up to welterweight, will face Ben Egli (6-0).

The event also features three championship bouts on the main card, and will be streamed live on UFC Fight Pass.

Not done yet

Not long after a first-round KO loss to Zak Bucia in May of 2015, Robert Washington went to his Facebook page and declared that after nearly 30 pro fights, it was time to hang up the gloves.

Soon after, you could hear the screech of his brakes.

"It was an emotional decision with that post," Washington said. "I had a lot going on at that time. My wife was six months pregnant, we were closing on our house, I was taking my toughest course in grad school, and I was working full time. I wish I would have waited but a lot of positives came out that too. It got me away from the sport for awhile. I was able to do some coaching and look at things from the outside."

The 33-year-old Washington feels rejuvenated, especially in between the ears, and called Friday's fight the right opportunity at the right time.

"My mind is not so cluttered with so many activities," Washington said. "My confidence is up. I'm taking down and holding down 220-pounders. I'm a challenge for anyone at 155-pounds."

Washington has praised the work new striking coach Eric Steinberg has added to his arsenal.

"Eric has taken my game to another level," Washington said. "I have diversified my attacks. I have opened up. Honestly, I'm worried to see what I'm capable of doing. I don't think he is expecting what I'm bringing to the table."

In Dawson, Washington finds himself across from an opponent who has seven wins by submission, six of which via rear naked choke.

"He's a tough kid," Washington said. "But, with 30 professional fights, I've seen this before. He's trying to propel himself and he probably thinks I am at the end of my career but he's going to find out that I'm still learning and I'm still growing."

Turning it around

EJ Brooks is aware of the facts. Numbers don't lie

Since October of 2012, Brooks has won just one fight in six appearances for five different promotions.

"I have thought about (retirement) too," Brooks said. "I have had the worst luck. I have been set up, I have been sick. My last fight, I had a staph infection. Half of my loses should have been wins."

His loss to Jason Novelli in September was nearly the back breaker.

"That fight was so depressing," Brooks said. "Even on my death bed this elite fighter couldn't finish me and barely beat me. I put myself in a situation where I embarrassed myself and let people down."

Brooks started his career 7-0 over a two-year stretch. Now in Egli, Brooks finds himself paired against a crackerjack prospect with visions of the big time in his eyes. All of Egli's wins have been finishes, five of which by submission. All have came in the first round with a total fight time of just under nine minutes, he hasn't even spent two full rounds in the cage as a pro yet.

"I'm not really impressed," Brooks said. "Out of all the guys I've fought, (Egli) has the most padded record. He's fought high-level amateurs who are labeled pros."

Though spending the bulk of his career at 155-pounds, jumping up to 170 is nothing new for Brooks, who fought there as an amateur.

Without the grind of an extreme weight cut, Brooks should be as fresh as he has been in years.

"I don't see anywhere where he is better than me," he said. "I can win in any number of ways."