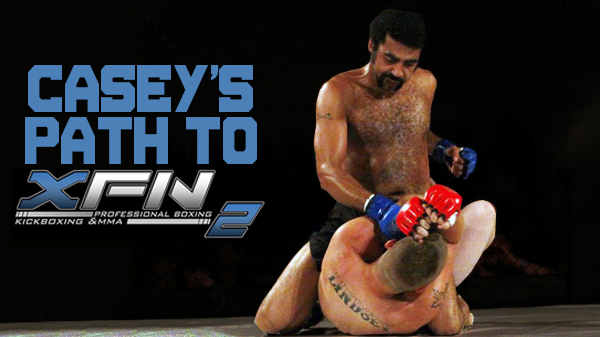 Casey's Path to XFN2
TJ Casey is a lot of things to a lot of different people.

Father, fighter, musician, an inspiration.

His preferred and most just nomenclature outside the home is "coach." It's a title that he puts on like your favorite pair of jeans.

"I'll be coach until the day they throw dirt on me," Casey said. "Just like Kenny Loehr (the recently departed St. Louis city coach). That's going to be me. Being a coach is what motivates me."

On Saturday, the 36-year-old Casey will make his combat sports pro debut at Shamrock Fighting Championships: Xtreme Fight Night 2 at Lumiere Casino. On a night of MMA, boxing and kickboxing, Casey will meet Kirk Huff in a boxing bout.

"I feel privileged for the opportunity," Casey said. "I feel relevant. It's a step for the old guy.

At 26-years-old Huff has carved quite the path. The 2012 St. Louis MMA Amateur of the Year has gone 2-0 as a pro in MMA, 3-1 with 1 NC in pro boxing, and 1-0 in Muay Thai. Huff, out of St. Charles MMA, is like a combat sports Swiss Army knife. After Saturday's fight with Casey, Huff is scheduled to take part in Feb. 28th's Respect professional jiu-jitsu event held in Chesterfield where he will face fellow purple belt Joey Walters.

"I know (Huff) is pretty talented, a Golden Gloves winner," Casey said. "Hopefully we can put the crowd on their feet."

Casey developed an early taste of Tae Kwon Do and segue into boxing. He got into MMA five years ago, racking up 18 fights, most recently a victory over Reggie Evans in October of 2014. Boxing has been there from the jump, racking up over 150 fights.

"I'm not the most technical. I'm a little unorthodox," Casey said.

The fact that Casey will be standing under the lights and across the ring from one of the region's top young gunslingers is a victory unto itself. Sometime toward the end of his high school run at St. Pius X, Casey broke bad. From the age of 17 until 20 there were three different stops in prison.

A career in music led to fun times but dark corners on dingy nights.

"If I wasn't in a gym I would be in a bar," Casey said "I played rock-n-roll for years with my brother and we were around drugs and all that other b.s. Four years ago a close friend of mine OD'd and I knew right then it was time to grow up."

Casey hung his bag at gyms like Twin Cities, Body Shots, South Broadway Athletic Club, and even his own garage. In a 18-month span from 2012-13, Casey fought five times in MMA, winning three. Boxing was a constant and soon his love affair with coaching began.

"I'm here to mold people," Casey said. "I make fat people skinny. Kids look to me as a role model. It's the most rewarding part of my life. There is a lot of racial animosity and I want to be a brother they can look up to not the type of brother we have been seeing a lot of lately."

Casey lives just around the corner from Hahn's MMA in Festus. There is where he serves as head boxing coach. But he is both mentor and student. Sharing and learning.

"We just started gi jiu-jitsu at the gym," Casey said. " As a boxer I hate being on the ground but as a fighter, I love it. I love learning new stuff."

Some nice young talent has come out of Hahn's as of late. Malcolm Smith is an established pro making a name for himself regionally and Rachel Stockham has quickly turned in memorable performances in her brief amateur career.

Eighteen-year-old up-and-comer Evan Elder is a student that made a big impression on "coach".

"Five years ago, he changed my life," Casey said. "Here was this goofy wrestler that wanted to learn how to throw hands. He's such a good kid and I got to watch him grow. The only downfall (because of his age) is that he won't be able to watch me at the casino."

It's rare, odd and borderline head scratching that an athlete makes his pro debut at 36. Casey knows this and the plan of attack is simple; compete at the best of his ability and bring a a few lessons back to Festus.

"I'm grateful for this opportunity," he said. "With some of this money I'm going to buy some jump ropes for the kids at our gym. I'm out to make these kids better people. If I can keep a kid from one doing some of the dumb shit that you or I did, I have done my job."

Casey is humble and grateful. His mindset is something that we need more of in combat sports. But he's still a fighter and once that bronze bell rings Saturday night, he'll have left Mr. Nice Guy back in the dressing room.

"I have to put it out of my mind and turn it on," Casey said. "Hahn fighters may have not always been the most competitive but you know you have been in a fight when you face one."

Get tickets to the event here:




Photo courtesy of Jimmy Range Photography.