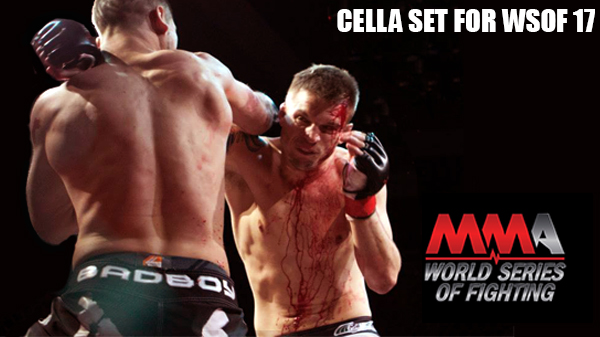 Cella Set for WSOF 17
With age hopefully comes wisdom.

At 29-years-old Adam Cella is bound with all the weight of his MMA apprenticeship.

"I feel 39 sometimes," Cella said. "It's definitely not easy. It's a young man's sport."

That being said, Cella's mental and athletic elevators have all the indications of being on the same level. Always one of the sharpest fight night minds inside and outside the cage, Cella has had to forge through the strength and conditioning process. As he knocks on the door of 30, he's now able to do so louder and for longer than ever before.

"I'm in better shape but I've built up to this," Cella said. "You don't just walk in, do 10 five-minute rounds then high-five everyone as you're walking out. There's a science to it and I'm starting to figure it. I have seen a lot of things."

Cella returns to competition on Saturday at WSOF: 17 Shields vs. Foster at the Planet Hollywood Casino in Las Vegas. He will face Danny Davis Jr. in the evening's first fight of the main card. A bout that will kickoff the live telecast on NBC Sports.

Davis Jr. (10-8-1) is part of the revamped Extreme Couture team in Vegas. He's has put together four-straight wins and Saturday will mark his third fight for WSOF. He has appeared to have righted the ship after a 2010-12 stretch that saw him drop 6 of 7 fights.

"I'm typically the taller, bigger fighter with the reach advantage but we're pretty much the same type," Cella said. "This is going to be a little bit different for him and me."

Cella has had Davis Jr. in his frame of reference as an potential opponent since the summer.

"He has some nice Muay Thai but OK wrestling and grappling," Cella said. "He's been submitted a handful of times. You see him take an ugly shot and then he's getting stuck in a choke."

The multifaceted Cella has 3 TKOs and 3 submissions on his 6-2 record and believes he can, "out-MMA" his opponent.

Cella was a member of the cast for The Ultimate Fighter 17: Jones vs. Sonnen in 2013. In 2014, Cella and Lucas Gwaltney earned the 2014 STL MMA Awards pro fight of the year in a donnybrook that many consider the best St. Louis MMA fight of all-time. Cella was likely seconds away from winning that fight but Gwaltney gutted through to get the TKO at the 4:46 mark.

"That kinda set me back a little bit in that we thought we were knocking on the door if we got that win and two more," Cella said. "Yeah, I was injured, I was hurt, but he was too. His heart beat me."

Cella made his second Shamrock FC appearance of last year in October. After losing Laverne Clark as an opponent, Cella was stuck with Anthony Lemon and proceeded to do exactly what he needed to with a last-minute replacement; finished him in 80 seconds. Cella closed the deal on Lemon with a choke variation shown to him just moments before the fight from teammate Luigi Fioravanti. About the only thing satisfying part about the victory was the ending. Like playing a game of HORSE will pals on a playground, Cella called it his shot before making it.

"I called it in the back exactly how it played out," Cella said. "It was crazy."

Saturday is his first bout with WSOF, fighting mostly for Shamrock other than his trip to Sweden to for the UFC.

"It's a one-fight deal. We're taking it one at a time," Cella said. "It's no secret that Bellator is coming (St. Louis) and Jesse Finney has had a big hand in that but this was the smart choice for right now. It's a bigger show (than SFC) and it's good exposure. I can't bank on what if just what's in front of me. I wasn't looking for a 10-fight deal. There's an opponent we want in March for SFC. We have a plan for this year but it's still one fight at a time."

Cella was offered the fight through his connection with John Wood at Syndicate MMA in Las Vegas. Cella circled the wagons back at Finney's MMA in St. Louis and recognized that Davis Jr. was a tough but winnable opponent. Wood and Syndicate are a key part of the rebirth of MMA gyms in the fight capitol. Wood and Cella struck up a close relationship during Wood's stint as Jon Jones' assistant coach on TUF 17. Cella spent the last two weeks of his WSOF camp bunking at Woods' house and basically living at Syndicate.

"I like to go and train there not because it's better than anyone who's here," Cella said. "But when you go away you can focus on yourself and get away from real life; the bills, problems, work. Like a lot of guys at my level, I have a normal career or job to go to. For the next couple of weeks I get to live the pro fighter lifestyle. John has always been a big believer in me and the communication between he and Jesse has always been open and it's all about wanting to catapult it forward."