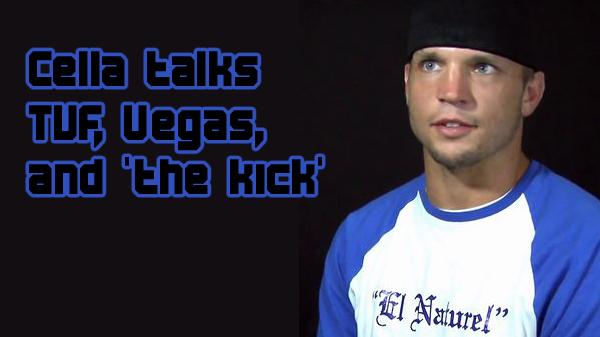 Cella talks TUF, Vegas, and 'the kick'
Dreams do become reality. Just ask Adam Cella.

Cella touched down yesterday in Sweden. Come Saturday, Cella will step inside the UFC octagon. Something, I'm sure, the St. Louis native would have had a hard time believing a year ago at this time.

Cella will square off with fellow middleweight Sweden's Tor Troeng on the undercard of UFC on FUEL TV 9. Both Cella and Troeng were contestants on popular "The Ultimate Fighter 17 reality show. You can read more about the match-up and Cella's thoughts on the fight here.

Cella became the fighter he is today at Finney's MMA. He walked in those doors the farthest thing removed from a cage fighter. Over time, with dedication and skilled tutelage, Cella honed his skills and became a fierce striker en route to going 4-0 as a pro, all with stoppages in the first round.

On "TUF 17", Cella was a member of Jon Jones' team and is unfortunately known for being on the receiving end of Uriah Hall's highlight-reel knockout kick in the third episode.

Through his connections with Jones and "TUF 17", Cella found a home away from home in John Wood's Syndicate MMA in Las Vegas. Wood's gym boasts anywhere from 40-50 pro fighters on the mat at one time during sparring sessions and Cella said if things go well, he will still train at Finney's but when it's fight time, he will move his camp there to get away and focus.

I caught up with Cella just before he left to go back to Vegas. We talked about TUF, his future and, of course, the kick.

Is it bold enough to say that TUF has been a life-changing deal?
Adam Cella: My life has changed, but it's not really changed. I still go to work every day. Still work for my family. Like I've said before, the only thing that's changed is that I have more Twitter followers and Facebook friends and this and that.

But career-wise?
It's opening up the door. I'm doing interviews all the time, I get recognized here or there and now I have a couple of extra zeroes on the end of a paycheck after a fight. It's going to be good.

How do you think you improved during your stint?
From when I went out there and since I've been back, we're going on almost six months, my wrestling is what I've been working on mostly. I'm not a D1 wrestler by any means but I've gotten where I can handle myself. I'm changing from just a striker to an all-around MMA fighter. It's cool to actually see it all tied together because you can learn jiu-jitsu, you can learn a little wrestling, but when you're tying it all together is when you become dangerous and that's where I think I'm headed.

The week of 'the kick', how crazy was it both leading up to and following it?
I didn't really know what happened because I didn't really remember anything from that fight. I just knew what they told me. I actually got the episode early so that I could watch it. (The UFC) was nice enough to send it to me because I told them I didn't remember and that I needed to brace my mother. Watching it back, it was a good kick and this and that but I think I started to win the round. It didn't make me any more scared of Uriah. I'd fight him tomorrow. It's cool being known for something like that, it sucks being on the other end of it

How was it leading up that episode - with you knowing what everyone is going to see - and then having to deal with people bringing it up for days after?
We had a viewing party at Lumiere and everybody was like; 'You have to be the one knocking him out if you're having a viewing party.' I was like, you know what? Let's make it a party. I know what happens but 2 million people are going to watch it, why not everybody get together and kinda make it an awkward situation for a minute and then just have fun with it? At Lumiere it was kind of crazy because when the kick happened it got dead silent and then I said, 'They edited that! That didn't happen!' I played it off because obviously I was fine.

How were the parents?
I showed it to my mom the night before to get her ready because she'd have a heart attack. And she was fine. At her house she was fine then the night that it happens, she's a mess. My dad was like; 'I couldn't have seen that live.'

Sounds like you're supercharged about Vegas?
This is sort of a trial run. I worked with John Wood 90-percent of the time that I was down there. He's kinda like Jesse, the way he talks, just his style is very similar to what I'm used to. Here in St. Louis, at our gym, we have great wrestlers, great jiu-jitsu guys, great boxers, and great kickboxers, but nobody really puts it really all together in a MMA form and that's what I want to get to and down there they have that. We're going to see what happens.

Special thanks to Shamrock FC for use of photo.