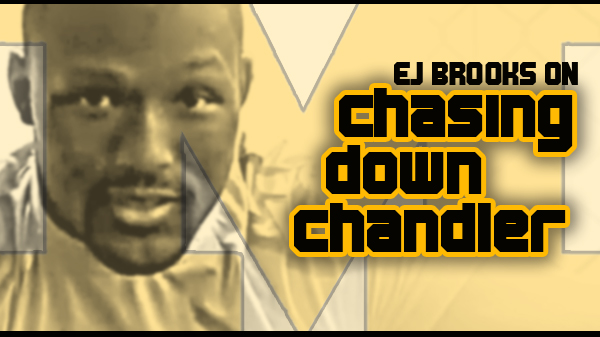 Chasing Down Chandler
It's common for a fighter to join an organization with thoughts of one day fighting the champ.

EJ Brooks has been dreaming of fighting the Bellator champ long before Michael Chandler swept through the 2011 tournament and eventually took the lightweight title from Eddie Alvarez.

Brooks, the St. Charles MMA/Team Vaghi product who joined Bellator last August, watched from afar as Chandler and Alvarez fought last November in what many called fight of the year.

Now as Brooks (7-0) preps for Friday's fight with Darrel Horcher, he couldn't help but talk about two athletes with plenty of history who could very well be on a collision course.

"First time we met was my senior year, we had the east/west all-star match," Brooks said. "It was Missouri versus Southern Illinois wrestling. The Missouri team needed him to wrestle, and actually bump up a weight class to fill the spot. I showed up the day of, I was sick and I hadn't trained, and ended up beating him in a really close match by one point. That was the first time I met Michael Chandler."

Their paths would cross again when Brooks was at Lincoln College. He had signed with the University of Missouri but had yet transferred. St. Louis' Tyron Woodley, who would later become a close friend and mentor to Brooks, helped coach against him in the match. Brooks said he ended up getting injured in a battle that saw Chandler come from behind and win by one point.

"This was the only time Chandler ever beat me," Brooks said. "I don't really count that one because I got hurt and I was winning pretty bad."

Brooks would go on to win a NJCAA championship and eventually joined the Mizzou wrestling team the following year at the same weight as Chandler. The two would end up battling for the lone starting spot on the team.

"I knew it was going to be an issue when I came in because he was ranked and was really good," Brooks said. "I was really good and I had just won a national title. Everyone was really interested to see who was going to win."

Brooks would win the team's wrestle-off at the start of the season. The wrestle-off is historically used to determine the starting spot for each weight class. As the season wore on and when it came time for the team to travel to nationals, Mizzou's head coach Brian Smith gave the nod to Chandler, even though Brooks had won the wrestle-off. It's a decision that still haunts Brooks to this day.

"I hate what (Chandler) represents, and he represents like the death of my wrestling career," Brooks said. "My career was ruined because of him, not by him because I beat him. Things were done to me to protect him and benefit him."

Brooks looks back to the time the two spent as teammates at Mizzou as a source of both agitation and inspiration.

"Sixty to seventy years from now when I'm sitting at nursing home, having nightmare flashbacks about what they did do to me, it's good to know at the end of those flashbacks I'll have a happy one about me beating his ass," Brooks said.

Both wrestlers have a common friend in Woodley, another Mizzou grad, and turned toward him for guidance in the beginning their MMA Careers. At the time, Woodley had already begun taking fights and at the time was training with St. Charles MMA.

"We both went to Tyron about fighting," Brooks said. "Chandler went everywhere Tyron went (to train) and I had to move back home to get a job and take care of my brothers and sisters. Tyron introduced me to Mike Rogers and said this is your spot."

Brooks now finds himself in a unique position where he is forced to hope for Chandler to remain unbeaten.

"I wouldn't say I cheer for him, but I definitely don't want to see him lose," Brooks said. "If anyone is going to beat him, I want it to be me."

Though the pair parted ways at the start of their careers, with both fighters competing in the same class and for the same promotion, it seems there is at least a remote chance that the two will one day meet again.

Bellator selected Brooks as an alternate for the Season 7 lightweight tournament. If one of the fighters becomes injured, Brooks would get his opportunity work his way through the field and earn the fight he has always wanted.

"I had a couple offers, from them (Bellator) and from some other organizations," said Brooks. "I saw the most potential with Bellator as far as me growing with them and where they were going as an organization. More importantly, Michael Chandler is with that organization, and I really want to fight him."

Brooks recently participated in a promotional photo shoot with the company. The 26 year-old, nicknamed "the Pretty Boy" felt right at home in front of the cameras and the recent attention only reassured his decision.

"They flew me down there and treated me like one of their stars," he said. "I think by 2013, people are going to start to realize how big Bellator is and where it's going. I feel very appreciative of what they've done for me. They've told me they have a lot of ideas for me and really expect me to be one of their primetime guys and that means a lot to me."

But with the added responsibilities also comes more pressure.

"I'm trying to do things right and be that guy they expect me to be," he said.