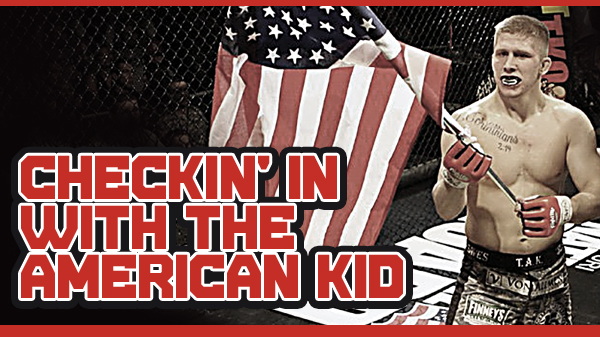 Checkin' in with the American Kid
Rumors began swirling late last week about St. Louis' own Justin Lawrence's return to the UFC cage.

It turned out the rumors were true as Lawrence (4-1) will take on fellow flyweight Daniel Pineda (17-9) in the TUF 17 finale. The fight will take place on April 13 in Las Vegas.

Last year, Lawrence (who was trained out of his father's gym, 20th Century MMA in Pacific) was one of the favorites to win "The Ultimate Fighter Live" and was the first pick overall. But 'The American Kidd' was upset by eventual winner Michael Chiesa in the quarterfinals. He went on to earn a spot on the live finale and garnered a double bonus with the "Knockout of the Night" against John Cofer along with "Fight of the Night." Last August, Lawrence was stopped by Max Holloway at UFC 150 with a second-round TKO for the first loss of his pro career.

Lawrence has spent the past five months in California training at Alliance Training Center. Several high-profile fighters like Dominick Cruz, Phil Davis, and fellow St. Louisan Michael Chandler among others call Alliance home.

We caught up with Lawrence where he talked about his future opponent, St. Louis' current TUF fighter Adam Cella, and the featherweight division and it's champion, Jose Aldo, who Lawrence shares management with at Black House MMA.

Knuckle Junkies: The Holloway fight was the first loss of your career. What did you learn from it?
Justin Lawrence: I definitely learned a lot about being a pro knowing how to push yourself. You have to train your body to fight through and recover. As an amateur, a three-minute round is no big deal. But a five minute round with a high-level guy, I have never had anything like that before. I learned a lot from that fight. I believe everything happens for a reason. Everyone has setbacks and there is not one champion who is not unbeaten.

KJ: Daniel Pineda is up next for you. What does he bring to the table?
JL: He is a tough dude, something of a journeyman. He likes to bang on his feet and he gets in battles. I think I'm a little cleaner and crisper with my striking. I'm ready to surprise some people and let whatever happens happen and take the fight wherever it goes. He's not going to out-wrestle me and he's not going to out-strike me … I have to win this fight.

KJ: How much of relief is it to have an upcoming opponent?
JL: I'm pumped to have another date booked. It's a daily grind when you don't have a date or a name to go after. That's the toughest part of the sport

KJ: The official UFC rankings came out recently. What is your take on the flyweight division?
JL: When I was a wrestler in high school I was all about the rankings and was always checking out where I was. Now, I'm not much of a believer in rankings. All of the guys in the top 10 are really, really tough. I think I need a little more time before I get in there. I can be a big threat in the next year or two.

KJ: I'm sure you watched Aldo/Edgar fight. What makes Jose so good?
JL: Jose is a big '45er and that is a huge advantage. He is such a good striker and his leg kicks are deadly. He has a tough style to fight but I thought that if any style would give him trouble it would be Frankie's. I thought Frankie would run away with the third, fourth, and fifth rounds and in the back of (Jose's) head, he was worried about it too. I was impressed with how Jose kept the fight close in those later rounds. He wanted to just explode and the old Jose would have done that. It's all about those little bitty details like not exerting when you don't have to. It's the little stuff people are missing and that's what I'm learning that it makes a difference.

KJ: You have spent plenty of time at Finney's MMA. Did you see the Uriah Hall-Adam Cella knockout on The Ultimate Fighter?
JL: That was brutal. I was scared. That was the first time I have ever been actually scared while watching a fight.

KJ: Did you talk with Adam at all about TUF experience before he got on the show?
JL: I had everything written down from what they asked me during the interview process and I shared that with him. When Adam called, I was glad to help out, just like I would with (Josh) Sampo, (Matt) Ricehouse or any St. Louis fighter that I know that was looking to get on the show. I was like the guinea pig. That interview portion is so important. Everyone there can fight. They want to see who will be good for TV. I think Adam has done great. In his fight to get into the house, the armbar, that was slick. It shows that anyone can do anything.

KJ: You have been at Alliance for a little while now. How do you like things out West?
JL: It's just awesome. And it's the caliber of fighters and the pace they set is what separates them. It is that UFC fighter pace that is just so much higher than your normal, local pro. That is what's missing from back home because we're still new to it. You're only as good as who you surround yourself with and the experience and caliber are a good match. When I first came out here it was so tough I questioned myself about it. But now I know I'm in the right place.

KJ: You think you relocate full-time to California?
JL: This next fight will determine that. After the fight I will come back home after to rest up. Here I have Dom (Dominick Cruz) looking over my shoulder ever day and I'm blessed to have that.