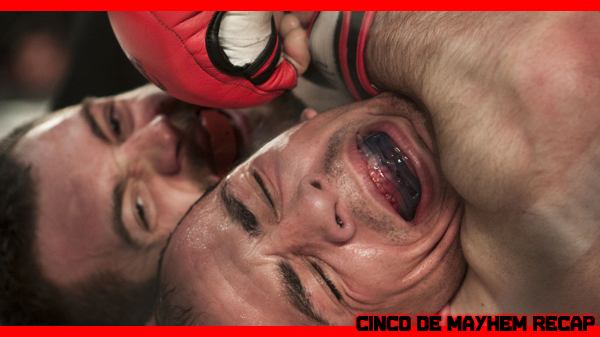 Cinco De Mayhem - Recap
Jake Collier got the win but it came at a price.

Collier, the talented middleweight from Cuba, Mo., defeated with relative ease Quartus Stitt in the main event of Rumble Time Promotion's Cinco de Mayhem.

After an early exchange, the two landed in the clinch and Collier bullied Stitt against the fence before sinking in a modified guillotine. Collier continued to crank and got the tap in just 92 seconds. The win improves Collier to 7-1.

It was in that early exchange that Collier's left hand came over the top and broke below the thumb.

"That's what the doctor said and we'll get him checked out and put a cast on it," Patrick Smith, Collier's coach, said. "He did the right thing and finished (the fight) early. The longer it goes and the more that swells it becomes a tough thing to do. Jake wants to put on a show. He's disappointed but he doesn't realize that that is a show and that that's a win. They were throwing the leather pretty quick and Quartus got in an overhand right and he ate a couple of knees. He's tricky. I'm glad to get the win in just a few seconds."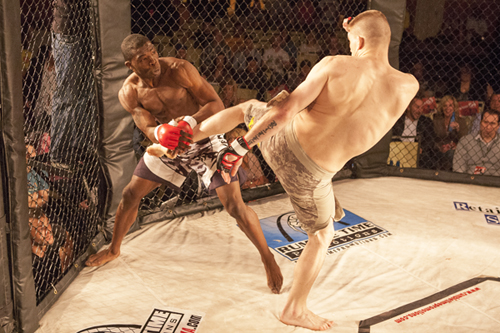 (Photo courtesy of Jimmy Range)

For interviews with Collier and other winners from Cinco de Mayhem, check back on Monday.

In the co-main event, Javon Wright put together the best performance of his career when he KO'd Ramon Barber in the third round of their 135-pound match-up.

Wright had been in good position through rounds one and two. Sensing a need of urgency, Barber came out aggressive to start the third and then Wright sealed the deal with a short right that sent Barber to the canvas.

Wright improved to 5-2 and snapped a five-fight win streak of Barber's. Wright applied continuous pressure on Barber and was able to secure some key takedowns early on.

In the surprise of the night, Destruction MMA's Shane Moffitt made quick work of Yohance Flager. After a quick exchange to start, Moffitt quickly took Flager's back and sank in a rear naked choke to get the submission just 33 seconds into the fight. It was Moffitt's pro debut while Flager fell to 4-4.

St. Charles MMA's Jason Slattery and Harlan Feutral were making their pro debuts in their lightweight bout. Slattery looked the bigger, stronger fighter and controlled the cage for the bulk of the three rounds. Feutral, from Battleground MMA's, refused to go away and would not fold. It was Slattery who walked away with a convincing unanimous decision win.

After a choppy first round, in which the fight was stopped twice due to an issue with the cage floor, Slattery went for a rear naked choke early in the second plus landed some big shots on the ground. Feutral displayed some of his best offense later in the round, connecting on some decent shots while in Slattery's guard.

Christian Camp put together an outstanding performance in defeating Travis Draper in the amateur card main event by a unanimous decision.

Draper came out strong but seemed to fade even quicker as Camp ended the round landing shots while Draper was in a modified crucifix. Camp got off some nice exchanges early in the second round before Draper caught a kick a landed a big right that sent Camp to the floor. The round ended with both fighter gasping for breath.

Camp survived a nice armbar attempt by Draper in the third to take his back and repeatedly land decent shots to take the round and the fight.

In another quality fight, Jesse Geringer won by a split decision over Heath Hildebrand. A fight that saw both of the tough, young welterweights leave everything in the cage.

War Room MMA's Cort Wahle looked impressive in his second Rumble Time outing. Wahle finished Kris Hetlage just as the bell sounded to end round one.

In other action: Jayson Pohlman defeated Kevin Chatman by unanimous decision.

In a K-1 kickboxing bout, Jake Duff won a decision over Jared Davis. Christian Santana won a split decision over Quenton Loper.

Berger MMA's Tommy Sthair won with a first round TKO against Gary Rhoades from Carbondale. Jaden Howard defeated Dave Stevens via submission in the second round.