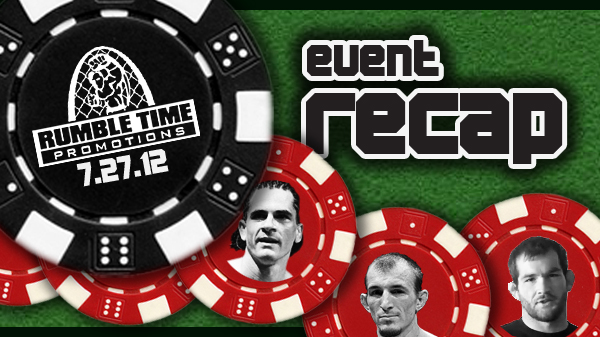 Clash of the Warriors - Recap
Zach Freeman has always wanted a war.

In the main event of Friday's Rumble Time Promotions Clash of the Warriors, he got just that.

Freeman, out of St. Charles MMA and Vaghi Brazilian Jiu-Jitsu, threw anything and everything at Aaron Derrow in a lightweight battle. While Freeman failed to finish Derrow, like he had done to his opponents in his previous five fights, he did come away with a unanimous 29-28 decision victory.

Freeman (6-0) had to dig deep in a nail biter of a third round. While the previous two rounds had been mostly a ground battle, Derrow started the final five minutes peppering the visibly-tired Freeman with jabs. Freeman would eventually connect with a powerful overhand right that broke open Derrow (12-4). The two eventually ended up on the ground, with Freeman in a dominant position as the round came to a close.

For video interviews with Freeman and several of the night's winners, check back here Monday.




Freeman opened the fight in his typical, blitzkrieg fashion; he pulled off an early takedown and delivered several strikes. The fighters were eventually stood up and Derrow backed Freeman to the cage. Once there, Freeman saw an opening and landed a short shot that nearly floored Derrow. While Derrow openly invited Freeman to come into his guard, Freeman picked his opportunity to drop big bombs on two separate occasions.

Early in the second round, Freeman had Derrow pinned against the cage and fired a handful of sharp shots. Derrow displayed incredible resolve and eventually had Freeman scrambling toward the end of the second. But Freeman worked an armbar late in the round but it didn't take.

In the co-main event, Josh Sampo, a teammate of Freeman' got back on the winning track with a first-round submission victory over Carson Gainey.




Destruction MMA's Eric Irvin earned his second-straight victory. Irvin got Charon Spain to tap with an armbar with 2:25 in the second round.

Both fighters displayed some slick groundwork and smooth transitions early in the second round. In the first round, Spain attempted a triangle but Irvin was able to pop free.

"That was tough," Irvin said. "If you want to win, you have to be ready for anything. That is why it's MMA."

Josh Epps, out of Modern Combat Systems and Fiore MMA, won impressively over Berger MMA's Dan O'Conner.
O'Conner had Epps in a guillotine early on the fight, but three massive slams by Epps allowed his head to pop free. Epps landed some big elbows and when the fight went back to their feet, Epps connected with a clean shot. The fight returned to the ground where Epps eventually clasped on a rear naked choke to win at 2:24 in the first round.

In the night's first pro fight, Steve Dittrich looked to be in bad shape early on against Matt Chin. But at the 4:09 mark in the first round, Dittrich locked on with a triangle and won via submission.
Dittrich dedicated the win to his grandfather, who passed away two-and-a-half weeks ago.

On the amateur undercard, Charles Johnson, of Porter's MMA, won the Gateway to the Top 135-pound Tournament championship with a dominant victory over Kenny Nienhaus. Johnson landed a flurry of punches off the cage to help set up the second round TKO.

In a matchup of two quality up-and-coming amateurs, Jake Roberts, out of St. Charles MMA and Vaghi Brazilian Jiu-Jitsu, defeated Hahn MMA's Jake Buehler in a tough fight. In the second round, Roberts' powerful throwdown of Buehler helped set up his winning guillotine in the second round.
Buehler tested Roberts' chin early and often during the first round.

"He was a tough guy," Roberts said. "He hit me more than anyone else had."

Roberts' teammate, Matt Helm, manhandled Thomas Haney. Helm got Haney in a crucifix early on and peppered him with several lefts. The fight went back on their feet briefly before Helm earned the takedown and won by rear naked choke.

Justin Lankford, of Berger's MMA, opened the night with a unanimous decision victory over Trevor Lanzone.
"I took this fight on three-day notice," Lankford said. "I was gassing towards the end but I worked my game."

Photos courtesy of Sarah Levin Photography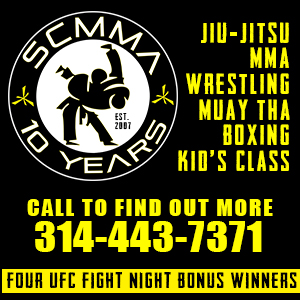 Shamrock FC: 317
| Sat, April 6th
Ameristar Casino, Kasnas City, MO
Nemesis Fighting Alliance
| Sat, April 13th
Casa Loma Ballroom, St. Louis, MO
Shamrock FC 318
| Fri, May 10th
River City Casino, St. Louis, MO
Shamrock FC 319
| Sat, June 8th
Ameristar Casino, Kansas City, MO

Tweets about "KnuckleJunkies OR @knucklejunkies"