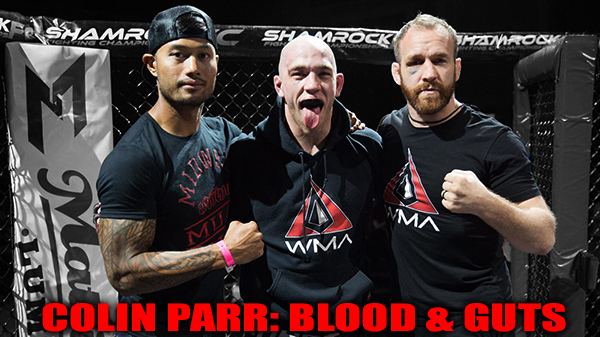 Colin Parr - Blood and Guts
Colin Parr has been on a roll.

Having won nine out of his ten amateur fights, Parr has found success early and often.

In 2016, he burst onto the scene with four wins in the calendar year. The Brazilian Jiu-Jitsu purple belt sent a message with impressive submission victories over Aaron Lake and Jake Willyard.

In his most recent outing, he put on a technical masterclass against Justin Lankford, dominating the fight on the feet, showing impressive takedown defense, while wearing down his opponent with kicks before getting a TKO finish late in the third round at January's SFC 301.

Now he's poised to put an exclamation point on his amateur career. On Friday night at Shamrock FC 303, he faces Evan Elder for the SFC lightweight title and with it a professional contract with the promotion.

If you've ever seen Parr fight, you know it's more of a sprint to the finish rather than a slow jog. It makes sense as this former high school football standout took to MMA quickly and brought that same smash-mouth style to the cage.

"I have been an athlete my entire life," Parr said. "In high school, I played both football and ran track and field. I played in the All-Star game post-high school, and played one year of college football as a linebacker."

It was in his last year of high school when his love affair with martial arts began.

"My senior year of high school I started taking karate," Parr said. "I continued in this traditional martial art for two years, competed in four-point sparring tournaments, and took first place in all of them."

In college, he transitioned to Brazilian Jiu-Jitsu where he would eventually land at Watson Martial Arts.

"While attending SIU-C I went to Sabens Martial Arts Academy," Parr said. "Come to find out that he and Kyle were very good friends. Andrew Sabens recommended Watson's to me when I moved back to the St. Louis area."

Parr has become one of the leaders on the Watson Martial Arts MMA team and a star pupil under Watson and coach Micah Bagby.

"Regardless of being one of the top amateur's," Parr said, "I know I still have a lot to learn. I would say I lead by example by always showing up to training, training hard and helping other people when they have a fight coming up. With all of that being said, I am still 100-percent a student and am never scared to ask anyone for advice."

In January, Parr was on the sidelines watching his teammate Luis Felipe take on Elder, a longtime blue-chip prospect, at Shamrock FC 301. Felipe would lose by submission setting in motion a match-up between Parr and Elder for the SFC amateur title.

"Luis looked great in the moments leading up to the takedown," Parr said. "He was able to catch Elder with a couple of jabs, and even after being taken down he was able to bridge him over. The only mistake was that he let Elder control his posture which was what set up the triangle."

After studying his opponent, Parr believes the match-up heavily favors his style.

"When it comes to styles I believe I am a nightmare of a matchup for Elder," Parr said. "I see opportunities in both the striking and grappling areas where I believe I can capitalize and finish this fight."

It's no surprise that the lightweight title bout between two of the area's brightest young stars is one of the most eagerly anticipated match-ups on the Shamrock FC 303 card.

"Expect a high pace scrap with a lot of technique and skill being shown," Parr said. "I'm a blood and guts fighter and thrive in those chaotic conditions."