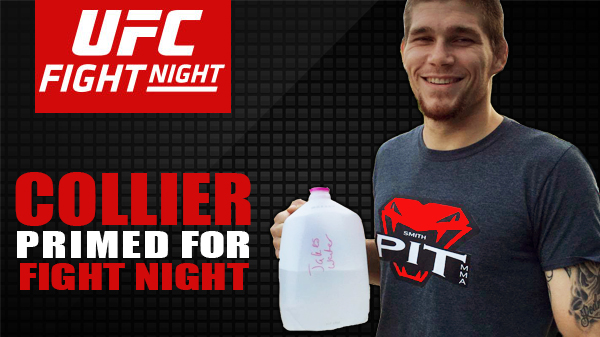 Collier Primed for Fight Night 88
After running roughshod through the local scene, Jake Collier snagged the RFA middleweight title in 2014, then made his UFC debut less than two months later.

His time in the UFC thus far has been a yo-yo of ups, downs, fun, and frustration.

The 27-year-old Collier has dotted up his passport since becoming a part of the organization, traveling to Brazil for his first UFC fight and then South Korea in the fall of 2015. In between those dates was a stop in Louisiana where the Cuba, MO, middleweight earned his first and only UFC victory.

Collier returns stateside on Sunday at the Mandalay Bay Events Center for UFC Fight Night 88 where 'The Prototype' will welcome unbeaten Aberto Uda to the organization.

"Every fight is the next big fight," Collier said. "I want to put on a show and show why the UFC signed me. It wasn't to get beat by guys who shouldn't beat me."

Collier stands at 9-3 and has split his last four fights, including November's loss to Dong Yi Yang. The loss to Yang came in South Korea. After 21 hours of traveling, Collier was nearly hospitalized before weigh-ins due to sickness that included rampant vomiting. On fight night, Collier weighed 198-pounds, significantly lower than his usual 205-pound-plus re-hydration,

"Me being me, I said I was fine," Collier said. "A minute into the fight it felt like I didn't even train. I was second guessing myself in there and believe me that is not the time you want to be second guessing yourself."

The 6-foot-3 Collier sports a 78-inch reach and has won 44-percent of his fights by KO. In the UFC he is averaging 3.88 significant strikes per minute with an accuracy percentage of 36.2-percent, and is averaging 1.12 takedowns with an accuracy percentage of 50-percent, and has successfully defended 69.2-percent.

Having been TKO'd in two of his last three, Collier had to shore up his defense. There has been tinkering at the Smith Pit under the eye of Collier's long-time coach Patrick Smith. Stance, footwork, it was all put under the microscope.

"I hated it at first," Collier said. "I was like, if it's not broke why fix it? But I started to see it. I now have more tools in the tool belt and have developed more of my game."

Uda is 9-0 and has won 44-percent of his fights by knockout. This will be his third fight since 2015, and he's coming off a December win over Thiago de Oliveira Perpetuo.

"I'm going to be in his face," Collier said. "A lot of people haven't been. Once he feels my punching power he's going to go for the takedown and believe me, that's not going to happen."

Uda has put together a decent resume over the years and has had one fight end in a decision. Uda has wins over Rick Monstro and Junior Albini. Uda is known for his clinch fighting and takedown defense. Uda does have four submission victories to his credit and can do damage on the inside.

"He throws strikes at a high volume," Collier said. "There are a lot of punches but not much snap or power at the end of them."

Everything about this week is about comfort. Collier will have a short flight to Las Vegas. Friends and family will be in attendance for the fight and this is his fourth time under the UFC umbrella.

"The comfort zone is a little better," he said. "Even in Korea I felt like an outsider. It's totally different now."

UFC Fight Night 88 is headlined by the bantamweight bout between Thomas Almeida and Cody Garbrandt. The entire card will be televised on Fox Sport 1. Collier vs. Uda is on the preliminary card, which gets underway at 6pm locally.