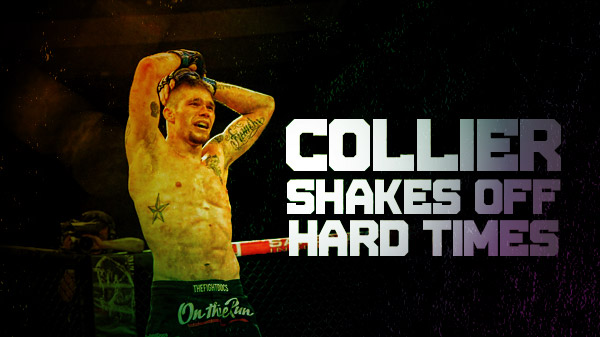 Collier Shakes Off Hard Times
Jake Collier has had a front row seat on the roller coaster ride that is the life of a professional mixed martial artist.

The pride of Cuba, MO, Collier's 2014 went from hanging in the shadows as he nursed back to health to the sports biggest spotlight all in a matter of months.

Collier won the RFA middleweight title over Gabriel Checco in October. It was his first fight a year in a half due to a knee and a hand injury, both of which required surgery. Collier finished Checco in the closing seconds of the first round via rear naked choke.

Collier was immediately signed by the UFC within days of his RFA victory, and his wife gave birth to his third son just two days after that.

We caught up with Collier at the recent Cage Championships 50th show celebration where talked all things "Prototype."

KJ: Let's talk about the RFA title fight. The week of the fight you seemed confident and in the the end, you got the result you were looking for.

JC: "I was more excited about just to fight more than anything. Yeah, winning the belt was great but just getting to fight after a year-and-a-half of nothing but training, training, training and physical therapy. It just felt really good to go back in there. My confidence was so high. I was in great shape and I still am. I felt like I knew everything he was going to do and it worked out perfectly for me."

KJ: Have you watched it?

JC: "Yeah I watched it a couple of times."

KJ: Did you seem a little stiff to me or not?

JC: "I didn't believe in ring rust. I was like, ring rust is crap and I was out there throwing punches I have never thrown in my life in a fight, like an overhand right. I think it's a sloppy punch and I threw it eight times in that fight for some reason. I don't know. I didn't believe in ring rust but once you get in there you finally start fighting again, it's totally different. It's different than sparring."

KJ: How was it post-fight?

JC: "The RFA guys treat you like royalty. They were so cool to me afterwards. I was still in awe and after everybody fell asleep and I was still awake I was like wow, I won the RFA title. It all kicked in but I couldn't talk to nobody because it was four, five in the morning and they were sleeping.

KJ: How soon after was your son born and then your signing?

JC: "Friday I won the belt. Got back to Missouri that Saturday. On Wednesday my manager called and told me that I was going to be signed by the UFC but they didn't release it until Thursday and then the next day we were driving to the hospital to have my son. It was a crazy week for me."

KJ: It's safe to say your head was swirling.

JC: "Yeah. Definitely. It was unbelievable. But I think everything happens for a reason. I had a rough year-and-a half."

KJ: It's kinda crazy how one fight can turn the tides.

JC: "I looked at it a little different than everybody else. They were like, 'It was a great week for you.' But then you have to think, if I lose a fight that kills my whole month. If I lose I'm going to be depressed, my son's going to be born, this is my opportunity to maybe get to the UFC, so that was all I was thinking about. I just wanted to focus on what I needed to do and be smart and go out there and stick with a game plan for once."

KJ: We've had Alex White, Chris Heatherly, and now you making your UFC debuts. The Class of 2014.

JC: "I think it's awesome. We're finally getting recognition down here in Missouri and the St. Louis area. I think it just takes the right person to see your fight. That's all it takes. I think there are a lot of stars in the making in this area."

KJ: So Vitor Miranda, December 20, in Brazil.

JC: "I think his best asset is that he's so tough. He fought heavyweight and takes big punches from guys and keeps coming forward. He's a really good kickboxer and throws clean punches. I'm just going to try and pick out his flaws and focus on what I need to do. I have great training partners for this camp and I just have to prepare and prepare right and go to Brazil and upset the crowd."

KJ: You're a small town fighter who didn't really leave the state too much to fight but you found your way

JC: "I used to always tell people when they were, 'Man when are you going to be in the UFC?' And I just said I'm going to keep fighting and keep winning and hopefully one day they'll sign me. A year ago there was no way I was ready. I may have thought it in my head but physically and everything, I wasn't. Now I think it's all coming together and I train with world class guys and I do great with them at the time that it needs to be. And I'm still young. I just turned 26 so everything's going good."

KJ: The guy your fighting is older

JC: "He's like 36, 37. He's fought a lot. He has a lot more experience than I do but I think a lot of the younger guys like Alex, Alp, and myself, we're the new breed of the sport. We're good at everything. In some area's we excel a lot more but I think someone has to be world class to exploit one of our OK spots."

KJ: How much credit is due to your manager, Hector Castro?

JC: "He deserves a lot. He knows the right people to talk to. He's really helped me out. The opportunities that he can give me are amazing."

KJ: I would think that you and Patrick (Smith, Collier's longtime coach and confidant) have dealt with guys wanting to come in and manage before. Did you just feel comfortable with him?

JC: "He was just cool. He flew all the way from Jersey just to watch me train one time and he gave me an opportunity. Then I blew my knee out and I was like, 'Dude, if you don't want to keep me signed I understand.' and he was like, 'Nah, nah I feel comfortable with this.' He's not out to be shady, he's a goodhearted guy."

KJ: It kind of speaks of the sport that a year ago at this time people were like, 'What's up with Jake?' and 'Why isn't Jake fighting' to now you're weeks away from your UFC debut.

JC: "It was real depressing. Luckily my wife was real supportive. I fought Quartus Stitt and broke my hand. The very next Friday my dad dies of a heart attack. Then I had to have surgery on my hand. I just get cleared to train and I blow out my knee. There was a lot of depression."

KJ: Did you ever think about hanging it up?

JC: "Yeah. I remember asking my wife one day, 'Do you think I can ever come back from this? Do you think I can even do this?' She said, if you can, you can if you can't, you can't either way I'm going to be supportive and that was what I needed to hear. And to my sons, when I got older, I didn't want them to be, 'Why'd you quit?' and I'm like, "Well, I just didn't believe in myself.' that would be a hard pill to swallow But when I had guys like Pat and my best friend Nic, and Sanchez, they're just so supportive. There's never negative energy and that just helps so much."

Collier (8-1) will make his UFC debut on December 20 against Vitor Miranda (9-4) at UFC Fight Night.