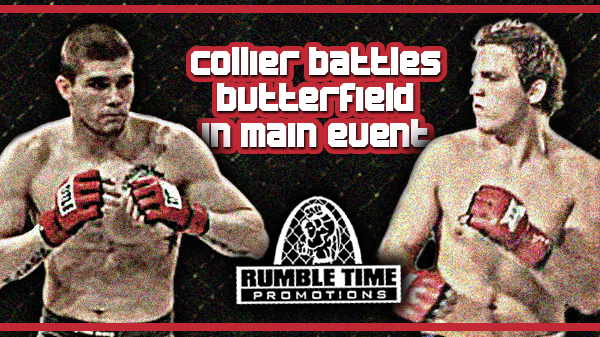 Collier battles Butterfield in the Main Event
Growing up in rural Wisconsin, the son of a bricklayer, Cully Butterfield is far too familiar with the ins and outs of manual labor.

In tiny Cuba, MO, Jake Collier hauls around pieces of steel as he spends an October afternoon as a welder. His day job, when not one of the top up-and-coming professional middleweights in the region.

These two tough and talented blue-collar brawlers will meet in the main event as Rumble Time MMA returns to the Ameristar Casino on Friday. The five-pro, eight amateur card gets underway at 7:30 p.m. Tickets start at $35.00 and are available thru the fighters, the Ameristar Casino Gift Shop, or by calling 314-267-2204.

Butterfield, out of Spooner, Wis., brings with him an 11-3 record and has spent the past year training at the vaunted Roufusport team, home of teacher Duke Roufus and fighters Ben Askren, Antony Pettis, and a slew of others. This will be the fifth fight of the year for Butterfield and his fourth for his career at 185. The 23-year-old will test his seven-fight win streak against Collier. The NJCAA All-American butters his bread with his ground work.

"I'm definitely a wrestler," he said.

Butterfield's foundation is as a grappler but his grit forged years ago working at his father's masonry company.

"My butt worked every day once school was out," Butterfield said. "You put on your muddy boots and got to work. I've kept that same mentality."

Butterfield has watched plenty of video of Collier, a product of Smith's Pit MMA, and feels the dynamic striker matches up just fine with him.

"Jake's exciting and likes to put on a show," Butterfield said. "I'm very technical. I'll sit and wait. I just need to make sure he does not get one of those wild strikes off on me."

Butterfield, who has fought at heavyweight and light heavyweight, wonders how Collier will respond to being planted on his back and kept there.

"His takedown defense is not there," Butterfield said. "He has not fought my caliber of wrestler for sure."

Roufus is known for producing some of the best kickboxing and MMA striking in the country if not the world and Butterfield is counting on the tutelage to give him an edge there as well.

"I think I'll be right there with him," he said "I'll be able to control this fight from all-around."

Collier was slated to have the biggest fight of his career on the September Titan FC card that got cancelled the week of the fight.

"I trained six, seven weeks, even cut my vacation short," Collier said. "It sucked but (Patrick Smith) kept me upbeat. I took a week off and then got ready for this. It's like I've been training 14 weeks for this fight."

The 23-year-old was slated to fight Dustin Jacoby on AXS TV.

"I was pumped," Collier said. "We were supposed to fight a couple of times but it keeps getting thrown away. I think it would be a great fight I'd still want to fight him. I want to take that step up and I think he's a guy I can do that with."

After running out to a 3-0 start in his pro career, Collier (5-1) then lost to Kelvin Tiller in the main event of the Jan., 2012 Fight Me MMA show. Since, Collier has put together two wins by barely breaking a sweat. If the object was to build his confidence back up, it worked as Collier trucked through his last two opponents, James Wade and Sean Huffman, winning with first round TKOs.

Collier is fully aware of Butterfield ground game and feels well prepared.

"I'm never looking past anybody," he said. "I know he's a tough dude. He's a grinder. He goes to decisions a lot. I'm ready to go have fun. Training sucks, fighting is the fun part."

Nicknamed 'The Prototype', Collier will make his fourth walk to the cage in 2012. Along with juggling the day-to-day life of work and family, Collier racks up the miles to sample an array of training partners. While his main locale is the Smith Pit, on any given week he drives 40-plus miles one- way to spar at Berger's MMA or St. Charles MMA.

He is hoping that soon, lugging the welding mask and gear will be a thing of the past. But right now he can't afford not to pull double duty.

"Welding is really feeding my family," Collier said. "I'm not making crazy money (fighting) where I can just quit and I know I have to keep my priorities straight. I'd love to train full time."

After Friday, Collier is predicting some time to mend and refine and then ratcheting things up for 2013.

"I want to heal up a little and focus on getting my skills honed in," he said. "Then in January or something really make a big statement; fight somebody with a big name and show them what's up. Show them that I'm here to stay that I'm not some small town guy that fights on local shows."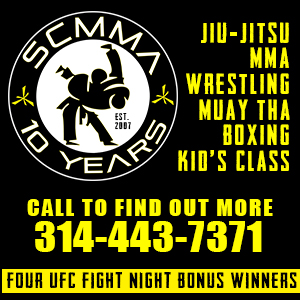 Shamrock FC: 317
| Sat, April 6th
Ameristar Casino, Kasnas City, MO
Nemesis Fighting Alliance
| Sat, April 13th
Casa Loma Ballroom, St. Louis, MO
Shamrock FC 318
| Fri, May 10th
River City Casino, St. Louis, MO
Shamrock FC 319
| Sat, June 8th
Ameristar Casino, Kansas City, MO

Tweets about "KnuckleJunkies OR @knucklejunkies"