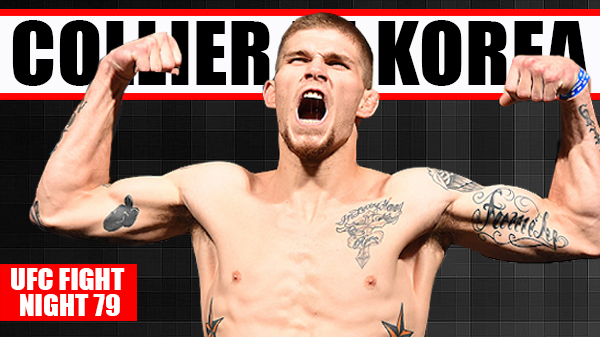 Collier in Korea - UFC Fight Night 79
The world of mixed martial arts is taking Jake Collier to another continent.

You will be able to watch Collier fight early Saturday morning as the UFC heads to Olympic Gymnastics Arena in Seoul, South Korea, for UFC Fight Night 79, which will stream live online via Fight Pass. In the main event, Benson Henderson faces off against Jorge Masvidal. Viewing of the undercard begins at 5am EST, with the main card slated for 8 a.m EST.

Collier signed with the UFC in 2014 on a five-fight winning streak, but he was stopped with one second left in the first round by a Vitor Miranda TKO from a head kick at UFC Fight Night 58 in Brazil. He rebounded in June, though, with a split-decision win over Ricardo Abreu at UFC Fight Night 68 in New Orleans for his first UFC victory.

Collier will face Dongi Yang at middleweight on the last fight of the undercard. Yang - "The Ox" - returns to the UFC for the first time in three and a half years. The South Korean was unbeaten when he signed with the promotion in 2010, but dropped three of four fights in the organization, all of which came by decision, to Chris Camozzi, Court McGee and Brad Tavares. His only UFC win was a second-round TKO of Rob Kimmons in March 2011. Since his release, he had back-to-back TKO wins, including one in April, which was his first fight in nearly two years.

Knuckle Junkies caught up with Collier before his trip to Seoul.

Knuckle Junkies: You seem pretty confident.

Jake Collier: My confidence comes from I feel like I'm more new school than him. He fought five-six years ago in the UFC and the breed of fighters that are there now are not the same. He's supposed to be a black belt in judo and has some wrestling backgrounds but if anyone has seen my fights, I'm not going to try and wrestle it out. I feel like in my last fight I showcased that I could stop any takedowns and keep it standing and that's what I'm going to do.

KJ: Did the distance of the flight make you hesitant to take the fight?

JC: The flight is going to suck. I'm just going to get my weight down and get smaller than I usually do that way the weight cuts easier. I'm probably going to lose some muscle mass but as long as I don't turn it into a wrestling match or a clinch game where he's using his muscle on me I'll be fine.

KJ: What did you learn from the Abreu fight?

JC: Patrick (Smith) picked it apart quite a bit. Just keeping it simple, man. Don't try to do every single thing you've learned at one time. Just figuring out how to pace myself more because a lot of people have seen a lot of my fights and see that I just go out there trying to kill and you can't do that all the time. You can't tap into that gas tank full blast for 15 minutes. Taking that last fight on short notice really helped my confidence and kinda proved to myself that I belong here. This guy had a full training camp, he trains with top athletes every day, he doesn't work, and I took it on three-and-a-half weeks notice and I beat him.

KJ: A lot of people talk about the negativity of the Reebok deal, but for a fighter like you and your stature (3rd UFC fight), is the money you get from them better or similar to what you were getting?

JC: I'm not going to complain because I'm the new guy. But I never got big sponsors, I never got a lot of money from sponsors, none of that really matters to me. I remember I was in Louisiana and they were having a Reebok meeting and everybody was really mad because they were losing $100,000 a fight and I'm over here like, I haven't made that much money in all of my fights ever combined. I always felt like I was begging for money. And it's hard. And when you did get sponsors you had to get them cleared by the UFC. In my opinion, it's easier. I can't complain because I don't have 10 fights in the UFC.

KJ: Are you still working?

JC: I only work three-four days a week depending. My boss is a lot more lenient. The main thing that has changed is the style of training we do and how we're training and the good guys we have. I feel like I'm evolving. I feel like I learn something new.

KJ: As a coach and a fight strategist, how does Patrick stay on top of the game?

JC: I have no idea. I swear he just dreams stuff up. And it works. Sometimes I'm just like, there is no way and then I use it against top level guys and it does work. He's humble. That's what I love about him.

KJ: And you have a new house?

JC: I bought a house, not living in an apartment no more, and the wife's happy. It got me a little closer to the city and closer to family so when I travel, her family is a lot closer. It's in Union. It's a little closer to the Rosebud gym but a little further to the Cuba gym.

KJ: You have Nick and Chris Pohlmann along with lightweight Dakota Bush. Have you guys been able to corral a bunch of tough, rough country boys when it comes to grappling?

JC: You could say that. We all feed off each other. Like, I may be good at doing something but Nick (Pohlmann) might be really good at this. We all teach each other and feed off it. You kind of develop your own thing. I may not be able to do it exactly like he can but I can do it my way. Then a guy like Sanchez coming down and working with us, it's good man. I can accept a guy being better than me but I can't accept a guy out-working me. There's no way. I've worked too hard. I put too much time in.

KJ: The fight game has taken a guy from the country to first Brazil and now Seoul Korea.

JC: It's cool but I just have to stay focused on what I'm doing and never relax. Never be OK with where you're at. Always feeding to get better. If I can't get any better striking, wrestling or jiu-jitsu, I'm looking at ways I can fix my diet better or make me stronger. You have to evolve or guys are going to start beating you.