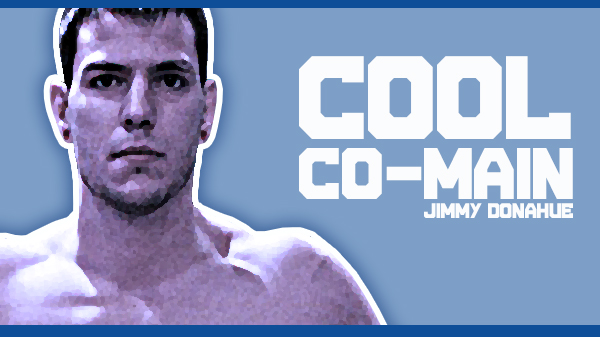 Cool Co-Main: Jimmy Donahue
Though billed as the co-main event, there is nothing secondary about the match-up between lightweights Jimmy Donahue and Jimmy Kim on Friday when Rumble Time MMA returns to the Ameristar Casino.

The two savvy veterans have 15 pro fights between them and, on paper, look like your classic striker vs. wrestler match-up.

The 29-year-old Kim, out of Kennel Fight Club in Springfield, IL is a former wrestler at Northwestern University and sits at 5-2. Donahue, from St. Charles MMA, is four years younger and a gifted striker who is 5-3.

"The contrast in styles, that is going to be a show," Kennel Fight Club coach Steve James said. "It's going to be a helluva fight. (Kim) is excited about it. It'll be awesome."

Kim hasn't fought since December of 2012 while Donahue is coming off a convincing victory in June over Sal Woods at MMASF Journey to the Top 2.

James described Kim as a "diehard teammate," and for the bulk of 2013, Kim has dedicated his attention to training and being the No. 1 training partner to the UFC's Kerry Robinson.

Kim has been waiting for the right opportunity and the right opponent and isn't sweating the layoff.

"I have been very active," Kim said. "In the last seven months I have worked with new teammates and my new gym and I feel better than ever. I'm good to go."

Kim got into the sport about four years ago, not long after his Big Ten Conference wrestling career ended.

"I have wrestled my whole life and I was looking for something different," he said.

In typical wrestler-fashion, the Peoria native brings a blunt, hard-hat-to-work kind of mentality and approach.

"Jimmy is not loud, he's not flashy, he's there to do business," James said.

Donahue has sprinkles of flash with his long, 6-foot-1 frame and ability let loose combinations. Last year, he went 3-1 while filming "Reto de Campeones" in Mexico City, a reality TV show that featured 16 fighters vying for the prize of $100,000. He and Brian Foster were the only Americans on the show. Foster just so happens to be a teammate of Kim's at Kennel Fight Club.

"A lot of the guys know (Donahue) and have had nothing but high praise for him," James said. "He is a tough kid."
After starting his career 1-2, that included loses to The Ultimate Fighter's Chris Tickle and Illinois power-puncher Lucas Gwaltney, Donahue went on a 3-1 run.

Donahue is feeling crisp and in shape, being that he is just six weeks off from a fight. Just a couple of elbows landed on him during his submission of Woods, a savvy veteran of the St. Louis scene. In that fight, Woods was considered the better grappler but Donahue, after landing an effective right, took it to the ground. Wood would eventually get side control, but Donahue transitioned from one submission attempt to another before putting on a triangle and putting Woods to sleep.

"It's always a new fight but it helps coming off a win like that, mentally," Donahue said. "I feel good to go, pumped and ready. Ever since I returned from Mexico I have gotten my confidence back."

He will most certainly tower over the 5-foot-7 Kim and look for him to try and stay low and land his jab to keep the distance to his advantage. Donahue has been training with fighters like Alp Ozkilic and AJ Siscoe who are shorter in stature.

Donahue has become more and more comfortable on the ground, a place Friday's showdown will likely reach. He's recently moved into a house with SCMMA teammates Jake Roberts and Tyler Hubbs and almost immediately the trio had mats in place.

"It's a basement dojo," Donahue said. "I have been drilling sweeps non-stop."

Both know that anything can happen in there and both want to implement their specific style.

"I'm concerned about fighting my fight," Kim said. "A lot of it is seeing where it goes. I'm not concerned about (Donahue). I'm worried about competing hard and fighting my fight. It's fun to show how hard you have been working in the gym. I've been training non-stop for seven months and it's time to go."

For tickets for Friday's Rumble Time show call 314-662-2000 or stop by the Ameristar Casino gift shop.