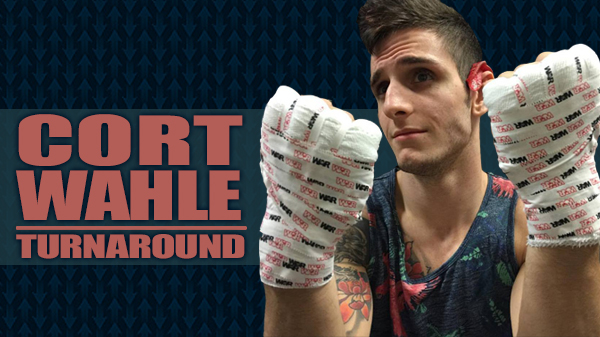 Cort Wahle - The Turnaround
This Saturday a bantamweight match-up will headline Shamrock FC 292.

The match-up features a pair of 135-pound fighters badly in need of a win. Springfield, IL's Trevor Ward with his cool, clinical striking will face Cort Wahle, a flashy, often flamboyant striker who most famously finished an amateur fight with a jumping, spin-side kick.

Wahle hopes to keep his momentum going as he rebuilds his record, while Ward is hoping to snap a losing streak that dates back to the summer of 2015.

"What excites me most is that it won't be an easy fight," Wahle said. "He has a different style, as do I, and our individual ways are clashing. I'm also very excited to showcase the most calm collective version of myself in that cage up to date. It'll be almost like I'm a completely upgraded fighter."

This will only be Wahle's second fight at Lumiere in five pro fights, all for Shamrock FC. His other three fights were at the more spacious River City Casino and its much larger cage.

"Honestly, I believe Ward and myself will try to keep it at a stand-up spectacle that the fans will love." Wahle said. "But with the smaller ring, I'm able to stay within my preferred range much more easily."

A veteran of competitive striking events dating all the way back to when he was 7 years old, Wahle believes timing and footwork will be his key to victory, don't be too surprised if either of these skilled strikers look to ground the fight. Wahle has been supplementing his training at Josh McKinney's HeadNod HQ in Pontoon Beach, IL, recently getting promoted to blue belt.

"I've been working my timing and technique like hell," Wahle said. "The flashy strikes have no need to come out unless the opportunity prevails. My footwork will lead me to the inside and once I get into my groove, I'm confident I can control the aspects of the fight. None the less, it will be exciting to watch let alone be part of."

Last year was not kind to the young pro. After winning his professional debut in January, it was all down hill from there. Wahle would go on to lose two in a row in a time that was challenging both inside and outside the cage.

"Man, it was a very rough year," Wahle said. "There were more than even fight related things trying to tear me down. I honestly started having a quitters mindset, then I took a good hard look and knew I had to keep going and believe in myself again."

The lesson was a costly one both mentally and professionally. Wahle's record dropped to one win with two losses, and left some close to him scratching their head.

"I learned more about who I am, and how to control the things the affect me," Wahle said." Now I just bust my ass and keep more than enough confidence with myself. Those that train with me and my coaches know my aptitude to be a freak of nature in the MMA world, and it's about damn time I prove it to everyone."

Outside the cage, dark clouds started to form. The once formidable War Room team, where Wahle called home started to disassemble.

There was a point in 2014 where the sky was the limit for the Wood River based fight team, lead by seasoned-vet Brad Jones and coach Jon Menke, the team was highlighted by two of the area's top female fighters in Wendy Julian and Marissa Smith, both seemed destined for success in Invicta FC, The two along-side Wahle and now pro Aaron Highfill formed a fearsome foursome of amateur fighters. Now only Wahle is actively training at the War Room.

"It's very upsetting, but that's why I travel around to train with everyone." Wahle said. "I talk to them time to time. I'm good friends with them but I'm not the person that really keeps in touch or tries to hangout. I just love to train. I've always been more of the stay at home with my dogs type of guy."

After nearly bottoming out in 2016, Wahle has reversed the tide and has serious momentum going into Saturday night. A dominant, 1-minute 26 second submission victory in March evened his record at 2-2, and proved to his doubters that Wahle might have been down, but he definitely wasn't out.

If all goes to plan, a win over Ward will put Wahle at 3-2, and perfect this calendar year. A third win this fall could put Wahle at the top of the list for a STL MMA Award for an outstanding 2017, but that's a discussion for another day. Wahle isn't getting caught up in the moment, the plan remains simple.

"I want to fight and win as much as I can," Wahle said. "Take the fights that progresses my career. This is one hell of a sport that you can't sit back and relax on. I know where I should be, and I'm not going to cut myself short ever again."

Tickets for Shamrock FC 292 are available at the Shamrock FC Store.