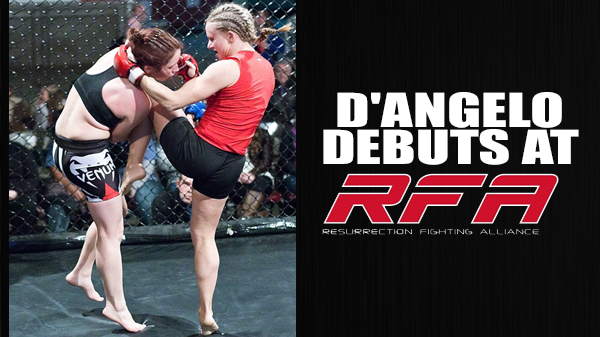 D'Angelo Debuts at RFA 44
From tiny Perryville, MO to couch-surfing in South County St. Louis, to a pro debut for a major mixed martial arts promotion, Kelly D'Angelo's path is of one less traveled.

She makes her pro debut Friday against Emily Whitmire (1-0) when RFA 44 – Moisés vs Freeman takes over the St. Charles Convention Center. Whitmire, who went 4-4 as an amateur, is an Oregon native who now trains in Las Vegas. Since making the move two-and-a-half years ago to work with longtime friend and women's MMA legend Miesha Tate at Xtreme Couture, she's won three straight fights.

D'Angelo became a crackerjack strawweight as an amateur. She went 5-0 in both boxing and MMA and was nominated for 2015 St. Louis Amateur of the Year.

Steve Berger, a forefather in the St. Louis scene, has been her MMA coach from day one. With an affable personality, D'Angelo is concoction of all that St. Louis MMA has to offer cross-training with several gyms. She's also fought for every major regional promotion including: Shamrock FC, Cage Championships, Fight Hard MMA, and the enormously popular Guns 'n Hoses series.

"Certainly, this game challenges you and Emily is a fight I wanted," D'Angelo said. "I want to beat good fighters. I want to beat good names. I'm committed not to take any easy fights or fights I know I can win. I absolutely love to get in there and I want to make sure I challenge myself."

The 29-year-old D'Angelo grew up in Perryville, MO, a town of under 9,000, where athletics weren't at the forefront of her livelihood.

"I was not that athletic," D'Angelo said. "I was a band girl, not one of the cool ones, but a flag girl. Later on in school, I got into cross country and that kind of got me started."

D'Angelo has the most harrowing of occupations anyone on the RFA 44 card has, a firefighter for St. Louis County. This career path started at Perryville, where she was a volunteer firefighter and EMT. The job opportunities in this field were not flourishing there, so she moved to St. Louis and started at Abbott Ambulance Inc., and enrolled in the paramedic program. Soon after she attended her first Guns n Hoses event. Guns n Hoses in an annual event featuring mostly boxing matches between area police officers and firefighters. The event raises money for The BackStoppers, an organization that provides immediate and long-term financial aid as well as other support to the families of police officers and firefighters who have lost their lives in the line of duty (In fact, $5 from every ticket sold by D'Angelo for RFA 44 will go to The BackStoppers). The event, which is entering its 30th year, is held at the Scottrade Center in downtown St. Louis on Thanksgiving Eve draws near-capacity crowds and has raised $4.5 million to date.

"When I went to my first one I was like, that's the coolest thing ever," D'Angelo said. "That next year I started training for it."

D'Angelo not only competed the following year but won. By the time 2014 rolled around, Guns N Hoses was embracing MMA and D'Angelo became the first female to compete in MMA at the event. While being a firefighter is certainly not 9-to-5, D'Angelo has found benefits from a work schedule that has 48 hours on, 96 hours off, to fit in training.

Having dumped full faith into the coaches around her, and you can't really blame her, D'Angelo's team is one of the most varied and sharpest in the area.

First and foremost, there's Berger, a multi-UFC veteran, longtime coach and a connoisseur of ground combat.

"The big thing with Kelly is that she has that fire in her," Berger said. "She comes in, she trains hard and does what she has to do. When she's done she wants to train more. There are times when I have to tell her to take tomorrow off. I have to lock the gym doors to keep her from coming in. When you have a fighter like that, the sky is the limit.

"I believe that Kelly is a little more adept at every single facet. Emily is tough. I think Emily is going to try and out grapple Kelly. I don't think she'll be able to get her where she wants her, but if she does, she's going to be in for a big surprise."

Also on the scene is Jake Hecht, a tough-as-a-$2-steak former 11-2 fighter with three fights in the UFC.

"We met through the fire service," D'Angelo said. "He was a medic student taking classes at my firehouse. I noticed his cauliflower ears and we got to talking about fighting. He helped me with Guns N Hoses and I guess he saw some potential."

Most recently, D'Angelo has added Elmir Kulosman of Kulosman Muay Thai's to the team. Kulosman has fought for Bellator and Shamrock FC and is a veteran of the local fight scene.

"It is three perspectives from people who are strong in each of their regions," she said. "I wanted to make sure I had a solid person at each level."

Behind the scenes is Jimmy D'Angelo, himself also in the fire service. The two married in 2014 and he's been paramount when it comes to drumming up sponsors, dealing out ticket sales, and even meal prep.

"He's been an amazing help," Kelly said. "Without him, this would be so much harder."

While finding lighter weight sparring partners is an arduous task for some female fighters, D'Angelo has been fortunate to have flyweight training partners Dan O'Connor (a 13-fight veteran pro) and Ken Porter (who is also on the RFA 44 card) in the gym to prepare with.

"Why do you think she's so tough?" Berger said. "She's been going with these two pit bulls because they're closest to her weight. That just makes her better and better."

Right now, the world is D'Angelo's oyster. She has her two dream jobs, an admiring and boisterous support group of friends, family, and training partners, and nothing but potential and possibilities in front of her.

"I have always felt confident and ready for anything," D'Angelo said. "I think my work ethic has gotten me this far. My coaches tell me I have a tenacity that doesn't come along very often."

Tickets for RFA 44 – Moisés vs. Freeman are available for purchase now through CageTix.com/RFA.