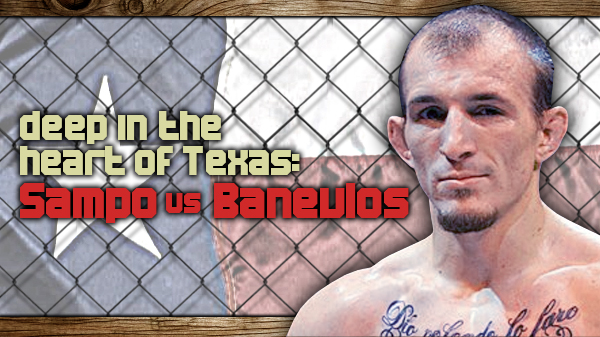 Deep in the heart of Texas: Sampo vs Baneulos
Flyweight Josh Sampo hops back into the saddle next week in what could be the biggest fight of his young career. On Sept. 14 in Houston, the St. Charles MMA/Team Vaghi product will compete in the co-main event for Legacy Fighting Championships on AXS TV (formerly HDNET). Sampo was originally slated to face undefeated Rafael De Freitas but due to an injury, will now be taking on Antonio Banuelos.

Banuelos was a fixture of the now defunct WEC, having fought there 14 times before moving to the UFC where he lost his one and only fight. Many feel Sampo (7-2) is one or two wins away from a UFC contract, and beating a household name like Banuelos (20-8) could be the fight that gets him a deal.

It has been a big year already for the 28-year-old Sampo, a grad student at Lindenwood University. He has fought three times this year. He defeated Czar Sklavos at a Fight Me MMA card in April. Under the Rumble Time banner he fought and lost to highly-ranked Will Campuzano, getting caught late in the third round in a fight he was winning up to that point. In July, Sampo got back on the winning track when we he easily submitted decorated wrestler Carson Gainey, again for Rumble Time.

Knuckle Junkies caught up with 'The Gremlin' after a day of training at St. Charles MMA and talked about Banuelos, his career, his teammates, and the juggling act it takes to be a professional mixed martial artist.

KJ: You were originally scheduled to fight Rafael De Freitas but now it's Banuelos.

Sampo: When I got my new opponents name I was like: 'Hell yeah.' I was super stoked. I've been a big fan of Antonio's. I saw him on the Tapout show and fighting in the WEC. He was somebody I would have loved to have fought and now I get the chance and at my weight class. On paper this has all of the ingredients for a freakin' all-out war. I wish Legacy had a Fight of the Night honor.

KJ: Not only is this fight on TV, but there seems to be more of a spotlight on it now with a bigger-name opponent.

Sampo: The Lord has blessed me in so many ways. I was frustrated that I didn't get on the Titan card (Sept. 21 in St. Louis) but literally the next day after I learned I wasn't getting on Titan, I got on Legacy. And then two weeks later, Banuelos became my new opponent; just blessing after blessing.

KJ: This will be Banuelos' flyweight debut and he hasn't fought since December. How are you looking at the fight?

Sampo: He's a big counter striker. He has good wrestling but he's not extremely offensive with it. From what film I have seen on him, I'm going to have to cut him off. I don't know if he took the fight on short notice or what the situation was with that, but he better come in shape because I'm going to be pushing the pressure on him from bell-to-bell. I have to be really smart. I don't want to slip up like I did against Campuzano.

KJ: How often do you think about the Campuzano fight?

Sampo: It is kind of a blessing in disguise. I'm bummed I didn't win the fight and who knows where I'd be if I got my hand raised at the end. But it taught me so much more about myself. It proved to myself that I can compete with the best. He was ranked 13th at the time on a couple of the polls. The way my teammates described to me how bad I was beating him, you never really see yourself in that light. I always want to work and become better but they were like, 'you were just schooling him.' Then I looked at the video and was like, alright. My standup has come leaps and bounds.

KJ: Do you think this upcoming fight will be similar to the Campuzano fight?

Sampo: There is no added pressure for me. I have nothing to lose. I'm still young in my career. He is at the end of his career but he has a huge reputation, especially with who his coaches are and what he's already done. If I go in there and beat him like I'm planning on, that's a huge slap in the face. It's a win-win for me either way. I don't get really nervous from the limelight or the big stage. Through college wrestling and the multiple competitions I've done through that, I'm used to being able to block all of that out. Once the cage shuts, it's either him or me.

KJ: Could a win launch you into the UFC?

Sampo: Multiple people have told me that this could be the ticket. I don't want to bank on that. That's kind of in the back of my mind. But I'm just going get in there and go 1,000-miles per hour from bell-to-bell.

KJ: You first started training at St. Charles MMA in 2008. This month alone, SCMMA fighters will be competing in Canada, here in the U.S., and South America. When you first started did you think the gym would get this big or is the team and gym just getting warmed up?

Sampo: It's still just the beginning. We're still just a bunch of newbies when it comes to this sport. There is so much potential here. Alp (Ozkilic) has been around the country training with some really, really big camps and he comes back and he's like, 'This is still the best place to train.' He's told me that numerous times. Here he's blessed with workout partners that train that much harder than some of the top-level dudes. They don't push, they don't challenge him like we do here. I think it's the huge wrestling background that we all have from Mike (Rogers, SCMAA head coach) all the way down to us little guys. I think this is still the beginning. We have yet to get comfortable where we're at. You never know. The gym is always growing and getting bigger and better opportunities. You look at our professionals now and where we could be. You could see three or four years down the road, we could all be in the UFC and potentially on one card. That would be awesome.

KJ: For up-and-coming professionals, it seems difficult to juggle not only putting in the hours training that you need, but to also drum up sponsorship dollars and promote yourself and up-coming fights:

Sampo: That is one of the most stressful parts. A lot of us still work full-time jobs. I'm going to school full-time, working and still doing this. It's constantly trying to push the social media or calling sponsors and saying I need information or a logo for the banner or I need to get paid. It's so stressful. It's almost like another full-time job. Everybody keeps saying, you need to get more sponsors. But it's like, I don't have the time. I try to push it on social media sometimes but that doesn't cover it. Some local business aren't on social media or not our friends, they don't have the connection. Alp is bugging my about getting on Twitter. The thing is a lot of us here at the gym are humble dudes. We're not out there saying we're the baddest dudes around. Social media is good and it helps us get bigger names and more sponsorship, but I think we're super newbies at that, too.

KJ: Who will be making the trip to Texas with you?

Sampo: Mike, Patrick (Christie, Muay Thai coach) and (Strikeforce lightweight) Matt Ricehouse; lots of good comfort and good people, too. Everything is falling into place for this fight. I have school and work behind me. The Titled Kilt is having a huge watch party. If you don't have the channel, make it out to there. My uncle told me one time that he was proud that this wasn't just a hobby. I'm going to take it as far as I can go with it.

Tune in to AXSTV on Friday September 14th for Legacy Fighting Championship.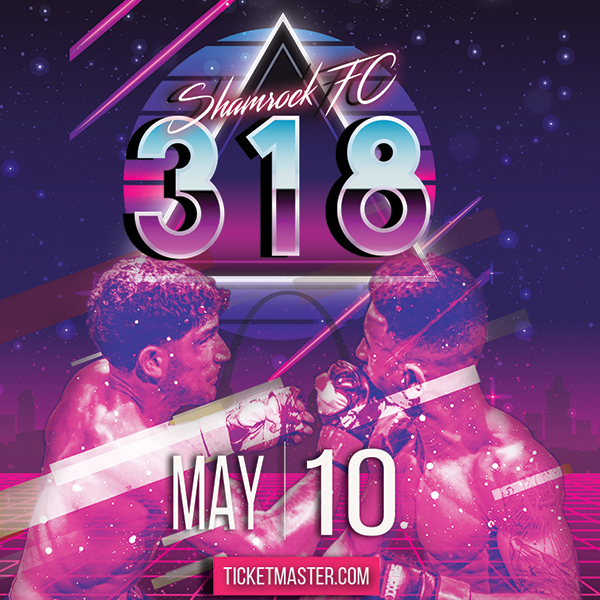 Shamrock FC: 317
| Sat, April 6th
Ameristar Casino, Kasnas City, MO
Nemesis Fighting Alliance
| Sat, April 13th
Casa Loma Ballroom, St. Louis, MO
Shamrock FC 318
| Fri, May 10th
River City Casino, St. Louis, MO
Shamrock FC 319
| Sat, June 8th
Ameristar Casino, Kansas City, MO

Tweets about "KnuckleJunkies OR @knucklejunkies"