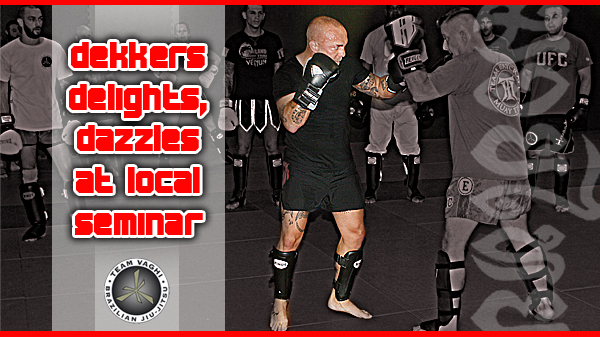 Dekkers delights and dazzles at local seminar
It look nearly 24 hours through the air, but legendary Muay Thai fighter Ramon Dekkers made his way to St. Louis.

Dekkers, one of the most decorated Muay Thai fighters in recent memory, was in Fenton on Saturday at Vaghi Martial Arts.

"Every month, I'm all over the world giving seminars," Dekkers said. "It's two or three a month all year."

Dekkers' stop at Vaghi's came after a recent seminar in Brazil. He left on Sunday for California where his brother's gym is located. While there, another seminar was slated and afterward they popped up on Inside MMA to display an array of combinations for co-host Bas Rutten.

"This is only thing I do," Dekkers said. "It's my work and I enjoy travelling and seeing many different people and places and share my experiences."

Dekker made the trip to Vaghi's following a simple request.

"He sent me an email and asked me to come and I said, 'no problem,'" Dekkers added. "I teach them all my experience. I fought 210 times, that's a lot. I hoped they learn a lot from it."

One by one and in pairs, strikers both old and young and men and women filed in slowly filled the mat at Vaghi's.

"The Dekkers seminar for me was like learning with the Mike Tyson of thai fighters," Quinton O'Brien, head Muay Thai coach for Vaghi Martial Arts/St. Charles MMA. "If there is in fact a symphony of destruction, then he wrote the sheet work. He made me simultaneously aware that we were on the right track but also that there are about five more gears to go that we didn't even know existed."

Jason Ciluffo, head Muay Thai coach at Watson Martial Arts, was among the room full soaking up tips.

"Ramon has been my inspiration in Muay Thai for nearly 20 years," Ciluffo said. "It was truly an honor to have been able to meet him and learn techniques from a living legend."

Now at 43-years-old, Dekkers has been retired for nearly 15 years.

"I had to because of my injuries," he said. "I couldn't train anymore, I couldn't fight anymore otherwise, I'd still be fighting."

Dekkers is one of the biggest Western legends of Muay Thai. During a 20-year fight career he was eight times world champion. What made Dekkers famous was that he fought in Thailand in the top stadiums Lumpinee and Rajdamnern against the Thai's own champions. Not only did Dekkers fight their champions but he beat them, often by knockout. Dekkers soon became known as "The Diamond", he fought top-flight fighters often a week apart.

"Ramon is a legend in the sport," Patrick Christie, Muay Thai trainer at Vaghi Martial Arts/St. Charles MMA, said. "He did things during his career no one thought he would. His fights with Coban are still among the best fights ever. His brand of Muay Thai relates well to our program and we were fortunate to receive instruction from someone of his caliber. He's a humble, quiet man with a penchant for devastation …he fit in well with our team."

With his battles behind him, Dekkers now enjoys the tranquility of travelling and sharing his experience with young up and comers. The variety of his life is something he enjoys.

"It's always different. I've never had the same seminar," Dekkers said. "It's all in my head and I see how things will work.

He keeps his advice simple; Train hard and live very serious for the sport.

Though times aren't near as serious now for Dekkers as they once were, he is grateful for the opportunities his previous brawls have provided.

"Life is good right now," he said. "I'm enjoying it."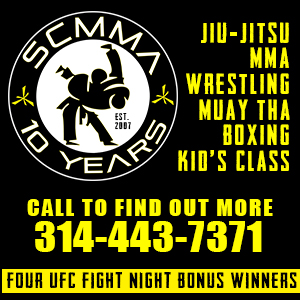 Shamrock FC: 317
| Sat, April 6th
Ameristar Casino, Kasnas City, MO
Nemesis Fighting Alliance
| Sat, April 13th
Casa Loma Ballroom, St. Louis, MO
Shamrock FC 318
| Fri, May 10th
River City Casino, St. Louis, MO
Shamrock FC 319
| Sat, June 8th
Ameristar Casino, Kansas City, MO

Tweets about "KnuckleJunkies OR @knucklejunkies"