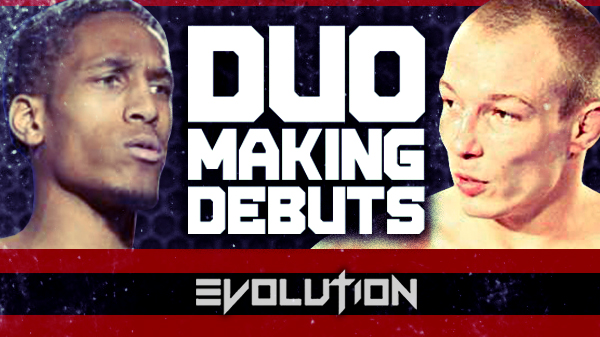 Duo Making Debuts
Making the jump from the amateur world into the murky waters of professional MMA is, for those who are devoted, not for the lighthearted.

Does anyone know Anderson Silva's amateur record? GSP's? Probably not. But when you go pro, wins and losses are chiseled into a stone that you drag with you until you walk out of the competitive arena for the final time.

At Friday's Rumble Time Promotion's Evolution, two of St. Louis' best up and coming fighters will wave goodbye to their amateur status.

Both St. Charles MMA's Jake Roberts and Modern Combat System's Kendrick Latchmam will make their pro debuts on the main card at Ameristar Casino.

For a coach, finding and accepting the right opponent for a fighter who is literally hitting the reset button on his or her career, can be an arduous process.

In reality, there are no perfect matches. This isn't eHarmony, after all.

St. Charles MMA's Mike Rogers, the man unquestionably behind the best talent the St. Louis area has ever produced, has gone through this process time and time again.

"You don't want a world beater right away in your first fight but there is only so much you can ask for," Rogers said. "The promotions aren't just going to give you a turd to kill. There are certain times that that happens. It's hard, if you're not involved. I can use some leverage, but it's a take and give thing. They're not going to put a fight on that they think is just ridiculous and the state won't allow that."

Jared Daniels-Block is the head coach at Modern Combat Systems. Though he does not have the resume that Rogers has, Daniels-Block has slowly but surely built a quality team at MCS.

"For me, the decision for Kendrick to turn pro was fairly easy," Daniels-Block said. "A big part of this (decision) for me is proving to me that he or she can put in the time and sacrifice needed to answer the professional ranks time and physical demands that it does require. For me and Kendrick, this was a mutual decision we made a few months back. The kid has shown nothing but 100-percent dedication to his team and his own personal growth. He has had a shorter ammy career, a bit of an unknown until recently, but has fought at 125, 35 and 45 when only weighting about 128 if he's lucky."

Roberts is the latest in a long line of SCMMA studs. Considered the region's top amateur, Roberts ran through the local competition, amassing an 8-0 record.

Finding quality foes for Roberts as an amateur was difficult, to near impossible, and that struggle carried over into his pro debut.

"The first guy we were happy with, the second guy we were happy with then all of the sudden a guy pulls out and we're on the fourth guy and basically we just took whoever they said," Rogers said. "I think it's going to be that way with Jake. We're not going to be able to make our own decisions on who we fight."

Roberts' evolution from a rough and rugged brawler that stumbled to a 0-3 start in the boxing ring to a finely-tuned fighting machine has taken time. Under Rogers' watchful eye, he elevated and sharpened an already sound ground game and with the help of JD Absheer, the 23-year-old became a Golden Gloves champ who qualified for the National Golden Gloves tournament, amassing two KO's along the way.

"He used to be terrible; had no technique at all," Rogers said. "Two years ago he was trying to double leg in his first boxing match. Now he has technique and he has put in a lot of time. He has put in a lot of work, like Alp, Sampo, Kirk, and Ricehouse. Their work ethic has rubbed off on him."

Roberts will take on Raul Roses on Friday. The 5-foot-7 Roses was a decorated amateur himself and won his pro debut in April in Kansas.

Roses and fans on Friday can expect balls to the wall from Roberts. The "North County Nightmare" knows only one speed.

"Jake is 100-percent go," Rogers said. "He just comes after you. There's no stalling. If it was a wrestling match there would be no stalling calls ever. He is like how Rickson Gracie says you're supposed to do jiu-jitsu; don't worry about points, just go for the submission. He's not going to hold position for five minutes on somebody, he is going to go for submission or going for knockouts and that's his style."

For Latchman, he will face New Mexico's Juan Aranda. Aranda had a 4-1 amateur record and will also make his pro debut.

"This choice solely came based on availability and pro experience," Daniels-Block said. "Other options I had were opponents with negative records so this fight was taken. One of them will walk away 0-1."

Latchman is a whirlwind of combat threats with so much speed that he can hit the light switch and be in bed before the room gets dark. He went 11-3-1 as an ammy and routinely satisfied the throngs who have seen him fight.

"Kendrick is like lighting a chain of black cats tied together," Daniels-Block said. "He is one of the most explosive athletes we have at MCS. He has a ton of weapons in the arsenal and is well rounded, so in a sense he brings everything to the table in a dynamic fashion."

Rumble Time Evolution will take place at Ameristar Casino in St. Charles, MO on Friday. Doors open at 6 p.m with the first fight set for 7 p.m. Tickets can be purchased by calling 314-662-2000 or online by clicking here.