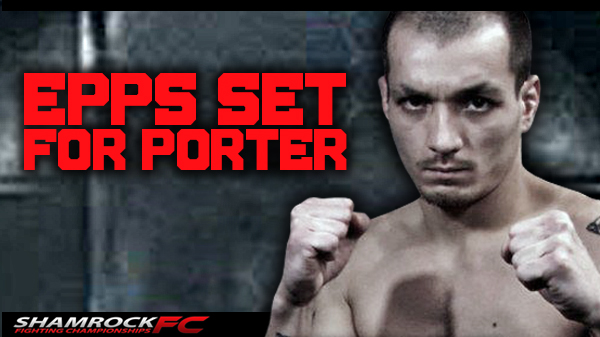 Epps set for Porter
By
Debo
| Knuckle Junkies
St. Louis' Shamrock Fighting Championships will once again pack Lumiere Place.

On Saturday, Shamrock FC: Havoc will take place at the sold-out downtown venue with a flyweight match-up between two fighters who are beginning their professional crest takes center-stage in the main event.

Locals Josh "The Loose Cannon" Epps (4-6) and talented prospect Ken "The Sensation" Porter (3-1) were originally slated to fight in March but an injury forced a reschedule.

And there is no time like the present.

Epps, 26, climbs back in the cage after last fighting July 27, 2012 when he knocked off local pro standout Dan O'Connor. He tasted victory with a rear naked choke in the first round on a Rumble Time card over O'Connor. Epps is from Bridgeton and was schedule to take on Porter in Porter's pro debut back in March. A hand injury half way thru training camp for that fight ended up shutting Epps down for three months.

Epps, a gym rat, began his MMA career working out at Finney's HIT Squad. He now trains at Modern Combat Systems in Hazelwood under the direction of gym owner/coach Jared Daniels-Block.

"Josh is the type of guy who does not need the spotlight," Daniels-Block said. "He likes to fight, likes to win and he trains very hard."

Epps has spent a significant amount of time as of late working on his cardio. It has been a No. 1 focal point with the down time from his injury. He has always placed an emphasis on being a well-rounded opponent. Along with concentrating on his boxing and wrestling skills, Epps has also put in lots of work during this training camp with Strikeforce vet, St. Charles MMA standout, and Vaghi brown belt Matt Ricehouse as his jiu-jitsu coach.

On paper, Saturday's main event looks to be two fighters eager to push their careers further.

"We should see an exciting fight. Josh is a game opponent who is hard to fight," Shamrock FC President Jesse Finny said. "Kenny is training full time now and with his wrestling and kick boxing skills this should be a great main event".

Porter lacks the pro experience that Epps has to date. But Porter has been active the last four months posting a 3-1 record since making the leap to the pros in March. Porter trains at Finney's MMA in St Louis where his coaches include Andrew Sanchez, Ryan Sutton for wrestling and an array of decorated striking coaches. Porter's last victory was June 15th at the River City Casino for SFC, where he stopped Zach Harvey, and avenged his only loss, in second round.

Epps has poured over a lot of video of Porter as he prepares to climb back into the cage and would prefer to fight on the outside to take advantage of his length.

"I'm on top of my training and understand I have got to be ready to go three rounds," Epps said.

On Saturday, doors open at 6 pm. The pro/am card is scheduled to start at 7 pm.