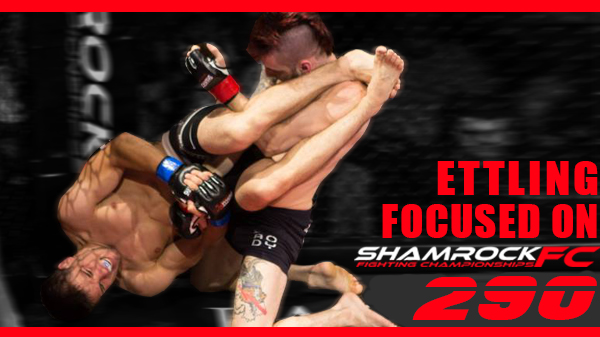 Ettling Focused on Shamrock FC 290
Confident but not too cocky. Head held high with just a touch of strut all while speaking not too softly and looking to carry a big punch.

Scott Ettling's blue-collar, rural roots may not allow for much flare or flash and dash but that doesn't mean the Illinois scrapper isn't feeling bold heading into Friday night's clash with Erion Zekthi at Shamrock FC 290 at the River City Casino.

"I believe I'm going to throw him around," Ettling said. "He's just mouthy. I can't really stand him. I have sparred guys his size and it feels like pillows hitting me."

The initial embers for the Ettling-Zekthi bout occurred when Ettling was tagged on a Facebook post, the topic of which was who would be a good opponent for Zekthi.

"He started talking shit," Ettling said. "I messaged (SFC President Jesse) Finney that same day and it was a done deal. I don't feel like he has anything for me. He's not on my level. He'll throw one combo and then shoot. I saw his fight with Trevor Ward and in training I threw (Ward) around like a rag doll. At 135, I feel like I can wreck this division in the St. Louis area."

This will be Ettling's first cut to 135-pounds. He has weighed as low as 138.5 for a 140-pound catchweight bout.

"I don't feel any guy at '35 for sure won't have power on me and in St. Louis I have the best technique on the ground in the division," he said. "People say I'm a wrestler and that I always fight on the ground but as soon as I punch them in the face, they try to take me down."

No question Ettling will have to come up with answers to Zekthi's takedowns. Zekthi ran roughshod over the local competition at both 145 and 135 as an amateur, going undefeated and claiming titles from multiple organizations. And it was due mostly to his ability to plant people on their back, keep them there, and beat them up in the process, winning convincingly pretty much every time out. He made his pro debut in September 2016 with an impressive submission of the aforementioned Trevor Ward (5-4) late in the second round. He then lost a grueling split decision to Demetrius Wilson in December of 2016.

"I'm 100-percent confident on my back in a fight," Ettling said. "I train with 170-pounders or bigger and tap them out multiple times in five-minute rounds."

Ettling, 24, was a hardscrabble kid and decent athlete growing up in Hillsboro, Ill. He took naturally to your basics; football, basketball, and baseball and even started on the varsity gridiron as a freshman.

At 17, Ettling stumbled upon Adam Wright and a fellow Hillsboro resident many fight fans would recognize, UFC champion and eventual Hall of Famer Matt Hughes, at Wright's Xplosive MMA. Other than some backyard boxing, Ettling had never ventured into combat sports before and this was the beginning of a close student-teacher relationship.

"Growing up (Hughes) was my idol," he said. "I've learned pretty everything from him and Adam Wright."

Soon after a power-punching-obsessed Ettling took his first MMA fight at the Butler Fair and lost. Well, that changed everything.

"I'm a competitor and I can't stand to lose," Ettling said. "That pissed me off."

Ettling bee-lined it back to Wright and Hughes. He eventually rattled off an eight-fight win streak and as he grew experience in the sport he also became wise to the flaky nature of amateur MMA. Ettling would pull up to events with his gym bag stuffed with gear just waiting for someone to not show up or another to pull out.

"I did that multiple times," he said. "I got to fight a lot of undefeated fighters doing that."

During his ammy run, he came across plenty of St. Louis area notables including Travis Draper, Cjay Hunter, and Fred Freeman among others. He also spent plenty of time in the amateur ranks battling injuries.

"My first five or six fights were a blur. Every two-or-three fights it seemed like I would break my hand," Ettling said. "I've broken ribs, my jaw, I had a lot of setbacks. All of the time it took to heal kept me an amateur. I would have turned pro a lot sooner were it not for the injuries."

Ettling turned pro in 2015 and the wins came fast and easy with, "not a scratch on me," he said.

He jumped out to 3-0, all by first round finishes. His only loss as a pro came to Fazlo Mulabitinovic in November 2015 on a Bellator undercard when Ettling tapped to an armbar in the first round to the savvy Mulabitinovic.

"Most of the people I had fought up to that point stood in front of me and swung for the fences," he said. "That was and off night. I learned in that fight not to get so excited."

Ettling got back on the winning track seven months later by tapping Cort Wahle with a triangle in June 2016 at Shamrock FC: Explosion.

"I felt a little rusty in that fight," Ettling said. "I was winded a little bit. I had a bad weight cut and was just drained all around."

The victory over Wahle was Ettling's fourth as a pro via submission.

"That's all Hughes," Ettling said. "He's made me become a good grappler by sticking to the little things."

Xplosive MMA was bulldozed to make way for a parking lot so now Ettling makes drives to Staunton (to work with Wright, Hughes, and Toby Osmoe). He also heads over to Springfield to get in work at Robbins MMA.

Ettling has been a journeyman welder since he was 18. It's the same line of work that his grandfather, father, and brothers all fell into. The grind has not been easy. 4 am wake ups and very few vacations.

Finney has seen this handiwork up close and personal on several occasions as Ettling fought multiple times for Shamrock FC, dating back to 2011.

"Scott is finally taking the sport seriously," Finney said. "He has upped his game as an MMA fighter. Before, he was just a tough, strong scrapper. Now, he's more of the complete package."

Tickets for SFC: 290 can be purchased at www.shamrockfcstore.com. The event will also be streamed live via pay-per-view. Visit the Shamrock website for more information.