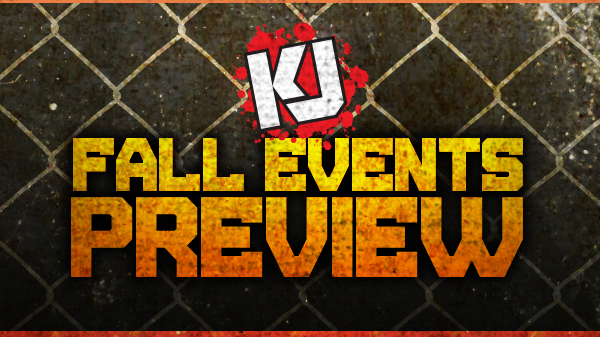 Fall 2013 Events Preview
As the summer heat is starting to break, we look to fall for a bevy of cool events to finish up 2013.

Get out your calendar and black Sharpie, because here are a few fall brawls that you should know about:

Starting things off in September is the finale of the Proving Grounds Fight League Grand Prix 2013. While a few of the matches have been scrapped from what would have been a stellar amateur card, there are still some choice fights on this bill including the rubber match between Joe Roye and Monutelle Prater, and an exciting bantamweight battle between the always electric Matt Murphy and AJ Siscoe from Gracie Humaita. South Broadway will server as the battleground for this terrific amateur event.

Hollywood Casino is getting into the fight game and they're doing it in a big way. How big? Try a 12,000 square feet outdoor tent.

This event will be the venue for some very intriguing pro match-ups including the blockbuster main event of Kevin "Hitman" Engel taking on the very popular Chris "Stump" Heatherly. Heatherly is eager to get back into the cage after suffering his first loss as a pro, but will find no easy opponent in undefeated Engel who also brings 20 wins as a pro boxer into the cage. Local favorite "Bad News" Bo Kunz will finally be making his pro debut against another seasoned amateur in Anthony Livingston. Standout Eric Irvin will also be on the card.

One of the longest running amateur promotions will be back in Sullivan on September 21st when Cage Champs sets up shop. Patrick Smith always finds some wizardry in his bag of tricks and has promised up to four Spire belts on the line including a Spire state title to be settled between Christian Camp from Springfield, MO and Buddy McGinnis. Camp has racked up three wins against St. Charles MMA fighters and parlayed these wins into a title match with the long-time number one featherweight, McGinnis. Brandon Lowe will take on Justin Lankford, and Harold Parham will battle KJ Jones, both of which will be for Spire titles.

Rumble Time Promotions will return to the Dwight Davis Tennis Center one year after an attempted live TV event got rained out this date last fall. While the short-lived partnership with Titan FC fell through, Rumble Time will go it alone this time around with an all-amateur fundraiser event that will raise proceeds for Responder Rescue.

St. Charles' largest venue will swell to capacity again when Fight Hard returns in October. Damian Newman and Ira Lukowsky treated fans to an insta-classic in July. Rumor has it Newman will defend his title against a yet unnamed opponent. Newman solidified his rank as the area's top bantamweight and is looking for a couple more fights before inevitable pro debut.

Shamrock FC has continually put on first class events at it's home in Lumiere Casino. Although the card has yet to be released, a few of the names being mentioned are Kevin Engel, Andrew Sanchez, Luigi Fioravanti. Any of these fighters would be a big score, and great reason to check out a Shamrock FC event. The promotion's August event saw Ken Porter win the rubber match with his nemesis Zach Harvey, the man who handed him his first loss as a professional. On the amateur side, Aaron Highfill dazzled the crowd with his powerful stand-up skills.

Armageddon Cage Fighting will debut in October at the downtown Colosseum club. First-time promoter Jared Daniels-Block will bring a main event of undefeated Jake Roberts (5-0) taking on Corey Huff (10-2).

The Nemesis Fighting Alliance will return to the Farmington Civic Center after taking an extended break that saw promoter Beejay Smith make his own trip to the cage. Smith and Co last saw action in April for Night of a Fire, an event that was highlighted by a live performance of local alt band Greek Fire.

Closing out October will be the A.M.M.O. Benefit show at Chaifetz Arena on the campus of St. Louis University. This pro/am event will raise funds for victims of PTSD.

Jim Jenkin's Cage Fighting Events will be back after a small bump in the road in September. The new home to Jenkin's pro events unexpectedly closed forcing postponement of a planned September pro/am. CFE will return to familiar stop grounds at the Heart of St. Charles with a main event featuring Zach Freeman returning after his first professional loss this past June. Also announced on the card is a strawweight battle between Ken Porter and Dan "Johnny Irish" O'Connor. Look for those two to set the cage on fire.

Also on November 1st, Shamrock FC will take it's show on the road to Kansas City. This time they'll be bringing Ultimate Fighter veteran Adam Cella along for the ride. Cella will return to the cage for what has been a busy year for the young welterweight with fights in Sweden, and of course his time on the Ultimate Fighter reality show on FX. Cella viciously KO'd Justin Demoney in June at Shamrock's summer marquee event at River City Casino, and looked mighty impressive in his bid to return to the UFC Octagon.

On the even of Thanksgiving, Shamrock FC will partner up with The Backstoppers organization for the annual Guns 'n Hoses event at Scott Trade Center. Shamrock will bring MMA to the previously boxing-only event, and it will mark the first time the spacious venue has seen MMA since Strikeforce visited.

For more information on these events please check out our Event Calendar, and watch the website for event previews, features, and write-ups.

Thanks for supporting Knuckle Junkies and St. Louis MMA!