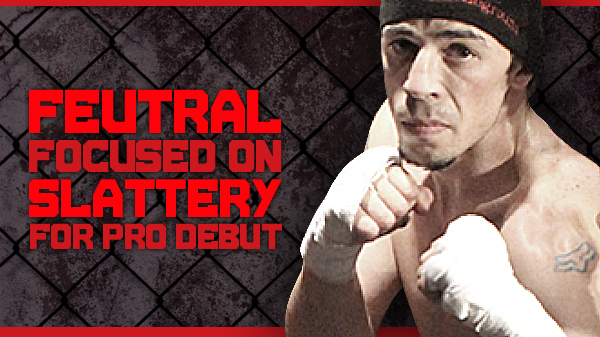 Feutral Focused on Slattery for Pro Debut
Buried deep in Franklin County, Brian Kain saw a diamond in the rough.

Kain, owner/coach/promoter of Union's Battle Ground MMA, kickboxing, and promotions - was approached by a rangy kid with tons of heart and a tough chin who was fighting on one of Kain's local shows.

"He had been in a little trouble on the street and was looking for some direction," Kain said. "He had no one in his corner and asked for some help."

Kain obliged and the scrapper named Harlan Feutral, earned a win that night.

"He went out and listened," Kain said. "He wasn't like he already knew it all."

Feutral soon became a key fixture at camp Battle Ground as Cain helped steer him to an 11-4 record that included a couple of ammy titles along the way.

"Harlan is a quick learner and a good asset around the gym," Kain said. "He has a good heart and is just a genuine person."

The 29-year-old has been with the team and Kain for four years.

"Up until then I just trained by myself," Feutral said. "He offered to help me out and I've been there ever since."

Feutral is set to make his pro debut on the main card of Friday's Rumble Time Promotions Cinco De Mayhem slated for 7 p.m. at Ameristar Casino.

The 6-0, 155-pounder will take on St. Charles MMA's Jason Slattery, who is also making his pro debut.

"I think (Slattery's) a good ground guy with some decent standup," Feutral said. "I know he comes from one of the top-ranked gyms when it comes to the ground. I've also been working my standup a lot. I look at as if my opponent is good at everything that way I'm ready for anything to happen."

Slattery, 26, is a St. Louis native with a 9-3-2 record.

To round out his skills, Slattery realized that he had to embrace the grind of becoming a better grappler.

"I really had terrible wrestling because I just did jiu-jitsu and striking," Slattery told KJ in March. "I needed that extra control and that really helped my game out. I have more of a stand up background and I always like to test that out. If I feel like I need to take it to the ground, I'll definitely do it and control what I need to control."

A two-sport athlete in high school, Feutral dove into all of the aspects of MMA at the age of 18. He currently works full-time in home improvement and sandwiches all of his training in at night. He is coming off a win over Ronnie Harper and has logged six-day training weeks in preparing for Friday.
Feutral is one of five fighters out of Battle Grounds MMA.

"We train hard and when it's show time, we're ready to fight," Feutral said.

Cinco de Mayhem will feature Jake Collier (6-1) vs. Quartus Stitt in the main event and Javon Wright and Ramon Barber in the co-main event. Barber will test his five-fight win streak against Wright (3-2).