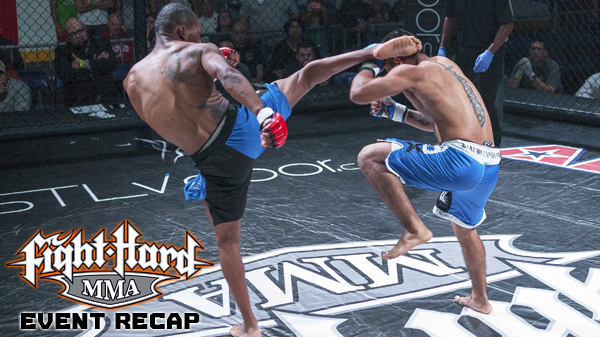 Fight Hard - 10/5 Event Recap
Montuelle Prater was splayed on the canvas. He was lifted to his feet by his corner and leaned heavily against the cage.

In the main event of Fight Hard MMA's return to the Family Arena on Saturday, Prater was many things; forceful, accurate but also tired and in trouble, but when it was all said and done, he was victorious. Prater earned a 29-28 unanimous decision over Cristian Santana

Prater landed a variety of strikes throughout the first two rounds of the featherweight bout but Santana nearly made all of that work for nil in the third.

Santana started off the round with a stiff jab and promptly pushed Prater against the cage. He then scored a takedown and got the mount. Prater was able to sweep his way out of trouble and when the fight got back to the feet, Santana continued to press the action. The visibly tired – and potentially injured – Prater was in survival mode and Santana, who displayed a chin made of concrete, tried to go for the finish with a late triangle but Prater held it off before the final horn of the night.

The first two rounds were dominant for Prater, who was fighting for the second time at 145.

In the first round he picked away and worked inside and out. Prater showed maturity with his patience and after a nice trip for a takedown, he worked out of Santana's half guard before a triangle attempt by Santana ended the round.

Prater came out in the second and landed a leg kick, a short right hand, and a knee to the stomach. Santana tried an arm bar midway through the round but Prater slid free and rewarded the attempt with a bushel of hammer fists and punches. Once back to their feet, the Cahokia MMA fighter greeted Santana with a big right hand. Santana ended the round with futile guillotine attempt from half guard.

For interviews with Prater and others from Fight Hard MMA's return to the Family Arena, be sure to check back tomorrow.

In the co-main event, Scott Futrell scored a dynamite knock out of Jesse Farmer in the second round. Futrell finished a nice combination with a right uppercut that landed perfectly flush 38 seconds into the round.

Futrell, out of Modern Combat Systems, announced that Saturday was his final fight as an ammy. Futrell is scheduled to make his pro debut on November 15 at the Heart of St. Charles against Clay Mitchell.

"Scott has gotten way better with his hands and way better all around," Modern Combat Systems coach Jared Block said. "Scott had a camp in Texas too and he ended up staying out there because he got really sick. It was nice to see him come back like this after being sick. He works really hard at this. He's always in the gym and always on time."

Futrell came out in the first round and landed a crisp left. Farmer gained some major momentum when he pushed Futrell to the cage and pinned him there before coming up with a huge slam and landed in side control. Farmer eventually took Futrell's back but slipped off towards the end of the round.

Fight Hard MMA will return to the Family Arena on December 28th. Fight Hard president Kenny Nowling was trying to drum up potential matches, including a Damian Newman/Ira Lukowksy rematch and also CJ Hunter got on the mic to encourage a fight with opponent and #1 ranked spire lightweight, Buddy McGinnis.

Submissions dominated the action on the undercard, while Curtis Eller won via arm bar in the first round over KJ Jones and Wes Powers won in 51 seconds by TKO over Rob LaCroin, Aaron Harvey won via rear naked choke over Bryan Klenc. Making his cage debut, Erik Newman won in the first round by rear naked choke over Ryan Shelton. Jake Wilyard sank a guillotine and defeated Eloy Sandoval in the first round.

In the evening's opener, Trevor Lanzone won by unanimous decision over LC Hamid.