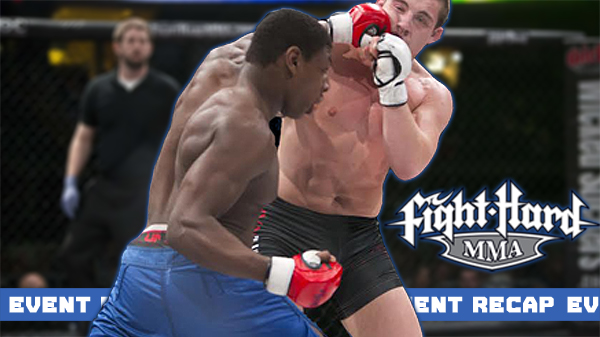 Fight Hard - 2-22 Event Recap
Who doesn't love a good knockout?

The thud of a well-placed punch followed by an opponent suddenly splayed on the canvas as the crowd jubilantly elevates from their seats.

Fight Hard MMA rolled out its first showing in 2014 to a nearly-full Family Arena on Saturday and knockouts were a theme of the night.

Two of the area's top welterweights, Joaquin Buckley and Aaron Highfill won in spectacular fashion to highlight the all-amateur card.

In the night's main event, Buckley, out of Finney's MMA, landed a devastating punch to Brandon Karcher to earn the knockout with 2:15 in the first round.

"I came in and his hands were down," Buckley said. "This was a great finish for me."

In his post-fight interview, Buckley expressed interest in fighting Jake Roberts, out of St. Charles MMA, who is considered the top pound-for-pound amateur according to Jayson Cooper of the Spire Sanctioning Alliance.

"I hope (Jake) allows it to happen," Buckley said. "He has the bigger name. I am looking to have one more amateur fight and I want it to be a challenge. I think we could give the fans a great show."

In the co-main event, Levi Rose faced a late-replacement in Mark Chappell and Rose made quick work, getting a first round TKO victory.

Highfill, also Finney's product, faced a sturdy Kyle Kurtz.

Kurtz baited the talented Highfill into some wild exchanges early in the opening round and when Highfill gave chase and ran in unguarded, Kurtz landed a short shot that sent Highfill to the canvas. Highfill looked to be in trouble as he sustained another right hand and the possibility of a major upset was briefly in the air. But Highfill managed to survive and get the fight back on its feet where he landed a crisp left and right before Kurtz tossed him to the canvas and eventually worked a submission attempt to close a stellar first round.

But as the crowd eagerly awaited more between these two, Highfill ended all speculation when he landed a powerful right hand and followed with four-to-five hammer fists to earn the TKO just 27 seconds into the round.

Modern Combat System's Derek Clardy earned a unanimous decision win over Montuelle Prater in a gritty dog fight.

Matt Murphy bullied Cristian Santana around for the entire first round. Santana had a brief spark late in the first but did little damage as Murphy ended the first with a nice power slam. But in the second round, Santana landed an overhand right that sent Murphy crashing to the floor. Santana pounced and eventually sank in a rear naked choke for the submission victory.

Kendrick Latchman, of MCS, looked as good as any fighter on the card.

Facing a tough and talented upstart in Erik Newman, Latchman wasted no time in showing who the more cage-savvy fighter was. Newman is a talented wrestler and Latchman successfully fended off a takedown attempt to start the fight. In doing so, Latchman landed some punishing shots that opened up an already-broken nose. Latchman stayed busy the entire first round, sinking in his hooks, taking Newman's back, and dominated the entire opening three minutes. Latchman continued where he left off starting the second round, pummeling Newman on the feet. Coming out of a scramble, Newman earned some much-needed momentum when he took Latchman's back but it was short lived. Latchman eventually regained control and ended the round with a rear naked choke attempt. Bloody and unable to breathe through his nose, Newman's corner wisely called a halt to the fight after the end of the second round.

In other action, MCS's James Taylor III won by unanimous decision over Dan Busch. Ronni Lawrence picked up a unanimous decision win over Michelle Pearce.

Korey "Panda Bear" Smith submitted Jeremy Daniels with just a second left in the first round. Cory Tinnon wasted no time and won with a first round TKO over Dan Jaco in just 18 seconds in the first fight of the night.

Fight Hard returns April 19th.