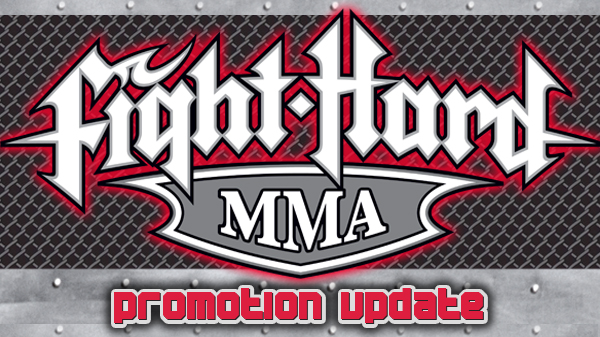 Fight Hard - Promotional Update
Fight Hard MMA has a new matchmaker.

Mike Rogers has been brought on board to fill the need in the promotion that has gained popularity through its free ticket shows held on a regular basis at the Family Arena in St. Charles.

Rogers is no stranger to the local MMA scene, having run shows of his own in the early 00s and served most recently a matchmaker for other promotions. Most know Rogers from his 10-year run of heading up St. Charles MMA, an MMA factory of sorts, consistently producing the region's top talent during that stretch.

Fight Hard MMA is looking to get back to its halcyon days of five years ago when 10,000 attendance were the norm. The past year saw Fight Hard in the courtroom against facing off against Shamrock FC in a battle of fighter contracts and on the receiving end of social media rants delivered by former employees.

KJ sat down with Fight Hard MMA President Kenny Nowling and Rogers for a brief Q&A to talk about the future of the promotion and Rogers' role in it.

KJ: So, Kenny. Why Mike Rogers and why now?

Kenny Nowling:"Mike has played a major role in Fight Hard MMA since our debut in August of 2010. In fact, two of his fighters from that historic first event, Lance Benoist, and Josh Sampo went on to the UFC. Since then Mike has always been a great friend, supporter, and confidant. We have discussed him taking over a matchmaker several times in the past but something always got in the way. I believe everything happens for a reason and although I wished I would have hired him years ago, I'm just happy he's finally on board. His experience and ability will take Fight Hard MMA to a whole other level."

KJ: Mike, you mentioned that one of your attractions to the position was the Fight Hard established business model and how that manifests into not having to burden the fighters with a huge ticket sale responsibility.

Mike Rogers: "The fighters have to be exciting and the fights have to be good and I don't have to worry about so-and-so selling 100 tickets. It's doing your best to promote the show. We want you to be in shape and to kick ass. And we want you to have fun. It's different and I like that. I'm not putting down the other shows. If I put on shows I would have to sell tickets. This is unique. Kenny had a great idea."

KN: "I think it's critical. It allows the fighters to focus 100-percent on training which I believe makes for better fights. We are in the entertainment business and anything we can do to help our entertainers, which in this case is our fighters, is obviously a good thing."

KJ: Mike, your fighters have been on Fight Hard from its first shows on. What are some of your memories from those first days?

MR: "Kenny was very generous when he first started. After the first show he had I wanted to grab him and say, 'look, man, you can't run it like this.' He was paying guys too much money. Lance Benoist was on the first show and got paid very well for being on the undercard - probably too much - and he got a $5,000 knockout bonus and a free iPod back when nobody had one of those. I remember thinking, I hope it works out for (Kenny) because it was a lot of money he was putting out and it didn't work out for him because his business partners weren't the best. But he still has the same model and there's no reason why it can't get back to that, and that's what I want. I want Fight Hard to be one of the biggest shows in the country."

KJ: Fight Hard has had a bit of a revolving door at matchmaker over the last couple of years, did you have any hesitation in taking the position?

MR: "Somebody is going to call Kenny and say, 'Why are you hiring this Mike Rogers character.?' I never had any problem with Kenny and we have, it's just been a quick argument and we get over it. We're not a couple of long, drawn out Facebook babies. It's a no-brainer for me. I love the show. I love putting (SCMAA) guys on the show. And I like Kenny. He's definitely a character."

KN: "I feel very strongly in giving people opportunities. I have been blessed to have been given many opportunities in my life. Ultimately I take responsibility for hiring people with no prior matchmaking experience and I've paid the price for that. With Mike that is obviously not the case. He is one of the most respected people in our industry. I think the proof of Mike's abilities will play out inside the Fight Hard cage in the very near future."

KJ: When can we expect another Fight Hard show? And will you continue with the all-pro cards or also mix in some pro/am cards as well?

KN: "After our last event, we decided to take a step back and regroup. We are currently negotiating a contract extension with the Family Arena and will announce our 2017 dates very soon. We will definitely be mixing some very high-level amateur fights that the fans want to see in our upcoming shows. Don't be surprised to see is in other markets in the near future as well."

KJ: Do you two have any final thoughts?

KN: "We have had some ups and downs as of late, however, this is our eighth straight year of putting on high-quality MMA events and that's something that we are very proud of. I think Mike joining the team is exactly what was needed and the future of Fight Hard MMA is once again very, very bright."

MR: "We are going to try to put on the best shows and the best fights I can put on and put butts in the seats. We want to use local fighters and build them up to be world-renown fighters and the same time we want Fight Hard to be known in New York, Canada, Brazil, and all over."