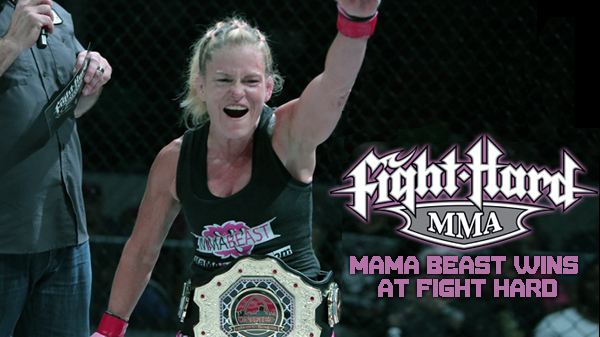 Fight Hard: Brandenburg vs Wyatt - Recap
There were plot twists. There were epic battles. There were major announcements made. A king was dethroned and we saw a new queen gain her crown.

This isn't a review of a George R. R. Martin novel, but rather Saturday night's Fight Hard MMA event at the St. Charles Family arena.

Matchmaker Kain Royer really had his work cut out for himself this time. Recently coming off of a training camp and a bout for Bellator, running a gym, being a coach and mentor, and dealing with a family emergency that saw three family members (including his mother) injured in a UTV accident, Royer certainly has certainly had a lot on his plate. Proving his resilience and love for the MMA community, Royer dealt with fighters not making weight, others flaking and dropping, and trying to find last minute replacements like a champ. These efforts really showed as the show went off without a hitch.

The main event saw media darling Suzie "Mama Beast" square off against out-of-town rival Sheena Starr for the first ever Fight Hard 115lb WMMA title. The two are familiar with one another, having competed in October of last year. The first encounter saw Wyatt come out on top with a first round submission.

As referee Dwayne Bess started the action, it was apparent that both of these ladies were hungry for that new belt. The pace was feverish; haymakers, scrambles, and combos aplenty. About a minute into the action, Starr landed a flush spinning backfist that got quite a crowd reaction, but Wyatt , completely unfazed, marched right through it and secured the takedown. Once the fight was on the ground, Wyatt followed the blueprint from their first encounter and began looking for the submission. Starr's ridiculous flexibility did little to help her as Wyatt sunk in a rarely used inverted keylock at 1:37 of the first round.

Promoter Kenny Nowling asked Wyatt in the post-fight interview if she was concerned or effected by the spinning backfist, and if so, how badly.

"Ask anyone who knows me or has trained with me, I don't care if you hit me. I. Don't. Care." said Wyatt.

The win was Wyatt's fifteenth bout, pushing her record to 10-5. It was announced that the promotion would be calling Guiness Records to have Wyatt put in the record books for being the oldest female MMA champion. Wyatt celebrated her 50th birthday this week, and by the looks of it, has no plans on slowing down anytime soon.

The co-main event was a barnburner of a matchup between 145lb champ "King" James Davis (Mottershead) and MCS fighter Trevon Crawford. Davis seemed to be a bit off of his game from the opening stanza, as he is known for his wrestling and ability to smother and neutralize his opponents. Crawford must have gotten the memo, because he showed up with a gameplan and executed it. Both fighters were able to secure takedowns and each had their fair share of vicious slams, but Crawford pushed the pace from bell to bell and seemed to have an answer for everything Davis threw at him. All three judges agreed that Crawford was in control the majority of the three scheduled rounds and awarded him the 30-27 unanimous decision victory. The win awarded Crawford the Fight Hard 145lb Title and showed everyone in attendance that he is a serious contender at featherweight in the St. Louis area.

After a supremely large weight cut, much to the distress of his coach and corner men, Miguel Lisboa came to show why he is considered one of the best lightweights in the Midwest. Lisboa's coach and cornermen from Pedigo Submission Fighting assisted in the weight cut by making the drive from Mt. Vernon IL in with all the windows up and no air conditioning. All four men showed up to weigh-ins soaked through their clothes in sweat.

After a bit of last minute running and mitt work, Lisboa made the 157lb weight limit, having come all the way down from a starting weight of 185 pounds.

Once in the cage, Lisboa made short work of his opponent, submitting Johnny Cox via rear naked choke in 38 seconds of the first round.

In a 125lb contest, Corbin Howard outworked Jerry Stepps for three rounds to earn the unanimous decision to win his MMA debut.

In quite possibly the cutest thing to ever be seen in a cage, six-year-olds Jera Spear and Evey Widger grappled to a draw in an exhibition grappling match. These two little ladies went to war and showcased skill and class, another sign showing us that the future of the sport is in good hands.

Oscar Ahuatzi stepped in on less than a days notice to face SCMMA fighter Lucas Clay. The first round was very back-and-forth until Clay spent the last bit of the first round working a triangle. The referee asked Ahuatzi if he was ok, he gave the thumbs up and then immediately slipped into unconsciousness as the horn sounded to end the round.

Dwayne Bess called a stop to the contest at 3:00 of round one, declaring Clay the winner by submission.

In what looked to be shaping up to be a very active bout, Dan Uhlenbrock took a few body shots that sent him to the canvas, causing the referee to stop the action at 1:29 of round one. Porter MMA's Daniel Jefferson took home the win via ref stoppage.

In other action:

Cort Romeius def Dylan Dodds via submission due to strikes
Kenny Selinas def Nate Dieckmann via submission (keylock)
Jose Johnson def Jobe Washington via TKO

During an intermission, promoter Kenny Nowling announced that Fight Hard would
be adding another chapter to its history by delving back onto the world of professional
MMA. He had promises of huge names and big paydays, even declaring that they would
be serving us some of the biggest fight purses in MMA history. Nowling stated that the
show, set to take place Oct. 10th at the Family Arena will be called Gladiator MMA and
will also be available on pay-per-view.

Fight Hard returns to the St. Charles Family Arena August 29th. Photo courtesy of Sara Levin Photography.