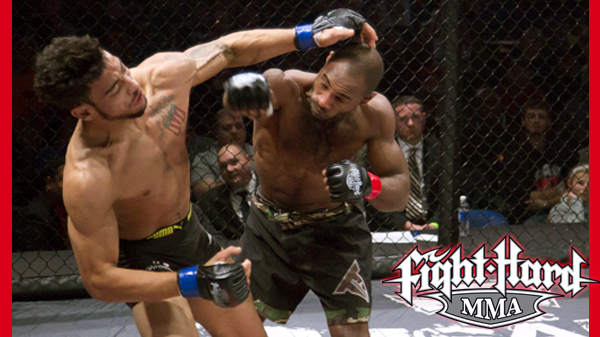 Fight Hard: Chandler vs McNeely - Recap
Fight Hard MMA closed out its 2015 at the Family Arena Saturday with a trio of title fights on the all amateur card.

Gladiator Academy's Max McNeely met Dusty Chandler for the third time, and finished the series on top.

McNeely, from Jackson, stormed out of the gates and staked his claim to the Fight Hard heavyweight title with a first round submission via key lock. In a bout eerily similar to the first, McNeely swarmed Chandler and quickly took the fight to the ground where he immediately began looking for the submission.

"That move is my bread and butter," McNeely, who won their first meeting, said. "I knew if I could get him down I would find that arm."

Exclusive video interviews with McNeely and other winners from Saturday, check back at knucklejunkies.com

Fight Hard lightweight champ Derek Clardy and Miguel Lisboa showed why they are two of the top lightweight ammy's around.

Clardy, 27, defended his Fight Hard lightweight belt with a second round TKO at 2:06.

"This kinda of gets me back on my feet and makes a statement," Clardy said. "This basically redeems myself from my last fight (a state title loss to Dakota Bush at RFA 28). I had a lot of stuff going on in the background and this was about bringing myself back."

In the first, Clardy touched Lisboa early but Lisboa shook it off, clinched and pressed the action against the fence.

Around the 45-second mark Lisboa got separation off the fence and landed a huge right that dropped Clardy and could have potentially ended the fight but with a veteran's moxie, Clardy tied him up and staved off the ground and pound."

"I was just trying to catch my breath because I was a little winded and it's just such an adrenalin rush when you walk in there," Clardy said.

Clardy started the second round by catching two of Lisboa's kicks and dumping him to the ground. Once back on the feet, Clardy slipped while moving back and Lisboa followed into his guard. Later in the round, Clardy clubbed Lisboa down but refused to jump into the guard of the stellar ground player.

Charles Johnson's emphatic slam near the two-minute mark of the third round was the exclamation of his night as he took the Fight Hard flyweight title fight against Steven Coleman, a fight Johnson accepted on short notice.

While Coleman, out of the Academy of Courage, does have a nice jiu-jitsu game, it was not enough of one to subdue a strong and determined Johnson.

The bulk of the first round Johnson settled into Coleman's guard. He eventually slipped into half guard and landed the occasional ground and pound. Coleman threatened with an arm bar late but Johnson broke free.

Coleman got a boost midway through the second round and the fight got back on the feet. But Johnson was too physical and too strong on top and batted away Coleman's occasional submission threat.

Johnston continued to showcase his top game in the third as he put the finishing touches on a 30-27 unanimous decision win.

Chris Petty worked fast and quick, picking up a win with a first round rear naked choke over Luis Pena, who took the bout on short notice and up a weight class. After a brief exchange, Petty jumped on Pena's back and went after it, quickly sealing in the choke for the win. This is the 6th first round finish for Petty and the third for 2015 improving him to 6-0.

Eric Ellington caught Josh Krechki's kick, landed a heavy shot and the end was near. While in side control, Ellington, a much-muscled bantamweight, created separation and dropped heavy ground and pound to get the stoppage at 31 seconds into the first round.

The oft-busy Sam Tamayo was back at it in a welterweight bout with Ken Salinas. Tamayo applied the pressure early and Salinas finally welted in the second round with the CMMA product on top, pounding away and getting the TKO win before the final seconds of the round.

"I felt like I was the faster, stronger and the more dominate athlete today," Tamayo said. "My year has been a roller coaster not just fighting-wise but life-wise. I've hit some ups and downs but every day I'm working harder at what I do whether it's being a better father, or coming in after hard days work and doing the long drilling hours."

Kicking off the main, Jake Willyard won with first round rear naked over AoC's Dan Uhlenbrock.

Evan Elder has all the makings of doing some damage in this sport.

The teenager out of Hahn's MMA showcased all the tools needed in an unanimous decision win over a very game Nathan Stearns. Elder mixed and matched his striking, hit takedowns, and showcased solid jiu-jitsu over a nine-minute span. Elder is now 2-0 and has beat two solid fighters in Stearns and Jamese Taylor.

Tyler Madding looked strong as he bested Zane Clerk. Madding had Clerk snared in a triangle and then proceeded to swat and smash away with hammerfists to get the TKO.

Aushton Midkiff got back to his winning ways in 150-pound bout against Da'Rell Fulghum when he snatched up a first-round submission win with a guillotine.

Friendly foes Nikk Willyard and Ace Anderson made it until the second round before Anderson sunk in a tight guillotine choke to get the tap at the 1:19 mark.

Clayton Whaley kickstarted the night with gritty decision victory over Justin Nicholson. Nicholson pieced together a tight first round but as the fight wore on Whaley smothered and toughed his way through the next two rounds.

Fight Hard MMA is set to return to the Family Arena in March.



Photo courtesy of Sara Levin Photography.