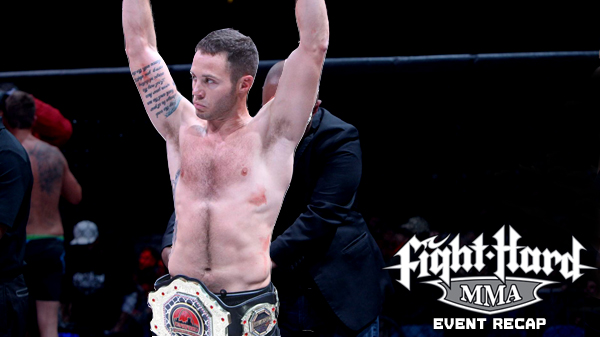 Fight Hard: Karcher vs Dowdy - Recap
A series of first round stoppages and a scratched main event made for a quick night of fights at the Family Arena..

The eagerly anticipated match-up between Jordan Dowdy and Bradon Karcher got pulled only minutes before their scheduled showdown.

A stomach bug caused Karcher to pull from the event shortly before the last intermission. Battling dehydration and other stomach issues, Karcher showed up and was ready to fight, unfortunately a dangerously high resting heart rate forced the medical staff at the Arena to pull Karcher from the show.

A dejected Dowdy took to the cage before the start of the final segment of the show to thank fans and sponsors.

The cancellation bumped the lightweight match-up between Dan "Cold As Ice" Busch and "King" James Mottershead to the main event and narrowed the card down to only eight fights.

Busch started off the fight with a thunderous body kick that put Mottershead onto his heels. Mottershead, a veteran of over 30 amateur fights, quickly changed strategies and looked to take the fight to the ground hitting a powerful takedown.

Busch fought for a guillotine that forced a scramble that saw him land in a dominant position where he maintained the mount for almost a minute landing hard punches from the top. The incredibly flexible Mottershead attempted to pull himself out from under Busch's mount, but was unable to escape, and after a round of punches, referee Dwayne Bess stopped the fight.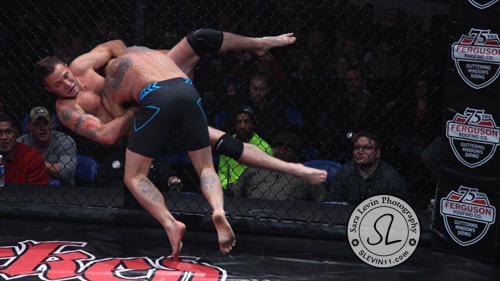 After the fight Mottershead appeared to have a nasty cut on his hairline that would eventually require several stitches.

In post-fight interviews Busch admitted he took the fight on short notice, but had been looking for an opportunity to fight Mottershead for some time and couldn't pass it up.

A familiar face to the Fight Hard crowds, Levi Rose showed off a serious ground game to compliment his strong punching power.

Rose roughed up opponent Jordan Collins with combinations before he would eventually take the back in a scramble on the ground. Rose worked the rear naked choke for quite a while before Collins was able to escape.

Once the fight reset, Collins looked to close the distance and forced Rose into the cage where Rose would lock on a guillotine. After the fight was taken to the ground, Rose worked from the bottom eventually locking on a triangle that would ultimately spell the end of Collins.

Rose transitioned from triangle to armbar and back before eventually getting the submission victory. This was Rose's second win for Fight Hard in five appearances.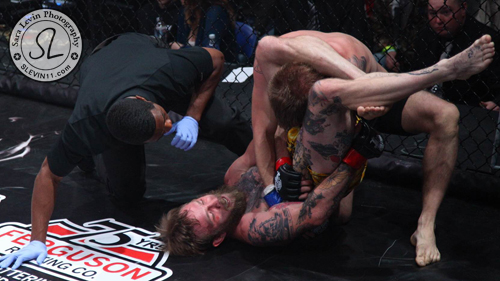 Marcus "Beast Mode" Brownlee grounded the popular Shaun Scott and eventually submitted him. Brownlee dealt with Scott's athleticism well and forced a scramble at which he came up with Scott's back. The patient Brownlee worked for the choke, and found it shortly before the end of the first round taking home a rear naked choke victory and his second for Fight Hard this year.

Justin Maramba worked some nice ground and pound before eventually setting up Cody Weder for a triangle submission.

Montrel James and Yola Love battled for three rounds, the longest fight of the night. James got Love into a bad position midway through the third and Love asked for the fight to end.

Jordan Brackins and Jordan Leggans matched up well on paper, but it was Brackins who came out on top. Brackins hit a huge slam to take the fight to the canvas, and from there worked some nasty ground and pound forcing a referee intervention.

Dustin Tucker defeated Nathan Stearns with a rear naked choke, and Ace Anderson got things kicked off when he defeated Shawn Boone who could not continue after an early assault by Anderson.

Fight Hard returns to the Family Arena on December 27th.

Photos courtesy of Sara Levin