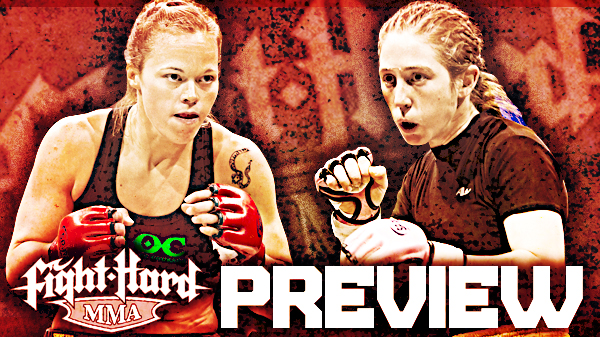 Fight Hard: Lawrence vs Pearce - Event Preview
On Saturday, it's ladies night at the Family Arena.

In honor of Breast Cancer Awareness month, Fight Hard MMA matchmaker Kain Royer has put together a card that leans heavily on the fairer sex.

In the main event, a women's bantamweight amateur champion will be crowned as tournament finalist Ronni Lawrence will take on Michelle Pearce. Both competitors competed on the August 30th Fight Hard event defeating opponents to advance to the finals on Saturday.

Pearce and Lawrence battled once before with Lawrence getting the nod from the judges. The first time around both fighters seemed hesitant to engage. Lawrence used her kicks to keep Pearce, who favors the ground game, at bay. Pearce has intensified her training at the Academy of Courage, and has regrouped, eager for a second shot at Lawrence.

A total of 8 women's bouts will be on the card including familiar faces to the Fight Hard brand: Susie Wyatt, and Liz Turpin.

One fighter to keep your eye on is Rachel Stockham. The 21-year old spark plug from Hahn's MMA has started off her career with two TKO's to her credit. She will be talking on the rangy and experienced Turpin. Neither fighter seems to favor the submission, which should make for an exciting women's bout.

A pair of men's bouts will round out the 10-fight card including: Shaun Scott vs Tyler Flores and Daniel McClendon and Jesse Farmer, a teammate of Turpin's at River City MMA, in the co-main event.

Farmer's last trip to the Fight Hard cage was memorable but not the outcome he had hoped as a strong punch from Scott Futrell left Farmer face first on the canvas.

A fan favorite, Farmer will not get an easy return to the cage against Daniel "Red" McClendon. McClendon won 12 of his first 13 fights including a spectacular KO of Bo Kunz in May of 2012. Since his rapid fire start McClendon has lost three of his last five. On paper this is an exciting match-up as both fighters are athletic hard punchers and could produce some serious fireworks.

On Oct. 5, Fight Hard MMA aired the first episode of its new weekly TV series. Filming will continue at Saturday's event, which should add to the excitement in the arena for fighters and fans.

To get your free tickets to the event simply print this coupon:




Here is the full fight card:

Ronni Lawrence vs Michelle Pearce
Daniel McClendon vs Jesse Farmer
Sheena Brandenburg vs Susie Wyatt
Rebecca Adney vs Maritza Reyes
Autumn Lamle vs Andrea Whtiney
Shawna Tyler vs Gabrielle Labbee
Shaun Scott vs Tyler Flores
Rachel Stockham vs Liz Turpin
Katherine Grasshopper vs Shawna Stevenson
Kira Franke vs Cassandra Burton

Fight Hard MMA: Lawerence vs Pearce
Saturday, October 11th
St. Charles Family Arena, St, Charles, MO

Photos courtesy of Sara Levin Photography.