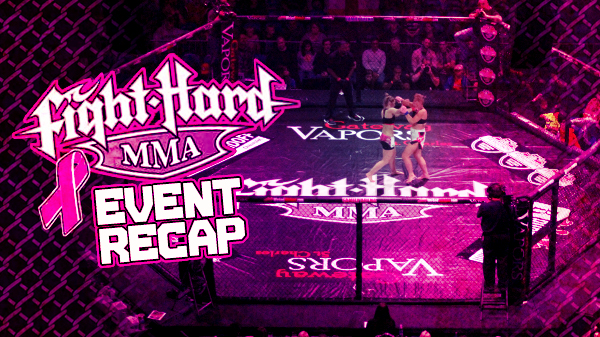 Fight Hard: Lawrence vs Pearce - Recap
"Oh, yes it's ladies night, oh what a night."

Kool and the Gang first sang those words in 1979. On Saturday night the expression still held true as Fight Hard MMA, in honor of Breast Cancer Awareness Month, had six of its eight amateurs bouts at the St. Charles Family Arena, dedicated to female fights.

It was an evening that had dancing zombies, a lights-out Michael Jackson impersonator, plenty of pink gloves, and a live bagpipes player.

But Michelle Pearce was the most deserving of basking in Fight Hard's bright limelight.

Pearce earned a 30-27, 29-28, 30-27 unanimous decision over Sullivan's Ronni Lawrence to claim the vacant Fight Hard women's flyweight championship.

"I knew the way to win was to go forward," Pearce said. "She had good defense but I was not stopping. I think it came down to conditioning."

Pearce, dressed in a plaid kilted skirt with bagpipes trumpeting her arrival to the cage, stalked down Lawrence and greeted her with a barrage of punches to being the fight. Lawrence was able to slow the tempo down some midway through the round but Pearce ended the first three minutes applying heavy pressure toward the cage.

Lawrence had her best performance in round two when she floored Pearce with a quick snap kick to the midsection. But Pearce did a solid job tying up Lawrence for the better part of the round.

Pearce garnered a trip to leadoff the third round and eventually took Lawrence's back on a scramble. Later in the round, Lawrence was in Pearce's guard and Pearce landed two strong shots from on bottom. Pearce eventually worked her way to mount before Lawrence gave up her back but staved off a submission attempt.

"It was a battle of wills, plain and simple," Pearce said. "That girl has spirit."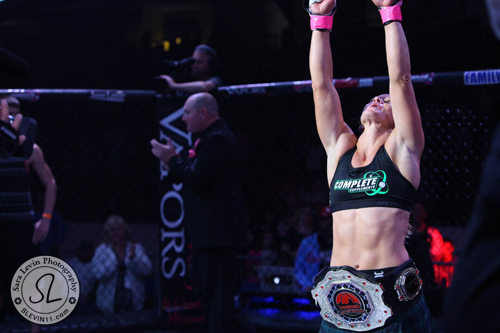 In the co-main event, Tyler Flores tapped Jesse Farmer with 50 seconds left in the second round with rear naked choke.

Farmer was aggressive and crisp with his left to start the fight. Farmer eventually dumped Flores with nice takedown but the tides soon turned. Flores' grappling started to eat up Farmer as he tried a rear naked choke near the end of the first round that didn't take.

Flores threw a kick but fell to the floor to start the second round. Farmer pounced on the opportunity but Flores eventually worked his way to Farmer's back where he clasped up the finishing move.

This was Flores' (8-1), who trains out of Berger MMA when in Missouri, eighth win in a row.

"I went to school in Miami and had some fights down there and only a handful up here," Flores said. "Tonight, I'm a slow starter and it takes me getting hit a little bit before I get going. He's a weight class higher than what I am used to. I thought I could fight a little more often at '85."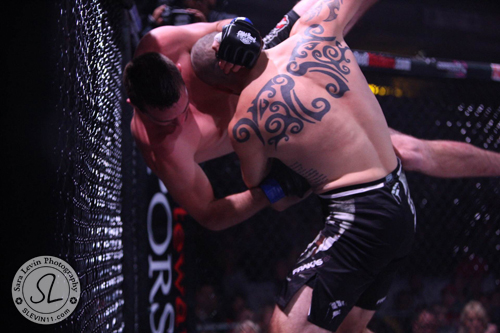 Susie Wyatt made quick work of Sheena Brandenburg. Wyatt was committed to the takedown and once she got it Wyatt secured a nice head and arm and then she modified it to a crucifix and promptly pounded out the TKO with 1:10 left in the first round.

Autumn Lamie leaned on her strength advantage to grind out an unanimous decision win over Liz Turpin.

Gabrielle Labbee won an unanimous decision over Shawna Tyler.

In the only other men's bout, Shaun Scott won a unanimous decision over Kyle Kurtz.

Katherine Grasshopper won via submission due to strikes in the second round over Shawna Stevenson.

Cassandra Burton led the night off with a win over Kira Franke when Franke failed to answer the bell to begin the third round.

Fight Hard MMA returns to the Family Arena on December 27.