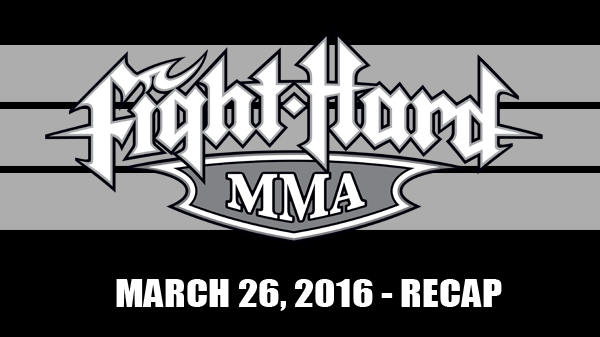 Fight Hard: March 26th, 2016 - Recap
Despite some last minute card shuffling by the matchmaker due to no-shows, and last minute pull-outs, Fight Hard put together an entertaining show top to bottom.

The evening was highlighted by four title fights that features four top ammies on the verge of taking the leap to the professional ranks.

In the main event, St. Charles' MMA's Luis "the Best" Pena got in and got it done quick putting his opponent completely out with a wicked triangle choke only a minute into to the first round.

"I could hear my corners," Pena said. "Mainly Mike Rogers, Mike Garret and Matt Ricehouse walking me through the steps to finish that choke. Just like every step I climbed on the ladder, the closer we got, and when I finally got to the top he was out. That's something I've always been very good at, picking out my corner's voices, going back to my days in wrestling. I've got to give a big shout out to my corner for walking me through that fight."

Pena rebounds from a loss this past December in the very same cage. Since that time Pena won his division at St. Louis Golden Gloves, was named the tournament's most outstanding athlete, and even took the time for a kickboxing match at Shamrock FC.

"I've been doing a lot of winning since taking that loss," Pena said. "It feels good to come in here in front of the people that saw me lose like that and put on a performance like that."

The win netted Pena the promotions 155 pound belt and improves his record to 7-2. Keep an eye on this kid, Pena has all the tools necessary to make a splash in the pros.

In a featherweight title match-up it was the promotion's bantamweight champ moving up to collect another belt.

Erion Zekthi out of the Wolve's Den in O'Fallon controlled most of the action throughout the fight despite receiving two kicks and a punch to groin, resulting a loss of two points from his opponent Keith Gorden. Zekthi's footwork seemed to have Gorden on the back-step, and he had no answer for Zekthi's takedowns, despite an active guard. When the fight went to the judges it was Zekthi claiming victory and the title, 30-25 on all three scorecards.

Zekthi discusses his desire to move up in weight.

"There as a part of me that was scared that the only reason I was dominant was because I had physical advantages," Zekthi said. "I could just take whoever I wanted down at 135. I could just impose my will, I was never pushed physically. Bumping up to 145 was a way to test my durability, my heart, and a way to test if I can hang not just at 135 but at 145. I gained a ton of confidence."

This was Zekthi's second fight in as many weeks defeating Cortavious Romious on March 12th, also at featherweight.

"10-0 feels amazing, it's everything I set out to do," Zekthi said. "When I first started my MMA career I thought, I have high fighter IQ, who's going to stop me? Even if they have an answer for me now, I'll change it up in the middle of the fight. This was my last amateur fight, now it's to the pro ranks, let's fucking do it."

With his amateur career in the rear-view, Zekthi now focuses on a May 13th pro debut.

"My teammates, coaches and I have got together and kind of hashed out this year." Zekthi said. "God has been very willing for me to pursue my goals. I fought two weeks ago, fought the fight of my life, got caught, came back ready for this fight. Who else do you know that is bumping up weight classes fighting two or three times in a month? After this fight, no one can say I'm sacred, I don't take tough fights. I proved everyone wrong."

In the night's other title bout, Curtis Eller continues to roll. After having three opponent changes, Eller was matched up with Frank Cortez out of Dark Horse MMA.

Cortez showed incredible toughness and heart despite being in a mounted crucifix not once, but twice including the end of the second and third rounds.

"Yeah... That's one of my favorite moves to do," Eller said. "Soon as I usually get them down they're done. They don't usually get back up. He was a tough opponent, he was slippery. He kept somehow getting his shoulder to roll out. Overall I'm happy with the fight. I'm glad it went three rounds because I didn't want to go for the submission, my thing is ground and pound and that's what I wanted to do.

Eller picked up a unanimous decision victory to improve his career amateur record to 27-5.

"I've tried about four months ago," Eller "I had a pro fight setup, but the guy backed out about a week before. Since then I've taken three amateur fights. If I can't get a pro fight I'm going to keep fighting amateur until I do get one setup."

Eller has fought anywhere from welterweight to light heavyweight, with his eyes on a pro, look for him to make waves in the professional 170 pound division.

Brittney Cloudy, a standout athlete on the track for Saint Louis University showed she's got some aptitude for action inside the case making her amateur MMA debut against a very seasoned Susie Wyatt.

Wyatt a veteran grappler and fan favorite knew she would need to take the fight to the ground against the recent women's Golden Glove champ Cloudy, and if she wasn't able to it could be a bad night. And that's exactly what happened as Cloudy caught Wyatt with a 1-2 combination to drop "Mama Beast" to the canvas forcing a stoppage from ref Josh Stewart at 11 seconds into the first round.

An impressive knockout for Cloudy as she connected twice while backing up, and with enough power to still drop her opponent. Credit to Wyatt who had numerous opponent changes prior to the night, and even went up two weight classes to face Cloudy.

SCMMA's Charles Johnson cruised to victory over an old rival Jose Johnson whom he fought a year prior. Charles Johnson was just too slick on the ground taking Jose to the mat almost at will, and peppering him with shots. Charles Johnson took home a unanimous 30-27 decision to claim the Fight Hard 125 title. There's not much left for Charles Johnson to do as an ammy, we look forward to him avenging some of his losses in the pros to Demetrious Wilson and Carlos Hernadez.

Eric Ellington is a scary opponent for anyone in the amateur featherweight decision. On Saturday, he faced a very tough Bredon Seidelman out of ATT-Champaign. Ellington forced the scramble and connected with heavy punches during the transition eventually getting Siedleman to turtle where he did most of his damage from the top earning himself a first round TKO.

Savannah Sahan defeated Izzie Robinson with a second round TKO despite losing the first round after the fight looked like it could have been stopped. Both women were aggressive and kept the crowd engaged throughout the fight.

Academy of Courage's Steven Coleman notched an exciting second round TKO over Quentin Garrison after an energizing walkout out to the cage. Coleman's teammate, Ace Anderson kicked off the night with a guillotine from guard.