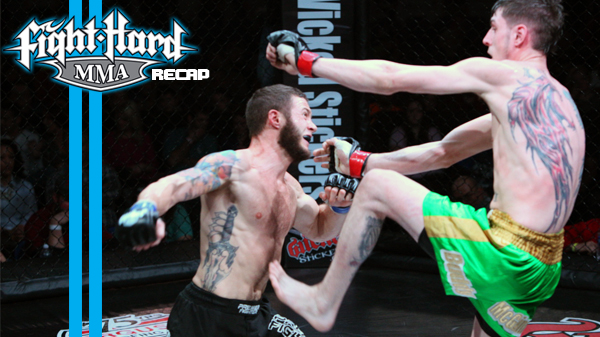 Fight Hard: McGinnis vs Busch - Recap
Fight Hard crowned a new lightweight champion and announced a new boss would be taking over Saturday. It was all part of a fun night at the Family Arena, kicking things off for its 2015 season.

Shortly before the first bell, Kenny Nowling addressed the crowd announcing new ownership for the Lake St. Louis-based fight promotion. Bobby Don Sullinger was introduced to the fans in the attendance as the new principle owner of Fight Hard MMA.

Sullinger has promoted shows in Southern Illinois and is no stranger to the St. Louis MMA community. Nowling will continue to run the day to day operations.

The main event saw the finals of the Fight Hard lightweight tourney. In a distinct clash of styles, Dan Busch's aggressive ground game proved to be just enough to edge out the more experienced counter puncher, Buddy McGinnis.

McGinnis came out firing with legs kicks early and using his jab to stay out of Busch's range. Busch looked for the takedown early, but once he finally got the fight to the ground, it wasn't long before McGinnis was able to hit the sweep and gain top control to ride out most of the first round in dominant position.

In the second Busch looked to close the distance and negate McGinnis' reach. He scored a takedown with an inside sweep and held McGinnis down, peppering him with punches, to win out the round.

Worn down from the second round, McGinnis looked visibly tired to start the third. Busch pressured with nice combos with kicks to the leg and body, before scoring a take down. McGinnis threatened with a kimura, which he used to sweep Busch, before Busch was able to regain top position and eek out the third round, sending the fight to the judges.

All three judges saw the fight 29-28 in favor of the new Fight Hard ligthweight champ, Dan "Cold As Ice" Busch. Busch also receives a professional fight contract with Shamrock FC when he's ready to turn pro.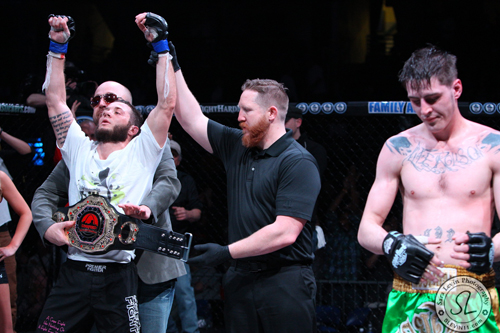 Look for interviews with the new champ and other main card fighters on Monday.

In the co-main event, Dakota Bush from the Smith Pit used a relentless takedown assault to wear down and defeat Jeradon Brown. Throughout the fight, when Brown would push forward, Bush would drop down for the double leg. Bush seemed comfortable inside Brown's guard and landed punches while scoring points to take home a unanimous decision from the judges.

Bush improved to 7-1, and is a fighter to watch.

Hard hitting Derek Clardy came out firing on Cody Huff. Clardy closed the distance quickly and landed several heavy punches, one of which sent Huff to the canvas. Clardy controlled the back of Huff for over a minute before Huff attempted an ankle lock. With both fighters leg's laced, Clardy looked to sit up and in the process reaped the kneed of Huff. Huff looked to be in considerable amount of pain and tapped quickly as a result. Clardy wins by tap to injury in the first.

With only two fights under his belt, Lucas Clay showed a lot of composure in his battle with "Beast Mode" Marcus Brownlee.

With a fairly even first round, both fighters landed a decent amount of shots. Clay threatened with an armbar twice in the round, nearly finishing one right before the bell.

In the second, Clay hit the takedown almost immediately, moved to the back and finished the fight with a rear naked choke.

James Green from Pedigo Submission Fighting had to absorb a couple of hard punches before dragging opponent Irfan Mulabitinovic to the ground where he locked on a nasty looking armbar that forced ref Josh Stewart to halt the fight.

Green's teammate Andrew Wiltse was scheduled to compete at welterweight, but when it came time to put his gloves on, his opponent was missing.

Earlier in the day Wiltse won both the blue belt gi and open division at the Missouri State Championship jiu-jitsu tournament in St. Charles. Wiltse left the tournament at 3:40 and headed directly to the Family Arena to get ready for his fight. Unfortunately opponent Duante Tipler must have got wind of Wiltse's accomplishments and left the arena after the parade of fighters.

James Mottershead out pointed Vi Nguyen from Seven Corner Road to take home a gritty, ugly decision.

Erik Newman and Joe Taylor electrified the crowd in a fast paced first round that saw the two flyweights swinging wildly. Newman seemed to be in a bad spot early when "Chainsaw" connected with a flurry of punches. Newman would survive the round, and win the fight between rounds when the doctors realized Taylor was having vision problems. Newman won by doctor stoppage.

Curtis Eller wasted no time punching out Ryan Walker in a first round stoppage, and last minute replacement Montrel James won with a TKO in the second to kick things off on the night.

Fight Hard returns Saturday, April 18th.

Photo courtesy of Sara Levin Photography.
Cage-side notes provided by Nick Kreutz.