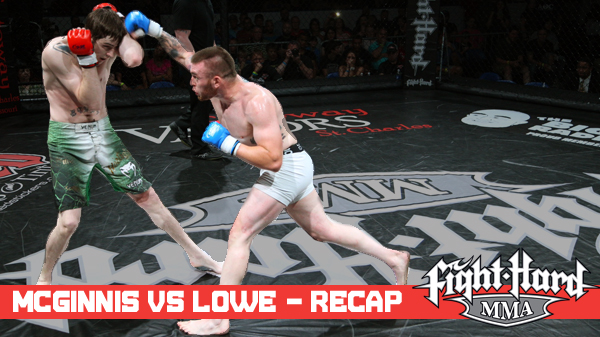 Fight Hard: McGinnis vs Lowe - Recap
Brandon Lowe stayed the course.

Facing amateur stalwart Buddy McGinnis in the main event of Saturdays Fight Hard MMA at the Family Arena, Lowe was disciplined and effective in garnering a unanimous decision victory.

The win not only came over the Spire MMA No. 1 ranked lightweight but earned Lowe the Spire Sectional Lightweight belt.

"I knew he would use his jab a little bit," Lowe said. "I hurt my hand early in the fight."

The win was Lowe's 7th straight as he improved to 10-1.

Lowe rarely wavered over the course of the three rounds. Often slipping the quirky strikes offered by McGinnis, Lowe attacked and scored with kicks to the midsection and thigh.

Lowe, out of the War Room, stated that he would like to turn pro in September.

Both were content to kickbox for the bulk of the fight.

The two worked from the clinch and traded positions and knees along the fence to start the first round. With the crowd chanting, fight at the 90-second mark, Lowe and McGinnis sprung off the cage. Lowe delivered two kicks to the midsection to score before the round ended.

In a cautious, measured round two, Lowe landed kicks to the midsection and closed the round with a nice overhand right.

While McGinnis threw punches and kicks at high volume, rarely did they connect, as Lowes defense and resolve won him the fight and the unified strap.

In the co-main event, Iowa's Rafael Bazaldua controlled and corralled Derek Clardy for three solid rounds. Bazaldua, out of Miletich Fighting Systems, used his wrestling to win a unanimous decision. Bazaldua had St. Louis native and Invicta flyweight champion Barb Honchak, a teammate of his at Millitechs, rooting for him and she made a cage appearance post-fight.

Brandon Karcher, out of Pedigos Submission Fighting, knocked off a two-loss streak with an impressive submission finish of Kyle Kurtz.

Kurtz landed an early hip toss, but once on the ground, Karcher, began to work his slick submission game. Karcher attempted both an armbar and a triangle in the first round. In the second, Karcher got the takedown and slapped on a body triangle. Kurtz broke free and went to ground and pound but eventually fell into another triangle attempt. As the final moments of the second round neared, Karcher finally got what he was looking for, a rear naked choke for the finish.

Karcher wants to stand atop the Spire Rankings. In order to do so he knew he had to change things up in both training and lifestyle. The 22-year-old was juggling school, managing a GNC, and fighting and the result was two losses that he feels should have been W's.

"I thought it was time to go back, hit the grind, change up my diet, and train as hard as ever," Karcher said.

Karcher manages the Belleville GNC. Getting an employee-discount at the supplement chain comes in handy for an active fighter.

"I get beat up a lot and I need a lot of proteins to help me recover and I need a lot of energy to help keep me going," Karcher said. "I probably spend half my paycheck on that and half on driving back and forth to the gym."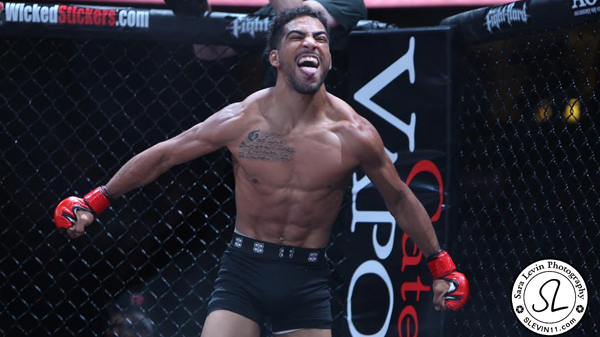 Flyweight prospect Charles Johnson made his long awaited return to action. Johnson just wrapped a stellar running career at SEMO and faced Donte Butler at flyweight. Showing little signs of rust, Johnson, out of St. Charles MMA, took advantage of a size advantage and ragdolled Butler to the ground. Butler turtled up but Johnson got into position and laced up a darce choke for the finish at 1:11 in the first.

Three fights on Saturdays card ended early due to injuries.

Aaron Harvey went to post during a takedown attempt by Steve Barbee and injured his shoulder. Jamese Taylors ankle got caught underneath the fence during a takedown attempt from Miguel Lisboa and the much-anticipated bout was ruled a no-contest. Dillon Pousson won via medical TKO when Cory Tinnon injured his knee and had to leave via stretcher.

Trevor Lanzone looked as good as ever in his bout with Rodney Cotton.

Lanzone, out of Glory MMA, overcame a murky first round by taking control early in the second. Lanzone got the fight to the floor, transitioned to mount and put away Cotton, out of Watson MMA, with a second round TKO.

"I've been out for nine months," Lanzone said. "A lot of personal stuff and then I injured myself; broke my hand and injured my meniscus. To not just get the win but get the stoppage, I'm a little emotional right now."

Lanzone continued.

"I'm a striker, but I'm not worried about fighting on the ground. In the first round, I hipped tossed him. In the second, I know that my mount is really good and once I established it I knew he wasn't going to be able to get out of that. It was either that the ref was going to stop it or the round was going to end so I started not punching so hard. I pushed him away and hit him with a right hand. He put his hands over his face and something clicked and I knew that this fight was over."

Dre Cannon defeated Jeremy Daniels via first round TKO and Marcus Brownlee scored a nice first round submission via rear naked choke over Kevin Green.

Fight Hard MMA is slated to come back to the Family Arena on Aug. 30.